Reading Time: 7 minutes
You have spent years of blood, sweat and gears to make your classic car the supermodel that she is. Now it is time to show her off. But how do you ship your classic car safely and efficiently to the show and back?
If you are a classic car owner, you will know that the relationship with 'your baby' is something most people will never understand. She may sleep in the garage, covered in a tarp or car cover, but she's just as much part of the family as the dog. Whether its a self-built classic/vintage (you lost hours of sleep and a wife over her), family heirloom (your memories of handing your dad the right tools are deeply etched) or that special "Eleanor" that you managed to buy with your first paycheck, the time has come for you to share your beauty with others – and what better way than a car show.
This leads us to the million dollar question: What is the best way to ship my classic car—safely?
How to ship your classic car
Your main concern when transporting your classic car is to make sure she gets to her destination and back home…without a scratch. You've probably invested a lot of time and money into your car so transport can be daunting. You wouldn't let a stranger drive your wife across the country, so why be any less discerning with your other precious lady?
Find a reliable classic car shipping broker
If you want to get the best deal for your vehicle, your timetable, and budget, you need to do your research. With enough information you will be able to make the right choices in regard to transporting your precious classic and the reliable car shipping company that will do the shipping.
Nationwide Auto Transportation tips to get you on the way:
Get in touch with the companies directly – In order to get a good sense of the level of service provided by a company, you need to contact them directly. Find out what services are available on a company's website first. Ensure that they can ship to and from your departure and destination cities. When transporting a classic car, make sure the shipping company offers covered shipping trailers. (your baby must be safe and cozy). Once you have this information, you can compare quotes to see which car shipping companies are within your budget. As a final recommendation, if you have any questions, please contact their customer support team via email or phone. Good customer service is often an indicator of good shipping practices, and vice versa.
Read reviews – You can get a good idea about a potential car shipping company by reading reviews written by real customers. Start with Move.org. You'll find reviews from past customers who have used a specified shipping service.
Broker vs Carrier – Car shipping services are divided into two types: brokers and carriers.
Brokers compare trucking companies that will be able to ship your car and find you the best deal. More important is that they can link you to a carrier that is traveling your desired route.
Carriers are companies that own their own fleet of trucks. Keep in mind that you would need to find one that ticks all the boxes to ship your valuable classic car. Shipping times and routes must match, and the company must have a covered trailer – it sounds much less stressful to hire an auto transport broker to find the right carrier for you.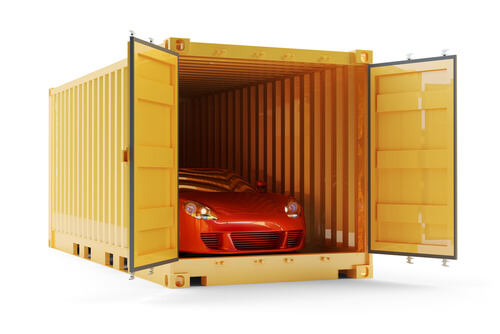 International Auto Shipping Considerations
If you're a new classic car collector and you plan to attend your first car show abroad, you can have your car shipped there and back. Although it is a relatively uncomplicated process (if you do your due diligence), there's much more that you need to do to ship your classic car abroad than simply paying ocean freight costs. It depends on the port of destination, but the average time to ship a car overseas is between 10 and 40 days. Time for international car shipping is taken from the time your car is loaded onto the boat to the time it is off the water. This does not include load, or preparation time. There are certain key factors that you should be aware of, as they can have a direct influence on cost.
Type of service quoted on: Are you paying for a port-to-port, door-to-door, or door-to-port service?∗
Method used: Are you shipping 'roll on roll off', or via an ocean container? Are you sharing or is it a private 20 ft container?
Land transportation: ∗This ties into the first bullet. In some quotes, domestic transport is included while in others, it's only ocean transport.
Destination Fees: You will always have to pay destination fees at every port, regardless of the destination. The door-to-port or port-to-port service takes care of everything on the export side, including US customs clearance. Customs clearance at the destination, unloading at the destination, and transport from the US seaport for cars all differ by destination.⁎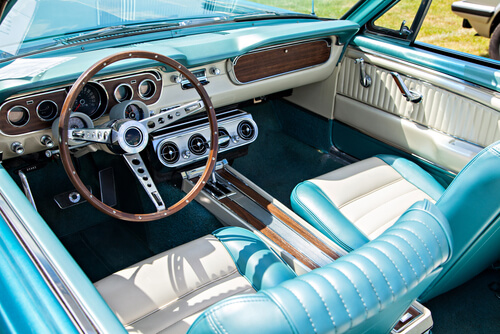 Did You Know? Nationwide Auto Transportation also transports vehicles to and from dealerships and auctions.
9 steps to successful classic / vintage / exotic auto shipping
Great – so you've got a few quotes and picked what you hope is a trusted shipping company—or NAT has quickly and efficiently arranged a vetted and trusted carrier for your fantastic automobile—now what? Getting your investment ready for her trip is a bit more complicated than simply arranging a pick up date and calling it a day. These 9 steps will help your car arrive at a show, or back home, without any damage.
Follow These Easy Steps
Find your vehicle's documents – A carrier company will ask for proof of ownership before they let you ship a car. You can prevent shipment delays and last-minute paperwork searches by preparing the following paperwork in advance:

Vehicle registration information
Proof of insurance
Proof of ownership, such as a bill of sale
Vehicle's original title
Unexpired identification (driver's license or passport)
Shipping overseas? Prepare for additional paperwork requirements, such as import duties and taxes. Get certified copies of the Certificate of Title and the bank's consent for shipping a car financed overseas.

Wash/Valet your vehicle. Washing your car before shipping will allows you to see any dust, dings, or scratches on your car. This in turn will make it easy to spot any damage that occurred during transport. Don't forget to wipe down the interior of your vehicle: make sure it's clutter-free and clean.
Record the current state of your car. After it has been cleaned, walk around your car to check for any pre-existing damage. It includes dents, scratches, paint chips, and other cosmetic imperfections. Now you understand the importance of starting with a clean car. It is very important to photograph your entire vehicle and report any current damage for your records. Having this information handy will make filling out the condition report easier when the car arrives. These visual aids will help with disputes
Make Things Easier For Yourself
Remove personal items – Items packed in your car will not be insured against damage or theft. Rather remove any personal or valuable items from your vehicle:

Charging cables
Water bottles
GPS devices
Sunglasses
Insurance information and personally identifying paperwork
Keep your spare tire, emergency kit, jack, and license plate with the vehicle in case something goes wrong. But don't panic… We have an unblemished safety record with shipping vintage cars.
Perform the necessary maintenance
Tell your auto shipper if your car cannot drive. Make sure the vehicle is free of leaks and mechanical issues, and top off the fluids. You should have a leak repaired before your car is picked up. Don't be 'the leaky oil guy! You should also check the following things before shipping your car:
Tire pressure – Make sure the tires are properly inflated at the time of shipment.
Battery charge: Make sure your car battery is fully charged.
Fluids: Fill up your car's fluids (oil, brake, coolant, power steering, and washer fluid). Make sure nothing leaks.
Mileage: Record your car's mileage at time of pickup and again at delivery.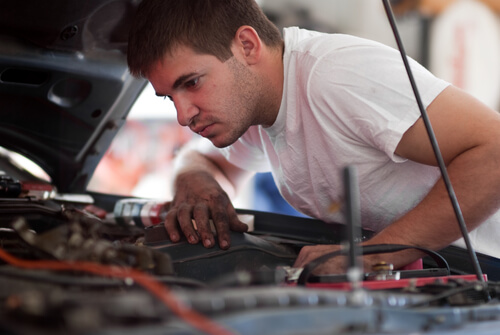 A Little Patients Goes a Long Way
Empty your gas tank – Your classic car is transported in a covered shipping trailer or container and not driven, so why waste gas money? Extra gas means extra weight, which can add to your shipping cost. Around a quarter tank should be sufficient.
Remove exterior accessories – Expensive accessories on the outside of your car are likely to get damaged during shipping. Safeguard rare hood ornaments, wheel covers or other bits and pieces by removing or securing them before your classic car is shipped.
Leave the keys, but lock – If your car is in working order, it will need to be driven onto the covered auto transporter, after which you can lock it for extra security. The transport company will need a set of keys, so if you only have one way of 'turning on' your classic, now would be the time to invest in a second set of keys.
Sign the bill of lading, and say farewell – Let's get legal. Unless you have opted to drop off your car, the transport company will give you a call to confirm that everything is still good to go. At the time of the vehicle inspection and the signing of the bill of lading, you or another responsible adult must be present. In addition to acting as a receipt and protecting your auto shipment, this is a legally binding contract between you and the shipping company. Your bill of lading covers the following:

Where your vehicle will be shipped from and where it will be delivered
Your vehicle's condition when picked up
Is there anything wrong with your vehicle mechanically or otherwise
Let Nationwide Ship Your Classic Car
Transport companies are not all the same!  Classic car shipping companies come in all shapes and sizes, so it is important to ensure that you go with one that is highly rated by the BBB, has a good reputation, and has experience in shipping classic cars. Nationwide Auto Transportation has a network of auto transport carriers and can ship your classic car anywhere in the country and abroad. Get a free quote to ship your classic car now.
Read more about Classic Car Care by clicking here.