Reading Time: 7 minutes
Are you a new classic car owner or a veteran collector? Regardless, there are certain questions that need answering when you need to transport a classic car.
The Nationwide Guide to Classic Car Transport provides all the classic car auto transport answers. Including, how much does it cost to transport a classic or vintage car?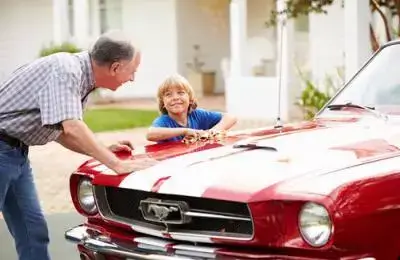 Classic Car Transport Explained
What makes a car a classic? The answers are as varied as the types of cars that are considered classics. Nationwide Auto Transportation understands the value that owners get out of their vehicular investments, and the amount of dollars, sweat and tears they invest in them. That is why they have become a leader among the best classic car transport companies in the U.S.A., and they treat your classic with kid gloves.
Learn how to ship your classic car before making any specialized classic car transport bookings to get your baby blue 1956 Bugatti to the Denver car show. Then, read on to see why classic car transport is not as straightforward as shipping a 2010 Honda Ballade on the back of a liftback truck.
"Planning to ship your car in a jiffy? Check out our comprehensive guide on preparing a car for expedited shipping at Nationwide Auto Transportation. Get your vehicle ready and ensure a seamless transportation experience!"
Calculate Your Car Shipping Quote with Ease! Discover the Best Rates at Nationwide Auto Transportation's Blog
What Types of Auto Transport Options are Available?
There are a number of options that you can choose from when you start planning your auto transport. In this section we unfold the sides of Open Transport vs Closed Transport, and see what would be the best option for your investment on wheels.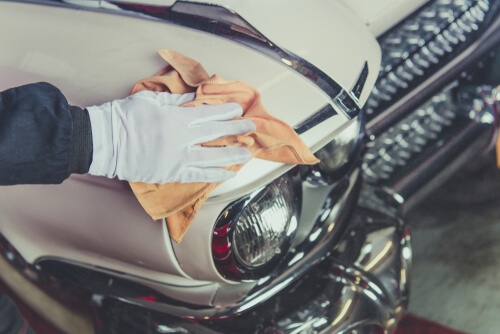 ---
Ready to take a deep dive into the future of road trips and auto transportation? From green technologies to the booming industry revenue and a look at what the future holds, our latest guide covers it all. Don't miss out on this comprehensive Road Trip Guide that will revolutionize how you think about hitting the open road.
---
What is Open Classic Car Transport?
Open car transport is the most common and economical way to ship a car, although it is not always the best method when it comes to shipping your vintage car. Your baby will be loaded onto the back of an open car carrier vehicle, and secured in place. If it rains, snows, or there is a dust storm en-route, your precious will be exposed to the elements. Even when you get them to close her with a tarp, there is still a chance that she could get dinged, scratched or damaged in some other accidental way.
If you are unsure of what kind of car cover do you use to transport a classic car, it is a much safer option to use a form of closed auto shipping. Covered classic car transport cost per mile is more than open shipping, but the protection that your car gets, is worth the few extra bucks.
Are you a boat owner? This is for you: US Boat Transportation Regulations | Compliance Made Easy.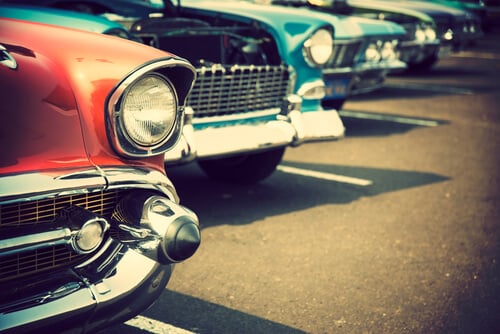 The internet has made international deals between classic car owners an everyday occurrence, and top classic car transport companies will always be up to date with the latest technologies and laws when you ship your car by plane or RORO transport. When you see that fantastic Fairmont, the one from your dreams, but it is in Finland, you can relax and make an offer. Roll on/Roll off transport is a safe and affordable way to ship your car on a specially modified cargo ship, and Nationwide Auto Transportation has more than 15 years' International Car Shipping experience.
Readers also ask: Is Expedited Car Shipping Safe? | Your Comprehensive Guide
What is Closed Car Transport?
Closed classic car transport, also known as enclosed auto transport, is the safest way to get your special car where you need it to be… safely, affordably, and on time. Enclosed classic car transport trailers are built with the safety and comfort of your car in mind, and as such feature adaptions like electronic floors, lifts and climate control.
If you have just finished that roadster rebuild in your garage, your wife will be super happy to have it shipped off as quickly as possible… but first you may need to do a bit of a clean-up. Here are a few simple garage cleaning hacks to get you started before learning more about storing your classic car.
So what is the best option when it comes to classic car transport near me? Although you could use either open, or closed classic car shipping, it all boils down to your budget and preferences. Experienced collectors of cars only use enclosed classis car transport for their investments, as one little scratch could wreak havoc with it's value. You can protect your ordinary daily drive in the a similar way by using a ceramic coating for added protection.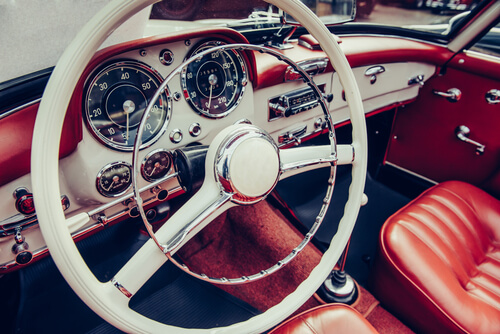 If you have read up to here you now have a good idea of why enclosed car shipping is a far safer and better way to ship your classic than driving it, or why shipping it on an open carrier can lead to damages. So, how do you find reliable classic car transport? The next section has a few hints and tips that will help you keep your auto investment in pristine shape.
Autonomous Trucks | Revolutionizing the Future of Auto Shipping is a must read for all future techies!
5 Top Classic Car Transport Tips
There are a lot of car shows held annually in America… I mean A Lot! This means that classic car transport is a year round necessity. Read on to get classic car transport tips to help make sure you choose reputable, insured and licenced classic car transport services, and how to prepare your classic car for her trip.
Before we carry on with the tips for safe vehicle shipping, here is a list of America's favorite Classic Car events.
The Top 10 Classic Car Shows and Events in America
Americans as a nation are nuts about cars and in some way or another, cars have an impact on practically everyone on a daily basis. If you happen to be a car collector, vintage or classic car owner, or just simply love cars, you enjoy a good car show right? Here is a short list of some of the country's top events:
Which of these events do you fancy? Why not Rent a Tesla and take a roadtrip to Pebble Beach, or slowly cruise to Wisconsin in your RV, and ship it back home? If you are planning on entering a car in any of these events, contact Nationwide Auto Transportation today for a free, no obligation quote for your classic car transport needs.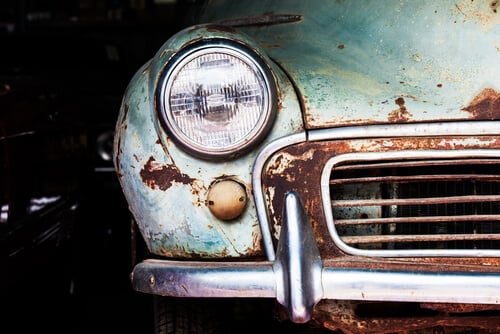 When you have to get your pride and joy to one of these, or any of the hundreds of local, state and national and international shows and events in the country, you must only choose from the best classic car transport companies. Reading a company's Reviews before making your booking will help you choose the perfect vehicle transport partner:
How Do I Choose The Right Auto Transport Carrier?
There are a variety of different ways to ship your car, and making the right decision for your circumstances is important, not only for your wallet and convenience, but also for the safety of your investment. Our blog has a number of useful articles to help you choose the best classic car covered transport, and explain vehicle transport in an understandable way.
How do Vintage Car Transport Quotes Work?
Your classic car transporter will need to know the following to calculate your classic car transport costs:
What kind of transport will you need?
How far is the shipping?
Where are you shipping from?
Where are you shipping to?
Make and model of vehicle being shipped
When will you need shipping? Seasonal demand drives pricing so plan well.
Does your car run? You can ship a non-runner, but it may cost more.
What kind of service woul you prefer?

Terminal-to-Terminal
Door to Door
Expedited or same day service
The cheapest classic car transport quote is not always the best quote. Look at the service that your auto shipping company offers you, and compare that to others.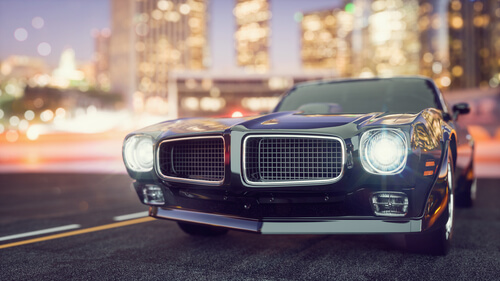 What About Carriers And Insurance?
Owning a classic, vintage, or even a super car, is not cheap… so make sure that you have adequate classic car transportation insurance. Even though a professional company, like Nationwide Auto Transportation, uses the latest technology and their drivers are well-trained, accidents can happen. A minor scratch can be fixed, but might cost an arm and a leg. Be protected by using a company that has sufficient insurance cover.
How do I Prepare My Car For Shipping?
Your classic car transport costs can be adversely affected if your car does not run. A classic car and transport show may accept your car for show value, but getting a non-runner shipped will add to the classic car shipping price. As such it helps to get your classic car in a shipshape condition, and its also a good idea to:
Make sure that the trunk, glove compartment and the rest of the car has been emptied of loose, and/or valuable items and equipment.
Get a trusted car expert to give it a good once over.
A good inside and outside valet helps you to spot quickly.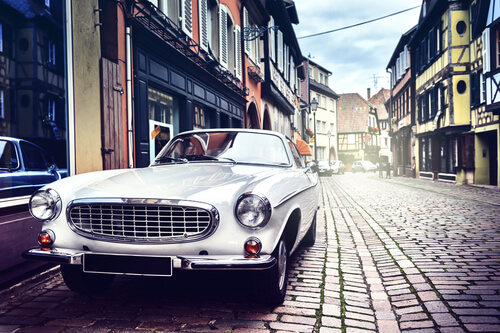 No gas needed
Here is a great excuse for a quick road trip! Classic Car shipping companies prefer a near empty tank, so grab a friend and head out. A quarter tank is more than an adequate amount to leave in your gas tank.
How to Find the Right Company to Move Your Car?
The Nationwide Guide to Classic Car Transport has all the information that you need to make a booking for when your next need classic car shipping. Our trained and experienced drivers only use the latest non-damaging chokes and straps and they always take great care, and that little extra time, when loading your car.
Let us treat your car like our own… call us today for a free, no-obligation quote, or simply use our free cost calculator.