Reading Time: 7 minutes
We look at how vehicle transport companies can ship a non-runner and what affects transporting a vehicle that does not drive properly. Special attention and knowledge is needed when moving an inoperable vehicle – NAT has the experience and equipment to get your limping limo, or tired truck where you need it.
Read on to learn how much does it cost to transport a car that is out of action and other helpful facts about auto transport.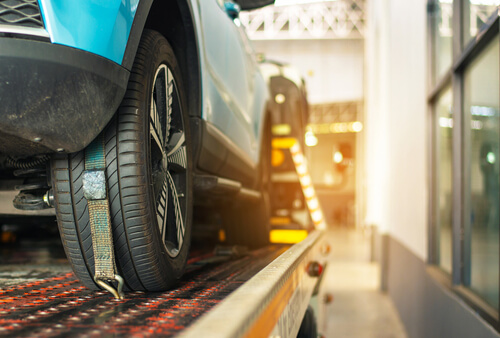 What you Need to Know About How to Ship a Non-Runner
Before booking car transport services, think about which factors might affect the price. Rates for car transport vary according to the services you choose as well as other details about the shipment. Vehicles that cannot run require a special touch. In this regard, it may be beneficial to have a general understanding of how auto shipping works in advance.
Non-Running Cars: It is Rather Obvious
Obviously, a non-running car is some kind of vehicle that does not work. It's a car/truck/RV that doesn't run or is unsafe to drive. For this reason, auto shipping services are required. Most cars end up in this condition as the result of collision damage. There are other cases, however, in which the inoperable vehicle is a classic car that you are getting restored to as new condition. Read here about how to safely ship a classic.
What is a Non-Running Vehicle?
It's not just broken down cars that are not running; so knowing what a non-running vehicle is ahead of time, will only improve your experience of the shipping process.
Any vehicle that does not start or cannot move by itself is classified as a non-running vehicle. In most 'normal' cases, your vehicle will be loaded and unloaded by a driver driving it into or out of a truck. Getting your vehicle moved this way is quick and easy.
All you need is a standard driver's license. It takes your car mover much less time and effort to load and unload the vehicle, and this makes it more affordable. If the vehicle doesn't steer or roll, you should look into a company that will ship a non-runner.
Then again, there are some other factors that may categorize a vehicle as non-running, or make moving it more expensive. For example, the vehicle is not steerable. Having removed the steering wheel from your car or the linkages can make loading and unloading it more difficult. Forklifts or winches are usually used to lift vehicles such as these on and off the carrier.
As such, non-running vehicles cannot start, steer, brake, or roll and since they require more work to load and unload a vehicle, it is a little more expensive. Getting your vehicle up and running will let you avoid paying this price. Transport companies have experience picking up, shipping, and dropping off all kinds of vehicles. If you need a shipment of any kind of vehicle, just let the service know in advance so they can provide you with the best carrier at a reasonable price.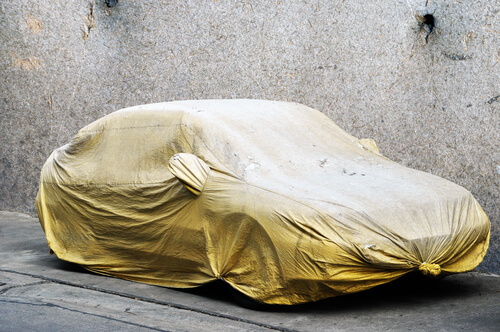 Transportation of a non-running vehicle
A non-running car can be shipped much in the same way as a running one, with a few added details and steps you should take care of before shipping it.
Research is important. No matter if you are shipping a running car or not, you need to get the best price on shipping right? Researching the company is not a bad idea. The company should provide the services you require, offer affordable rates, and be friendly in providing customer service. Read our blog on how to choose a safe and trusted auto company.
Get in touch with the company. When selecting an auto transport company to ship your vehicle, be sure to speak with a representative and find out if they can ship a non-runner. Some companies do not have the equipment or are not willing to handle these vehicles.
Compare prices. You can typically get online quotes from most auto transport companies. Fill out the form at the link below to receive a free quote for your car. When completing quote forms, you are usually able to select whether the vehicle will run or not. You can also ask the auto transport company representative about the cost of shipping. To get a quote from Nationwide Auto Transportation – Click here!
Shipping a Non-Running Car
Vehicles that do not run cannot be loaded onto a car carrier, which means the shipping company must therefore load the vehicle in another way. Your options will vary depending on the carrier you expect to use for shipping a non-running vehicle. There are two main options:
Open Auto Transport: A winch will be used to load the car onto an open carrier by means of a chain that pulls the car up. Please keep in mind that an open carrier will not protect a car from natural elements of the road or weather.
Enclosed Auto Transport: Your vehicle will be loaded into an enclosed carrier using a liftgate, although these do limit maneuvering during loading. They are especially useful for vehicles with low clearance, since they prevent the vehicle from being damaged. Enclosed auto transport shields the vehicle from various road elements and environmental variables, which open auto shipping cannot provide. This is helpful if you need to ship a non-runner that might be a classic. Read more on these two options on our blog page..
Calculating the Shipping Cost
When shipping a car (running or not), the cost is the most important factor to many potential clients. Your provider may have given you a car transport quote which has left you wondering how it came up with that figure. Due to the extra time and effort needed to transport a non-running car safely, the cost of shipping a non-running car is usually higher than that of a running vehicle. Several factors affect shipping costs, such as the kind of car, the distance, the route, the type of carrier, and the type of shipping method.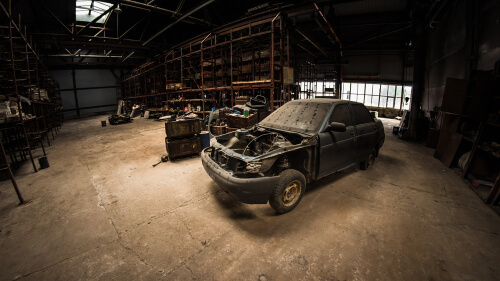 What effect does the type of car have on your rate?
Why do you think that it is more expensive to ship a non-runner than one that is driving fine? Well, specialized equipment, and drivers trained in this skill, adds to your cost – you don't want to hire someone who doesn't have a clue now, do you?
Along with condition, make and model also affect the rate. It has more to do with size (does it not always?). A larger car will take up more space and weigh more on the transport carrier, which contributes to a higher cost.
How does distance affect your rate?
Car transport rates are largely determined by distance and the route (view our available routes here). Your car will cost more to ship the farther it needs to go because the truck that transports it will burn more fuel and will also take more time to drive. Thus, shipping a car from New York to California is going to be more expensive than just driving a few states away.
Tips for Shipping a Non-Running Car
Planning as well as special equipment are required for transporting a non-running car. We have assembled a few tips so your vehicle can be transported smoothly. Here is what you need to know:
Make sure the company you hire is reputable. This point cannot be stressed enough. To properly load and unload an undriveable car, an auto transport provider must have experience. Make sure the company you hire has qualified and skilled drivers. We hire only the best at Nationwide Auto Transportation. Taking your car to its final destination safely requires a lot of time, effort, and expertise—Nationwide Auto Transportation gives you that peace of mind.
The company should know the condition of your car. Unless the auto transporter knows that your vehicle doesn't run, they can't assist you properly. Be sure to inform them of this fact when you book. By doing this, your carrier comes to your door equipped with all the necessary equipment, preventing added fees or delays.
Understand why your car is malfunctioning. Telling your auto transporter why your vehicle won't run is a major part of the process if you want to successfully ship a non-runner. Perhaps the issue can be resolved easily, and if the car is fixed and shipped as a running vehicle, it might cost you less. The auto transporter needs to know what works and what doesn't work when dealing with wrecked cars. Will the vehicle roll? How about braking? Will you be able to steer it?
It takes planning to Ship a Non-Runner
Plan ahead and make a reservation. Shipping a car requires planning ahead. Not only must the auto shipper prepare correctly, but so must you. Before shipping, you may be required to perform some preparations. Furthermore, booking in advance will guarantee you get the best car transport rate and your preferred drop-off and pick-up times. During the summer months, vehicle transport is usually very busy.
Get your car ready for transportation. To get your car ready for loading and transport, you need to take some preparation steps. Make sure all loose parts are secured, as this will help prevent the vehicle from being damaged during transport. Take all personal items out of the vehicle. The company is not responsible for lost or damaged items.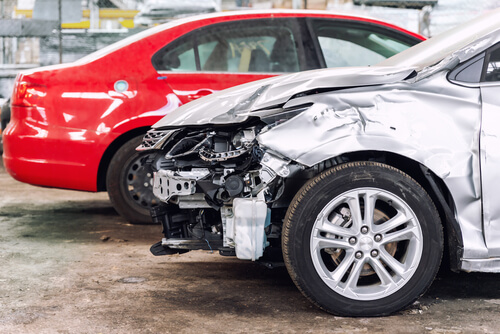 Why Choose Nationwide Auto Transportation to Ship a Non-Runner?
Nationwide Auto Transportation has access to a vast fleet of auto transport trucks and serves the entire country. In addition to shipping cars for homeowner moves, vacations, and corporate relocations, we have years of experience in the auto transport industry.
We rely on this fact among many others to transport our customers' vehicles across the country safely. Below are a few things you can expect from us:
Timely delivery. Scheduled delivery dates are important for businesses and individuals. As promised, pick up and delivery of their cars must occur as scheduled, the old adage that time is money, springs to mind. Nationwide Auto Transportation ensures timely delivery of all shipments.
Services that are reliable. Trusting someone with your car keys can be scary. With us, you can rest easy. Being in the best hands gives you peace of mind and our services are personalized to suit your needs.
Convenient pick-up and delivery. Nationwide Auto Transportation offers door-to-door auto transport. The driver will pick up and deliver the car directly to your home or place of business. Compared with the alternative method of terminal-to-terminal auto shipping, this is much more convenient, especially if you need to ship a non-runner.
We deliver quickly. Those who need their cars within a short period of time can use this as a rush delivery service.
Looking to ship your car, running or a non-runner? NAT can ship your non-runner to any destination in America. You can reach us 24 hours a day, 7 days a week, to get all your questions answered and to book auto transport services.
Get your free quote by calling 800-311-7073, or using our online quote calculator. No personal info needed—just the make of vehicle, model, pickup and delivery location. Let's talk!