Reading Time: 10 minutes
There's something magical about the name Atlanta, Georgia. Every year, thousands of individuals are drawn to this fast-paced, lively, and constantly growing business hub. Whether you're being transferred by your company, or simply drawn to the Southern hospitality of the city, here's all you need to know about moving to Atlanta.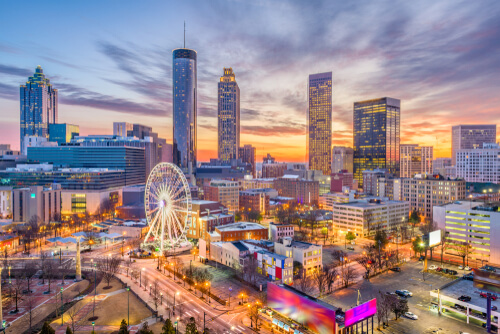 Move to Atlanta – Here is Why
It's important to weigh up the moving to Atlanta pros and cons before making such a life-changing decision. The people who live in Atlanta are friendly and make newcomers and visitors feel welcome. They have no problem talking to strangers and are patient. It's a great city for younger people to live in.
The Atlanta Metropolitan area was home to close to six million people in 2016, and as more major corporations relocate to Atlanta, the population continues to grow. In addition to thriving work opportunities, professional sports, culture, and history, Atlanta also offers amazing entertainment in the form of craft beer, great food, and a vibrant nightlife. While many ascribe the quintessential Southern city description to Atlanta, it is not exactly true. In fact, the city blends a variety of different cultures into what is a unique product, rather than a typical "Deep South" city.
It's always a good idea to do due diligence before you make an informed decision about moving to a new city.
Atlanta in Review
As the capital of Georgia, Atlanta (AKA The ATL, The Big A, or The Dogwood City) is the economical and cultural hub of the Atlanta metropolitan area – America's ninth-largest metropolitan – which is located in Fulton County. In recent years, a part of the city has been progressively expanded into DeKalb County to the east.
Founded in 1937, the city of Atlanta was burned to the ground in an act of war (during the Civil War).
Just like its unofficial symbol, Atlanta rose like a phoenix from the ashes. Today, the city is the leading filming location, and that has helped to shape the people and their city into what they are today.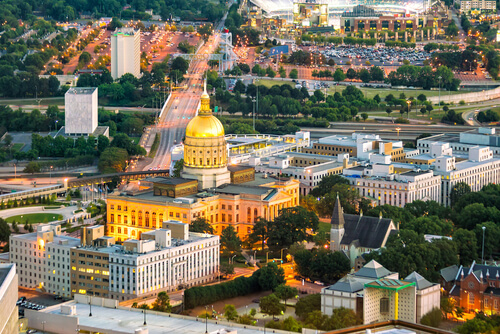 Atlanta has one of the largest populations of LGBTQ people, third to Seattle and San Francisco. But the city's diversity extends beyond the people. It's history is ingrained in the culture of the people, who exude a Southern charge. Additionally, the city is popular for its position in terms of justice and civil rights.
Atlanta has a variety of neighborhoods that are home to people from all walks of life. Over the last few years, the number of crimes in the city have started to decline. There has been a shift towards prioritizing the public safety in the city and on the Metro Atlanta Rapid Transit Authority, which is safe and clean. Year-on-year crimes have also been on a decline.
Entertainment in the Big A
Atlanta has a variety of expatriate communities such as Indian, Vietnamese, Chinese, Korean, Central American and Mexican. The birthplace of Martin Luther King Jr, Atlanta is known as one of the "black meccas" in America because African Americans hold abundant political and economic power.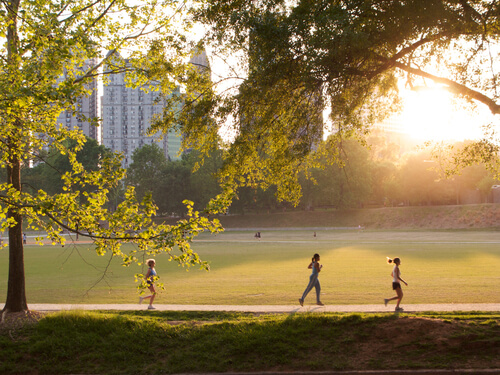 A paradise for professional sports people, the city Atlanta hosted the 1996 Olympic Games in Centennial Olympic Park, which features 21 acres of green space. Additionally, there's the BB&T Atlanta Open every summer for tennis fans, Atlanta United for soccer, The Haws basketball team, The Falcons for football and The Braves professional baseball team.
Live music is big in Atlanta, with The Tabernacle hosting R&B, rock, and popular rap musicians. For comedia and live music acts, head to Fox Theatre.
If you're looking for a more quiet place to connect with fellow artists, poets and singer-songwriters over good food and drinks, head to Eddie's Attic.
Atlanta has a great, diverse, and thriving bar scene and you can access secret speakeasies by dialing a secret code into an antique London phone booth.
Retro arcade bars like Joystick Gamebar have retro machines that date back to the 1970s. Sister Louisa's Church of the Living Room has a karaoke bar to accompany your voice while you belt out your tunes.
Looking for some affordable pubs in Atlanta? Keep an eye on the local papers and community websites for weekend specials and public holiday deals on happy hours and cheap drinks. Also check out sites like Thrillest, Drink Owl, FourSquare and Eater Atlanta.
Atlanta is Busy
Check out your nearby colleges, such as Emory, Georgia Tech, and Georgia State for arts events, sporting opportunities, and more.
In addition to enjoying the diversity, culture, and history of one of the most prominent cities in America, other fun activities and events in Atlanta include:
Celebrate the vibrant LBGTQ+ culture and Atlanta Pride in Midtown.
Head out to the Atlanta United game on a Sunday evening.
Visit the Georgia Aquarium.
Tune in to your inner artist by viewing masterpieces at the High Museum of Art.
Explore some international taste sensations along Buford Highway.
Walk, rollerblade, scooter or bike along the Atlanta Beltline.
Spend some time outdoors in Stone Mountain, Woodruff Park, or Piedmont Park.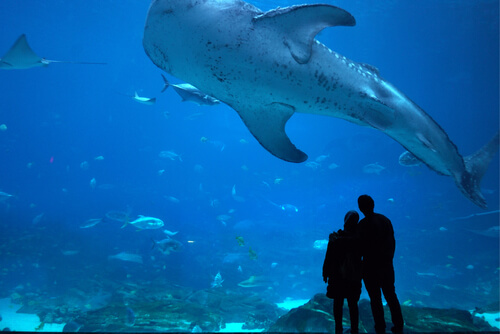 Many famous people hail from Atlanta, including the late Kenny Rogers, Julia Roberts, Jane Fonda, Usher, Tyler Perry, Usher, Jamie Foxx and countless others. The city has a diverse musical heritage, professional sporting offering, and a lively arts and entertainment scene. Not far from Nashville, Atlanta frequently enjoys visits from other artists and entertainers wishing to work or interact with other celebrities in the city.
Weather in Atlanta
The moniker Hotlanta should tell you what to expect from the Atlanta temperature. The city has a humid subtropical climate similar to that of the rest of the South. Summers are often uncomfortably hot with summer daytime temperatures reaching the mid-nineties. However, the average temperature in Atlanta for the rest of the year is approximately 70 degrees Fahrenheit, and it rains in the spring and fall.
Winters are much milder, with occasional light snow. It's rare for a snowstorm to hit Atlanta, but when it does, it can easily shut down the city.
Take your car when moving to Atlanta
We highly recommend bringing your car when moving to Atlanta. It's too hot to walk. Most citizens of Atlanta are dependent on cars. People who have lived in Atlanta for years will typically suggest that you choose a home as close to your workplace as possible. Many drive 45 minutes to an hour to work.
The city's public rail and bus system (MARTA) is concentrated in downtown, which means that those who live in the suburbs or further away in the metropolitan have to put up with traffic jams. Suburbs are spread out, and several interstate highways intersect the city. So be sure to add additional time to your commute to account for that.
Atlanta is not particularly walkable. The city has agreed to build The Beltline to add walking, hiking, biking, and jogging paths throughout the city.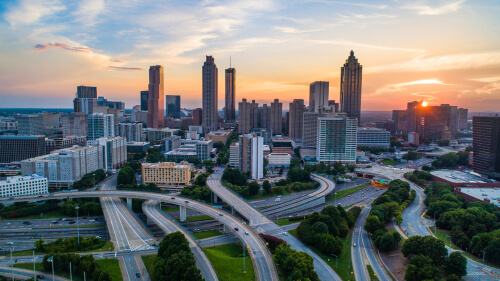 Finding a Job in The ATL
Business costs are low in Atlanta, but not all businesses are thriving. While blue-collar jobs have experienced minimal growth, retail jobs have followed the national downturn. However, the state of Georgia is still considered one of the best places to do business, in part because of the young, diverse workforce.
Since the city is home to several Fortune 100, Fortune 500, and Fortune 1000 companies that provide much of the employment in Atlanta. Some of the well-known companies in Atlanta include Home Depot, United Parcel Services (UPS) and Delta Airlines.
Atlanta also happens to be the birthplace of the Coca-Cola Company, which was first served in downtown Atlanta back in 1885. Although the company has become arguably the most well-known brand in the world, Coca-Cola still employs more than 9,000 people in the Atlanta Metro and in Georgia.
Another highly recognized company in Atlanta is CNN. The studio headquarters are near downtown Atlanta.
Working in Atlanta
Emory Healthcare system (part of Emory University) provides thousands of jobs in Atlanta at Children's Healthcare of Atlanta, Piedmont Hospital and Northside Hospital.
Another major employer is the Atlanta Hartsfield-Jackson International Airport is the largest in the United States and is home to Delta Airlines, both of which provide plenty of employment to the residents of Atlanta.
Job growth is at an alltime high in Atlanta, and it is one of the most desirable cities to live in, thanks to the shift towards more major corporations moving their operations to this thriving hub. Unofficially known as the capital of the New South, Georgia has become the leading filming location in the world, with its epicenter being Atlanta. This "new Hollywood" provides approximately 90,000 jobs in the state.
Atlanta was the first city to pay workers a livable wage of $15, and is one of the top six cities for job seekers. However, we don't recommend moving to Atlanta with no job.
In addition to corporate jobs, Atlanta is also an entrepreneurial hub. Residents are enticed to seek side hustles. Tech Square in Midtown has the highest density of academic researchers, corporate innovators, and startups.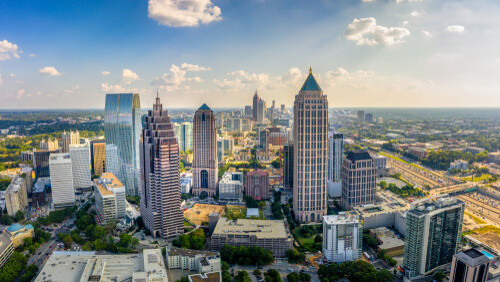 Cost of Living in Atlanta
Atlanta's cost of living is approximately 2% lower than the national average, which puts it on a par with Dallas. It's slightly cheaper to live in Atlanta than in Miami and much cheaper than New York City.
Atlanta also has all the usual supermarket chains as well as independently-owned grocery stores and many farmer's markets along with organic produce stores.
If you're lucky enough when moving to Atlanta to find a job and a home on the MARTA route, and occasionally use Uber or Lyft, Enterprise Carshare or Zipcar, you can get by without a car. Biking is an option in some parts of the city as well. Transportation costs are as follows on MARTA:
Adult Single ticket – $2.50
One day ticket – $9
Monthly season ticket, with unlimited trips – $95
Federal and state taxes apply wherever you live in Georgia. Most goods and services carry an 8.5% sales tax, which is typically excluded from the price on the item.
Property taxes are subject to the size of the property and the area in which it is located. Additionally, property buyers usually have to pay a real estate transfer tax.
Neighborhoods: Where to live when moving to Atlanta
Atlanta has a thing called "neighborhood culture". People tend to choose neighborhoods based on their aesthetic and cultural sensibilities. If you're relocating to Atlanta with your family, be sure to close to work and to schools for the kids. Atlanta has a wide range of schooling options ranging from K-12, as well as higher education. Atlanta Public Schools, Fulton County Schools and Georgia Department of Education all provide education for kids from kindergarten through high school. Some of the best schools in Atlanta include:
Spelman College
SCAD Atlanta
Morehouse University
Georgia State University
Clark Atlanta University
Georgia Institute of Technology (Georgia Tech)
Agnes Scott College
In addition to these sought-after public and private colleges, Atlanta also offers some unique educational options, such as:
Woodward Atlanta college-preparatory schools
The Adaptive Learning Center for special needs preschoolers
The Global Village Project school for refugee girls.
If you're moving to Atlanta alone, you can always meet new people via Meetup for events based on mutually enjoyed activities, or on Atlanta.net.
Where to Live in Atlanta
Some of the popular downtown neighborhoods in Atlanta include:
Buckhead and Midtown are particularly popular with young professionals who live and work along the Midtown Mile, which stretches between 15th Street and North Avenue on Peachtree Street. This stretch offers plenty of local cuisine, national stores, small local boutiques, and other shopping experiences. This area is the sixth most walkable neighborhood in the city and has an average walk score of 88. Buckhead is the older part of Midtown, and also has a very walkable layout. More affluent, this neighborhood has many upsides and amenities, but real estate is quite pricey.
Virginia Highland, affectionately known as VaHi by its residents who include families, students, and artists, is popular for its charm, small-town family-friendly community, and comfortable nightlife.
Fairlie Poplar is listed on the National Register of Historic Places. Back in the 19th and 20th centuries, Fairlie Poplar was a major business hub. It is also known for the arts and culture scene in The Balzer Theater and Luckie street Studios and the beautiful architecture it features. The original Flatiron building, which opened in 1887, was designated as a world heritage site in 1976, unlike the famous building by the same name in New York, which was constructed afterward.
Old Fourth Ward is home to artists and young professionals. This hip community is affordable, which makes it perfect for first-time homebuyers. As a bonus, it is a pedestrian and bike-friendly neighborhood.
Castleberry Hill is a warehouse district neighborhood which features exciting, yet unconventional housing in the form of converted warehouses. It has a happening arts and culture scene with festivals, eateries, and more.
Amazing Atlanta
Kirkwood is another great neighborhood for students, first time homebuyers and young families. With parks and trails, it is perfect for outdoor enthusiasts. At the same time, it is within walking distance of the MARTA east rail line and close to several colleges via interstate highways, as well as to the airport. The neighborhood has a small-town charm with quaint ranch houses and newly developed lofts set amidst an outdoor oasis.
Looking for good restaurants in Atlanta? Check out SouthernLiving, Clatl, Gafollowers and TripAdvisor.
Eastside is home to a number of prominent neighborhoods, including The Historic or Old Fourth Ward District. The Eastsde has undergone major revitalization in recent years, making this previously undesirable part of the city one of the most sought-after. Best of all, food options are abundant and housing costs are affordable. There are many conveniences within easy walking distance.
Druid Hills is an affluent neighborhood inhabited by professionals and public officials – Atlanta's elite. Elegant estates with beautiful landscapes house Georgian homes and some of the top schools in the city. The civic association works hard to preservice the history, beauty and respectability of the neighborhood.
Atlanta has some of the most exquisite restaurants in West Midtown and Atlantic Station, housed in unassuming, minimalist buildings. Much of the neighborhood is privately owned and contains lofts, warehouses, shopping establishments, and art galleries. Midtown is home to professionals and empty nesters who enjoy the proximity to the commercial business district, thriving arts scene and vibrant community.
Adair Park to the southwest of Downtown Atlanta is home to visionaries, students, and first-time home buyers. Located right on the West End MARTA rail station, many residents enjoy a car-free lifestyle. This bike-friendly neighborhood is just three miles from Downtown Atlanta.
Looking for an apartment in Atlanta? Search on Promove.
To Conclude
Atlanta is a comfortable yet diverse and populous city, which was a central hub during the Civil Rights Movement. The economy in the city and its neighborhoods has grown fast over the last decade. When you need a break from the concrete jungle, it's easy to head out to a quiet spot.
Sweetwater Creek State Park has trails to cater for all activity levels, as well as water sports and yurts. Midtown is home to the Morningside Nature Preserve, which provides tranquility in the heart of the city.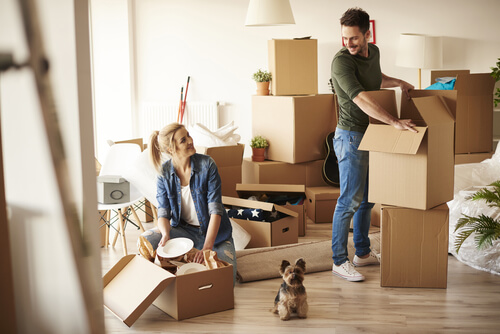 Ready to relocate to Atlanta?
If you've made up your mind to move to ATL, there's no time like the present to get started. Here's what you can do so long: