Reading Time: 8 minutes
When it comes to moving a car, you'll face many decisions. One of the biggest choices is how you go about moving the car. Should you rent a trailer or dully from U Haul, or from Penske to tow it yourself, or should you hire a car shipping company to handle the whole job? In this post, we'll try to help you choose the best way to ship a car.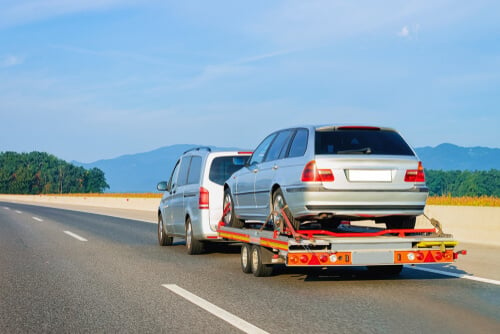 When you want to transport your own car, you have a number of options available:
If you have a truck with a hitch, you can simply hook the other car or car trailer up to it if you want to ship a car.
You could have a hitch installed so that you can use a rope, tow dolly or auto transport trailer to tow your car.
You could hire a truck and tow dolly, truck and auto transport trailer, utility trailer with ramp, or enclosed car trailer from a company such as U-Haul.
Installing a Hitch: How to Tow Your Car
If you want to tow an auto transport trailer, camper, boat or similar vehicle behind your own truck, you must choose the right hitch that will help secure your investments. Understanding the types of trailer hitches and the weight requirements of your load would be the first crucial step.
You'd use a much different hitch to tow a small trailer to what you would use to haul a fully-equipped RV. Class I hitches are suitable for small trailers, while Class V hitches can haul up to 10,000 pounds. Your car or truck must also be compatible with the hitch. To install a Class V hitch, you need a big car, truck or SUV.
Large capacity hitches are attached to the bed of a pickup truck while fifth wheel hinges utilize a pin system to connect your vehicle to the tow load. Gooseneck hinges use a ball component to connect the truck to your load. A mechanic will be able to advise you on the best hinge for your load and ensure proper installation.
When you consider the price of a standard hitch ($150-$800), gooseneck hitch ($400-$800) or a fifth wheel hitch ($500-%2,500) that you might only use this one time, it might make better sense to simply pay a professional auto shipping company to move your car to its new location. After all, it is not recommended to tow anything as expensive as a car until you have significant towing experience.
Types of Car Towing Explained
Trailers are available in all shapes and sizes, but when it comes to towing your car even across a short distance, it is important to use a car trailer that was specifically designed for the purpose.
Tow Dolly – Car dollies are an economical way to tow your car. The durable, lightweight design is probably most suitable to people who don't have a lot of experience towing cars. Tow dollies feature ratchet tire straps and heavy duty security chains.
Car Haulers – Car haulers have a 5,290 lbs. load capacity as well as a loading ramp, ratchet-operated tire straps, and security chains.
Enclosed Car Trailers – If you're not experienced with towing, or if you want added security, an 8.5'x 24′ enclosed trailer is the way to go. An enclosed trailer with a beavertail and ramp door makes loading and unloading your vehicle easy. Be sure to rent a tandem axle trailer with electric brakes and tie downs on the walls and floors.
Towing Your Car: What Are the Requirements?
Naturally, you will need a vehicle that is capable of towing your car in order to pull a trailer. Some of the requirements include:
Hard top – You cannot use a soft top sport utility vehicle to tow equipment.
Lighting – Both the towing vehicle and the trailer must have fully operational lighting and wired using a 4-way flat light connector.
Weight – The towing vehicle must be at least 750 lbs. heavier than the car that is being towed.
Hitch – To tow a vehicle, you need a minimum of a Class 2 tow hitch which can carry a minimum of 3,500 lbs. and 1-7/8″ to 2″ hitch ball with a 3,500 carry minimum. The hitch ball must not be higher than 25″.
Mirrors – The towing vehicle must have mirrors on both sides.
Lighting – Only vehicles with fully operational lighting can be used.
In addition to these requirements, you will need to drive slowly and carefully. The recommended speed is 55 miles per hour and you and your passengers should wear seat belts.
What size are U Haul car trailers?
Most companies rent out trailers, trucks, and vans ranging from 10 feet to 26 feet. Provided you hire a big enough truck or trailer, that should fit your car. It's an easy process and pricing is good too. One of the main benefits of hiring a trailer is that you can move your car and or household goods out of state and simply return the vehicle or trailer to your nearest UHaul locations or U-Haul branch, provided it is one of the vehicles that are approved for drop-off anywhere. Some vehicles are for local use, so it is crucial to check and book in advance to ensure availability for these types of utility trailers. We cover details about each of the top truck rental companies below:
Penske Truck Rental Review
Budget Truck Rental Review
Enterprise Truck Rental Review
How much is it to rent a
car trailer
or a car dolly?
If you have the experience and the time, renting a car dolly or trailer from U-Haul is cheap and convenient. The Penske truck rental is also good when you have that moving labor force like packing supplies into the trailer and towing. They have trucks in a variety of sizes, starting with cargo vans and pickup trucks from $19.99 to $39.95 a day, but bear in mind that that is not necessarily the bottom line. For round trips, you will pay $.99 per mile when you hire a moving truck. One way trips come with free unlimited mileage, so it is a flat-rate moving rate.
When it comes to hiring any transportation or car hauling equipment to ship a car, there's usually a formula that combines the car carrier, distance move and rental rate costs. But for your convenience here is what you need to know about costs of any commercial rental or cargo trailer:
Damage protection or Rental protection Plan
They also have two insurance options when you ship a car by trailer, one being basic insurance and the other has added protection to cover supplemental liability in the event of third-party lawsuits.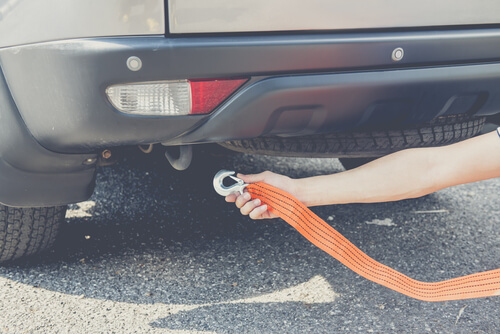 Can you transport a car in a U-Haul car trailer?
Budget car trailer rental is also a cost-effective method for you to ship your car, but they do highly recommend that you only hire a trailer if you have a four-wheel or all-wheel drive truck. If you don't have a 4WD or AWD vehicle, you can borrow one from someone. Most car rental companies do not permit any hitching or towing of any kind.
Yes, you can ship a car in a U-Haul trailer or UHaul trucks if you have experience in pulling a trailer. That means that you can make turns that will clear enough room for the car and the trailer and that you know how much room you will need in order to slow down, since you're carrying extra weight.
Don't try to tow a car unless you have had plenty of experience pulling cars in bad weather conditions (rain, wind, snow). You have to be adept at responding to emergency situations and road hazards if you were to put your car in a U-Haul and tow it across state lines. The uhaul auto transport it might be good for towing equipment for your personal rentals, but you are the one that load your trailer and drive vehicle.
No matter how experienced you are at negotiating the trickiest of roads, angling the vehicles or backing up with perfection, anything can happen.
When you're towing a vehicle, you are the only responsible party. Why take that car trailer rental risk of when you can rather ship a car into enclosed cargo trailers.
Moreso if you have no experience at all… Towing a car is risky for someone with plenty of experience, let alone someone who doesn't know that the hitch sometimes works similarly to a hinge. What will you do if you are reversing, and the trailer moves in the wrong direction? Save yourself the hassle and make use of a company that knows how to ship a car instead.
When using a tow dolly, be sure to follow U-Haul's tow dolly user instructions to make sure you stay safe.
How to Load Your Car Onto a Trailer
Car trailer rental companies make it easy to rent a car trailer, but that doesn't mean anyone should do it. When you transport a car across a long distance, it is important to follow all the right equipment and guidelines in the owner's manual.
Step 1: Park the two vehicles in line with one another, placing the towing vehicle in park with its parking brake remember that the vehicle must be loaded forwards on the trailer.
Step 2: Prepare the transportation vehicle by freeing the ratchets and tire straps, lowering the fender on the driver's side over the wheel, and releasing the latches that are holding the loading ramps in place.
Step 3: Load the vehicle that is being towed onto the the trailer by centering it behind the carrier and driving it slowly up the ramps. Place the vehicle in park and engage the emergency brake.
Step 4: Secure the ratchets and straps and fasten the security chains, and sliding the ramps back into place. Raise the fender and secure it.
When towing a vehicle, it is important to drive slowly and to remain attentive. Do not use your cell phone, and anticipate stops, because you are carrying a heavier load than usual. Be sure to wear your seat belt.
Why You Should Choose Professional Car Haulers to Ship a Car
In most cases, it is simply safer and more cost-effective to use an auto shipping company instead of car trailer rental to help you ship a car. Using an auto transporter means that your car is in safe hands, as it is transported by someone who is qualified, licensed and bonded to do just that. It is not just moving boxes, you need to use the towing devices to place your vehicle onto the rental truck. You're not responsible, which means that you can rest assured as you wait for your car to be delivered to your chosen destination.
Whether you ship a car by towing it yourself or by hiring a car hauler, it is important to carefully prepare your car for shipping and to research a company's reviews online before making the decision. Getting your towed vehicle to any rental locations with a trailer hitch might not be the best option. Always transport your automobile with a car carrier, possibly an enclosed cargo trailers, utility trailers or choose moving truck that will lift the front wheels only for short destinations.
Trailer rental for car transport might be a good option to move your vehicle, but this type of shipping might be dangerous for your precious cargo. Especially if you are inexperienced with car trailers.
Would you like a free quote on car shipping? Ship your car with Nationwide Auto Transportation and know that it will arrive safely.