Reading Time: 16 minutes
Making a move to Columbus, Ohio may be just the right fit for you, or if you're part of a family, for all of you. Drenched and absorbed in Midwest hospitality with affordable living costs, an innovative arts scene, and mushrooming tech industry, is all part of what makes up the biggest small town in America.
Thinking of moving, but not sure where to? In this post NAT will show you why Columbus is attracting more new residents daily, and why you could consider it as a place where you can lay your hat, or charge your mobile. Living and working in Columbus is a great experience and every weekend has some kind of fun activity—it also has brain freeze good ice cream.
Remember that wherever you decide to move to—and for whatever reason—NAT will be able to get your vehicle to you, safely and economically.
Move to Columbus | Your Guide
It is time for you to retire? Is a job transfer forcing you to relocate? Be prepared for anything when you move to Columbus, Ohio.
Moving to another town or city always comes with a lot of thought and consideration. Under any circumstances, moving can be a tiresome experience. Before you decide to move to Columbus, Ohio, it is beneficial to know the pros and cons as well as some of the cheapest ways to move across the country.
Also read: Moving to San Diego
Fascinating Facts About Columbus
Ohio's capital, Columbus is the most populated city in Ohio. It was named after the Italian explorer, Christopher Columbus and is nicknamed after the wooden arches that lined High Street at the beginning of the 20th century. After new lights were installed, the arches provided electric power to the streetcars.
To put the spotlight on the fact that the city is not just a growing economic hub in the Midwest but also a captivating destination, here a few enthralling facts that you did not know about the Arch City:
Did You Know?
Do you know that Columbus served as the location of the very first air cargo flight? Using a Wright Model B, Phillip Parmalee flew 2 packages of silk between Dayton and Columbus.
Among more than 300 flat track derby teams in the United States, the Ohio Roller Girls are one of the top ten teams. This year's All-Star team includes "The Smacktivist".
Columbus has more than 172,000 seats if all college and professional sports venues were filled to capacity at once. Sport is a big deal in Columbus.
Every October, Columbus holds the largest show for just one breed of horse. There are more than half a million visitors to the All American Quarter Horse Congress each year.
Columbus was named the most intelligent city in the United States by the Intelligent Community Forum in 2013. It is ranked among the top 20 most literate and most educated cities. There are a lot of great colleges and universities in the city, which helps.
The world's first water filtration facility was located in Columbus, designed to mitigate outbreaks of typhoid fever. Hoover designed the facility and treatment protocols, which are still in use worldwide today.
In Columbus, Ohio, the average resident age ranges from 30-33 years and has been for nearly 10 years, making the city one of the ten youngest in the country.
Indianola Junior High opened its doors in 1909, it was the first junior high in the United States, now known as Graham Expeditionary School, it is still running today as a charter school.
Columbus is one of the top five cities in the U.S. for craft beer production. Sports go better with craft beer, and who doesn't like craft beer?
Thinking About Making a Move to Columbus, Ohio, the Biggest Small Town in the U.S.?
It seems that people only have good things to say about this up-and-coming city sometimes called, The Arch City or The Discovery City. A big thing about Columbus is … well that it's big, bigger than you may realize. From small local cities to country farms with good views and good restaurants, there is much variety to see and do.
As one of the top fashion cities in the U.S., it has a large number of corporate fashion companies. Fans of the Ohio State Buckeyes and Columbus Blue Jackets form a family in the city. There really is always something to do and so many things that the citizens are proud of. Additionally, the people are extraordinarily nice and helpful. The major downside is that it is such a large city, so getting anywhere is usually at least a 20 minute drive. Additionally, the 614 is known to have extremely bipolar and crazy weather.
Move to Columbus, Ohio | It is Big
Because of the size of Columbus, having your own vehicle gives you autonomy. We can ship your car to you, either in a covered or open trailer. Click here for your free no obligation quote and to claim 20% OFF your first shipment.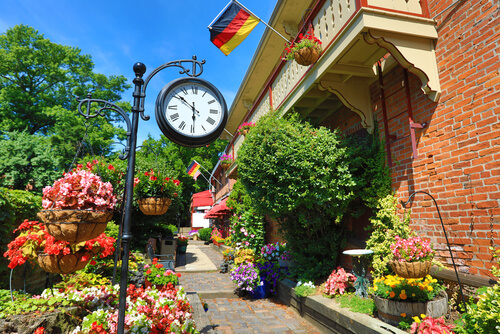 Things to Consider When Moving to Columbus, Ohio
I reckon that the most asked question regarding any new city is, "What will my quality of life be like once I have moved there?" The following will give you a fair idea of what you can expect when moving to Columbus, Ohio.
With an estimated population of around 900 000, Columbus ranks 14th among the largest cities in the United States. With an established network of bike- and river trails that connects to the $44 million riverfront park restoration in downtown Columbus, this city offers active lifestyles for everyone.
Its historic neighborhoods, thriving downtown arts and sports districts, open attitude, and affordable quality of life have earned Columbus national recognition.
If you decide to move to Columbus, Ohio you will be moving to the state capital of Ohio. According to the 2019 estimated population of 898,553, Columbus is the 14th-largest city in the country. Columbus is also the second-largest city in the Midwest and the third-largest state capital in the United States.
Where to stay in Columbus
Franklin County includes Columbus; Delaware and Fairfield counties also border the city. Columbus, OH, is its core city, which comprises 10 counties. Having a population in 2019 of 2,122,271, this is Ohio's largest metropolitan area.
The river Scioto was the site of Native American settlements that predated Columbus. Columbus was founded in 1812 at the meeting point of the Scioto and Olentangy rivers and intended to serve as the state's capital. In honor of the Italian explorer Christopher Columbus, the city bears his name.
Since 1816, Columbus, Ohio has served as the state capital and county seat. Columbus has been through recessions and floods throughout the years of industrialization and growth. By the 1990s, Columbus had become the largest city in Ohio, both in terms of the number of residents and total land area.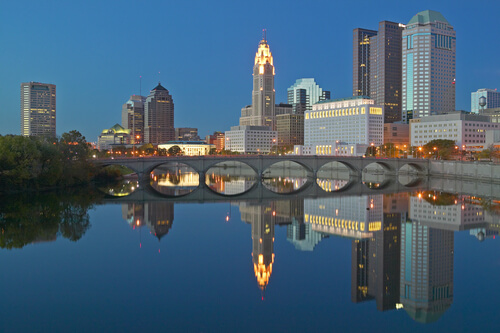 A Famous City
Columbus is famous for several things and is home to one of the oldest and largest universities in the United States. Columbus, Ohio also has a zoo that ranks among the nation's top 10. The city of Columbus has a combined area of 24,000 acres and 16 municipal parks making it one of the best park systems in the country.
Cost of living in Columbus is 45% Cheaper Than in New York City
You would need to earn about $7,107 in Columbus, to maintain the same standard of living that would cost $13,000 in New York City. Columbus ranks 15th in the country in terms of average tech salaries, which is just below twice the average salary across all sectors.
The city ranks #177 out of the 268 most expensive cities in the world. This translates to REALLY low living costs. For just over $1,000 a month, you can rent a nice two-bedroom apartment. Having a cost of living below the national average will mean that you can save a large chunk of that high salary.
A metropolis like this provides the feeling of a bustling city without the price tag. While Columbus has a variety of housing prices depending on the neighborhood, its overall cost of living is low in comparison with other major cities. Living costs in Columbus are 10% lower than they are nationwide.
Neighborhoods in Columbus, OH
In Columbus, you can find everything from the restored historic German Village, to the Short North neighborhood and downtown condos… with new neighborhoods forming throughout the city.
A variety of shopping and entertainment opportunities
Attractions like Arena District, Easton Town Center, Polaris Fashion Place, and Tuttle Mall provide shopping, entertainment and fine dining.
Sport Crazy Fans Love Moving to Columbus, OH
The NHL Columbus- Blue Jackets, Crew and Clippers and the Ohio State Buckeyes are among the many choices for the fans in the city. There are also quite a number of first class golf courses and country clubs spread throughout the area, which hosts the Memorial Golf Tournament during the summer.
What You Should Know About the Weather in Columbus, Ohio
A City for All Seasons
Because of its midwest location Columbus experiences all four seasons. With average temperatures of 85 and 84°F, July and August are the hottest months of the year. Generally, there are 15 days in these months on which the temperature is over 90 degrees, and the humidity is high. The average summer, nighttime temperature during the summer is roughly 60°F, so you may want to wear a sweatshirt.
In January, you'll need to bundle up because highs average 36°F, and lows 20. In February, highs average 40°F with lows of 24. Winters in Ohio tend to be cooler than the thermometer indicates due to Midwest humidity. There are usually a few zero-degree days each year, so be sure to dress in layers and watch the weather closely.
Rain or Shine Columbus is Pretty
The average rainfall in Columbus is 56 inches, and the average snowfall is 22 inches. Tornadoes, snowstorms, and ice storms pose the biggest threat of natural disasters. Stay informed on natural disaster threats by visiting the City's emergency preparedness website.
If you are moving from any city or town in Florida, Georgia or South Carolina, you may consider investing in snow tires and contacting NAT to ship your car to your new city.
Columbus, Ohio experiences severe weather which is typical of the Midwest. In the spring and sometimes even in the fall, severe thunderstorms may bring lightning, large hail, and tornadoes. When you move to Columbus, Ohio you can also expect light winter snowfall.
It can snow when you least expect it
When you move to Columbus, Ohio you can also expect the occasional ice storm, flood, and blizzard. Damage which was caused by a tornado on October 11, 2006, was classified as F2.
As a humid continental climate Columbus, Ohio has warm winters and muggy summers, but also a transitional humid subtropical climate to the south.
Columbus Ohio does not experience the heavy tornados that hit cities further east during the winter months. Columbus is too far south and west for Lake Erie-induced snow to be useful. And long stretches of cloudy weather in Columbus are caused by lakes to the north.
The Best Time of the Year
September, June, and May are Columbus' most enjoyable months of the year. With high temperatures ranging from 70-85°, Columbus enjoys 4 comfortable months each year. Ohio's hottest month is July, with an average high of 85.3°, which makes Columbus one of the hottest cities.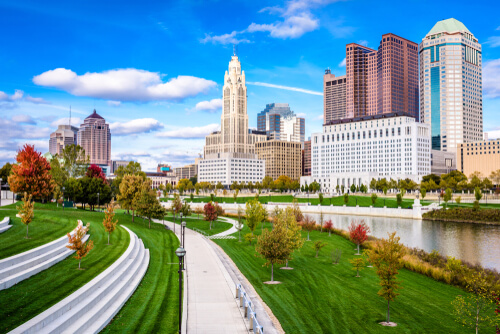 During the winter months of January and February in Columbus, snowfall totals range from 6.6 to 8.9 inches. Humidity levels are low for most of the year, but July is the wettest month.
106 degrees F (41 degrees C) were recorded twice in Columbus during the Dust Bowl of the 1930s-once in July 1934, and again in July 1936. The lowest temperature ever recorded in Columbus was *22 degrees Fahrenheit (30 degrees Celsius), on the 19th of January, 1994.
If you're moving from your current city to Columbus, Ohio, you may want to consider the seasons. Not used to driving in snow you may need to get snow tires.
Employment Opportunities
Columbus has many industries, including education, government, insurance, banking, defense, aviation, food, clothing, logistics, steel, energy, medical research, health care, hospitality, retail, and technology. There is a large private research and development organization located in the area called the Battelle Memorial Institute.
Ohio State University is one of the largest universities in the United States, and Chemical Abstracts Service, the world's largest clearinghouse for chemical information. Currently, six corporations have their U.S. headquarters in Greater Columbus as of 2021.
Columbus creates Work
One of the reasons Columbus is an excellent place to do business is because the city incentivizes companies who choose to make their home in Columbus. Tax benefits and services are available to help you grow profits while keeping costs low.
The employment sectors are divided up as follows:
Construction and mining – 3%
Manufacturing – 8%
Wholesale Trade – 4%
Retail Trade – 11%
Transportation and utilities – 5%
Financial activities – 7%
Professional and Business services – 18%
Education and Health – 15%
Leisure and Hospitality – 10%
Other services – 3%
Government – 16%
If your company has asked you to relocate, let NAT ship your car and while you are here, read our blog to make sure you are making the right choice by making a move to Columbus, Ohio.
Different Sectors
Among Columbus' numerous economic sectors are education, insurance, banking, fashion, aviation, food, logistics, steel, energy, and medical research and health care. The unemployment rate in 2019 was 3.8%, compared to the US average of 3.9%. It is noteworthy that Forbes ranked Columbus as the 7th best city for young professionals in 2016 and this city was ranked one of the top five best cities for entrepreneurs and startups in 2018.
Some of the largest employers are American Electric Power, Cardinal Health, JP Morgan Chase, Alliance Data, and Nationwide Insurance. Ohio State University and its related medical center is a large employer, as are hospitals, high-tech research and development companies, such as Battelle Memorial Institute, OCLC, and Chemical Abstracts, as well as a chain of clothing stores and fast food restaurants.
It's worth checking out jobs such as marketing research analysts and specialists, software development professionals, registered nurses, managers, and human resource specialists to discover the best-growing careers. Work on your skills if you're looking for a job in Columbus.
Expert tips: Speak to your employer about relocation assistance and to your financial adviser about tax deductible moving expenses.
Fortune 500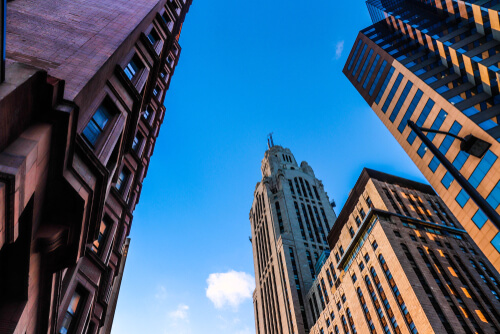 The Fortune 500 list of companies situated in Columbus, Ohio includes:
Cardinal Health
American Electric Power
L Brands
Nationwide
Alliance Data
Huntington Bancshares
It is suggested that you get a job before you move to Columbus, Ohio. If you are being transferred by your company then relocation assistance is something you should discuss with your employer. Tax-deductible moving expenses can be discussed with your financial adviser.
Crime Stats: Should I Be Concerned About Safety?
The crime rate is rated on a scale from 1 (low) to 100 (high). Crime rates in Columbus are 29.0, and 22.7 is the average for the United States. Property crime in Columbus amounts to 57.1 percent, 35.4 is the US average property crime rate.
Columbus, Ohio, and many other large cities have legitimate concerns concerning public safety. Those who want to move to Columbus, Ohio, will be pleased to learn that the city is 14% safer than other major US cities.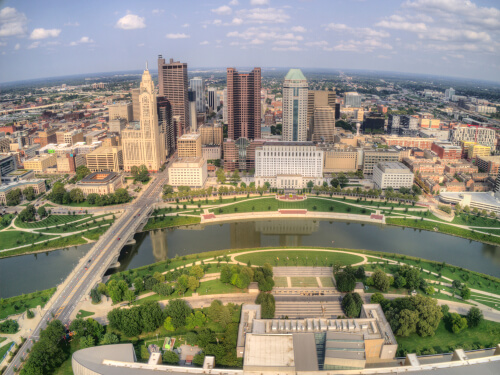 Are you thinking of moving to Columbus? The Buckeye State's capital has been rated as one of a) the best places to live in the Midwest b) the most budget-friendly cities in America and c) the most job-friendly… It's no wonder people are relocating here. But before you start looking for shipping costs, you need to decide where you will live. These five Columbus neighborhoods are safe and affordable: Any of these five neighborhoods would be an excellent choice for those looking for safe, affordable living when you move to Columbus, Ohio:
Safety First
Bexley.
Clintonville.
Grandview Heights.
Northwest Columbus.
Worthington.
Not such great places
These are some of the worst neighborhoods to live in if you decide to move to Columbus, Ohio:
Milo Grogan.
Fort Columbus Airport.
South Linden.
Olentangy River Road
Near Southside.
North Central.
Education in Columbus, Ohio
Columbus is a College Town and Home for Higher Education
There are a number of highly rated schools and colleges in Columbus, including Ohio State University, which is one of the largest in the nation. Ohio State University offers 16 graduate programs ranked among the nation's top 10 in their fields. Veterinary medicine at OSU and the pharmacy program are among the top five graduate schools.
Columbus City Schools (CCS), Ohio's largest district, serves 55,000 students. CCS has 142 schools, including magnet, or alternative schools. In suburban areas, districts operate independently and sometimes reach across townships.
In addition, the Diocese of Columbus operates several parochial schools. The second-largest school district in the area, South-Western City Schools is primarily composed of students from southwest Franklin County, with a few from Columbus. Among the best school districts in the Columbus area include:
Schools
Dublin City Schools. School District
New Albany-Plain Local School District
Olentangy Local School District
Bexley City School District
Grandview Heights City School District
Upper Arlington Schools
Gahanna-Jefferson Public Schools
Worthington City School District
Will you or your child be moving to Columbus, Ohio to attend a university or college there? There is no need to travel across the country or experience the stress of hoping your new driver safely negotiates the long road alone. Students' vehicles can be shipped.
Colleges and universities in Columbus offer a wide variety of academic programs and it is home to one of the country's largest universities, Ohio State. Among the smaller private universities are Capital, Otterbein, and Franklin. There are also technical, medical, and other options, such as Columbus State Community College, for students of all ages.
Education
Prior to moving there, we always recommend that you arrange a reconnaissance visit. See if there are any schools you like and be sure to visit your new community before you move. Being in person gives you a better sense of the different neighborhoods and amenities in the area. NAT can ship your car directly to your new front door. Let us help you, and your car, get there safe and in one piece.
There are a few colleges in Columbus, including Ohio State University, one of the largest in the US, and Columbus State Community College. United States magazine ranked Ohio State University 19th in the nation in 2009. U.S. News and World Report ranked Ohio State University in the top tier of schools nationally.
OSU's veterinary program and pharmacy program have been placed among the top five for the best graduate schools. There were no graduate programs in social psychology, dispute resolution, vocational education, elementary education, secondary education, or administration/supervision.
Are you or your child planning to move to Columbus, Ohio to attend university or college?
There is no need to travel across the country or suffer the stresses of a new driver on long distances alone if you do not want to. You can always ship the student's vehicle.
Car Shipping Columbus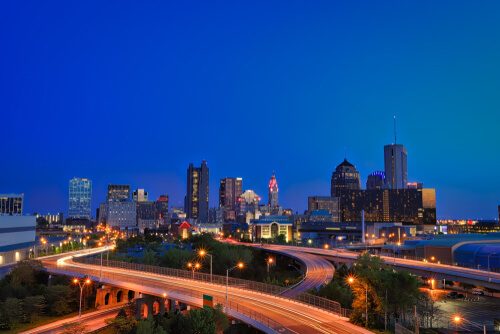 There are 55,000 students in Columbus City Schools (CCS), Ohio's largest district. Among the 142 schools in CCS are several magnet schools, also known as alternative schools. Suburban districts operate independently within one or more townships, sometimes spanning municipalities.
Several parochial schools are also operated by the Roman Catholic Diocese of Columbus. South-Western City Schools is the area's second-largest school district, composed primarily of students in southwest Franklin County, including some students in Columbus.
School Districts
Among the best school districts in the Columbus area include
Dublin City Schools. School District
New Albany-Plain Local School District
Olentangy Local School District
Bexley City School District
Grandview Heights City School District
Upper Arlington Schools
Gahanna-Jefferson Public Schools
Worthington City School District
Public Transportation in Columbus, Ohio: Will I need a car to live in Columbus?
Selling your car when you move to Columbus, Ohio is not recommended unless it is old and you need a new one. Buying a car in a new state may be less expensive than in your current state. Shipping a car from your current state to Columbus is easy.
When it comes to wear and tear, breakdowns, or accidents, shipping or auto transport can be cheaper and is certainly less time consuming, tiring and stressful. Car shipping is an effective way of getting your precious car from point A to B.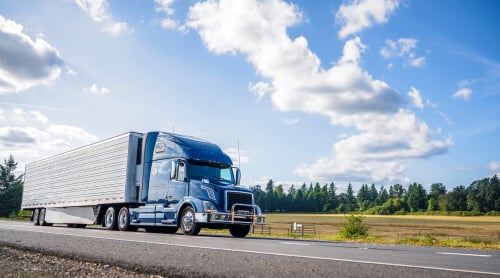 Columbus's COTA bus system serves Central Ohio's public transportation system. Every week, many thousands of passengers travel by city buses. You have moved to Columbus, Ohio. How will you get around the city? Here are some options for transportation:
Transport in Columbus
Bus Service
Take advantage of AirConnect. Downtown Columbus can be reached easily and quickly from the John Glenn Columbus International Airport.
Biking there. On the campus of The Ohio State University or in Columbus' downtown, dockless, smart mobility solutions are available.
Driving your own car
ZipCar.
Downtown Columbus has a walkability score of 14th, which makes the neighborhood a great place to live. It is an adventure finding apartments for rent in Columbus, Ohio, especially in walkable neighborhoods such as Short North, German Village, and Schumacher Place.
When you move to Columbus, Ohio, you will be close to the John Glenn Columbus International Airport (CMH). John Glenn Columbus International Airport and Columbus are separated by 6.2 miles. You can get around Columbus with ease and affordability if you take a flight to Columbus and have your car shipped there.
What's Cooking in Columbus?
When you move to Columbus, Ohio you will soon see that there is no shortage of things to do.
No matter where you stay in Columbus, you're going to have a great time. Columbus's world-class Zoo and Aquarium is an excellent destination any time of year. A spectacular glasshouse, a gorgeous community garden campus and the Franklin Park Conservatory and Botanical Gardens combine horticulture and art.
In Scotts Miracle-Gro Foundation Children's Garden, children are introduced to and connected with nature. At the Columbus Museum of Art, you can enjoy the sunshine from the gallery spaces as well as the sculpture garden outside. Children and adults alike will enjoy COSI's fun science activities. There isn't a better place to view dinosaurs than the Dinosaur Gallery at the American Museum of Natural History. There are dozens of multi-use trails throughout Columbus, and parks like the Scioto Mile connect the city with nature.
Columbus Cuisine
There are plenty of professional and collegiate sporting events all year round if you're more of a sports fan. Whatever your interests, you'll find something in the Columbus community to cheer about. Easton, Polaris Fashion Place, and the Short North Arts District feature name-brand shopping as well as boutiques in Grandview, German Village, and the Short North Arts District.
The cultural scene in this city rivals any in the country, offering live music, art exhibitions, performances, and more. Grab an extra cup of coffee, since you're going to be staying out until late.
Few cities in the country are growing faster than Columbus. Among the most popular places to visit in Ohio is Columbus include:
Markets
There are 145 markets in Ohio, but North Market is the largest and most vibrant. You will find that this Columbus attraction dates back to 1895 and remains popular today. When you move to Columbus, Ohio you can enjoy the best of what's local, fresh, and authentic when you dine, drink, and shop.
In addition to the size of North Market, it's also known for its high quality, which makes it one of Columbus's biggest attractions. You will also discover jewelry made by artisans with impeccable craftsmanship.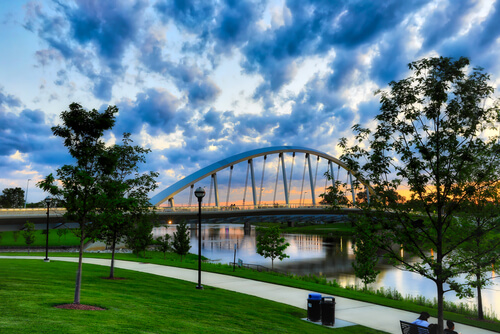 Franklin Park Conservatory and Botanical Gardens
Move to Columbus, Ohio to find that this is a place where people love to come at all times of the year. Curators are available to guide visitors to the park and make sure that they see something new every time. Franklin Park Conservatory and Botanical Gardens was founded in 1895 and remains one of the greatest Columbus attractions today.
The Ohio Stadium
Names like "The House that Harley Built" and "The Horseshoe " reflect the fondness people have for the Ohio Stadium. Move to Columbus, Ohio to experience football like nowhere else. Enjoy walking around Ohio Stadium among enthusiastic football fans.
The Ohio Stadium holds more than 100,000 fans, making it one of the biggest in the country. Fans cheer in their favorite team's colors on game days, highlighting every deck with red.
Preparing for Your Move to Columbus, Ohio
Columbus offers many other museums, art galleries, theatres, and parks. This means you will always have something to do when you do decide to move to Columbus, Ohio.
Our recommendation is to go on a sightseeing mission before making a move. Examine every school that you're interested in, and find out exactly what they have to offer.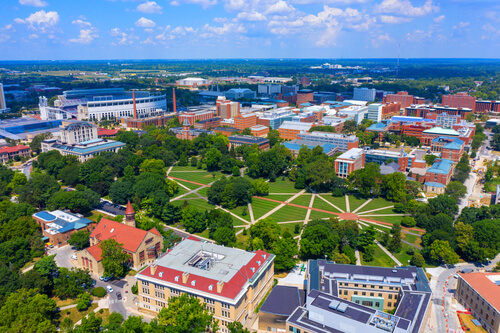 If you want to move to Columbus, Ohio, make sure you visit the new neighborhood first. It will help you get a better feel for the area's different neighborhoods and amenities when you visit in person. Neighborhood Guides and City Reports give you a better understanding of your community.
You can even look at the apartments in Columbus, Ohio, and have a good look at properties in good neighborhoods. When you decide to move to Columbus, Ohio, and decide to keep your car, it would be beneficial to ship or transport it. The benefit of this option is that you can save your car extra mileage, and you can ship more than one vehicle at once.
Move to Columbus, Ohio | Ship Your Car
Shipping or transporting your car will make your logistics really easy if you are moving to Columbus, Ohio,. Save extra miles added to your odometer; save time having to drive, and save yourself the stress by letting the professionals handle it.
Nationwide Auto Transportation can insure your car and deliver your vehicle within your specified timeframe. You can trust Nationwide Auto Transportation to transport your cars to Columbus safely if you are moving there. Choose between closed and open transport options for classic cars and vehicles that shouldn't be in the sun, rain or snow.
We will make it easy and stress-free to finish your move to Columbus, Ohio without a glitch. Read our Ultimate Relocation Guide and download our free moving checklist