Reading Time: 8 minutes
Moving to New Jersey – A Nationwide Auto Transportation Guide
There has been an influx of New Yorkers moving to New Jersey. Some of it might be attributable to the favorable cost of living in Jersey City. In this post, we'll share with you the pros and cons of moving to and living in New Jersey.
Why Would Anyone Live in New Jersey?
New Jersey's population continues to grow, and there are several reasons for this:
Views for days. A beautiful state is situated in the North-Eastern parts of the United States, New Jersey is situated 130 miles off the Atlantic coast. Across the Hudson river, you will find Jersey City, the home of Liberty State Park.
Steeped in history. Ferries embark to the nearby Ellis Island with the historic Immigration Museum on its shores.
Statue of Liberty. The Lady of Liberty never ceases to amaze everyone who has the privilege of seeing her from up close. Over decades, she has become an iconic figure in New Jersey.
Great outdoors, popular with tourists. Along Jersey Shore is where you will find a notable number of resort towns such as the historic Ashbury Park and the small town of Cape May with all its preserved Victorian buildings.
Educated population. With one of the best-educated populations available, New Jersey is ranked as one of the top five places to stay and call home. According to the Census Bureau, the rate for bachelor's degree attainment is well above the national rate. Being in close proximity to New York, New Jersey, and all its beauty is more than often overlooked.
New Jersey Population 2021
The Garden State, AKA New Jersey is inhabited by nine million citizens and could become a bit crowded at times. The state is ranked 11th in population size.
If you want to escape the hustle and bustle of a big city in favor of small town living, there's good news as well.
Jersey does have smaller towns that give the feeling of country living but you have access to the main highways and big cities within driving distance. So, by moving to New Jersey, you have the best of both worlds at your fingertips.
Having your own transport will be beneficial if you do decide to move to a smaller town where there's limited access to public transportation.
Most of these towns offer a scenic and beautiful way of life. After all, it is called the Garden State, you will find quiet and peace.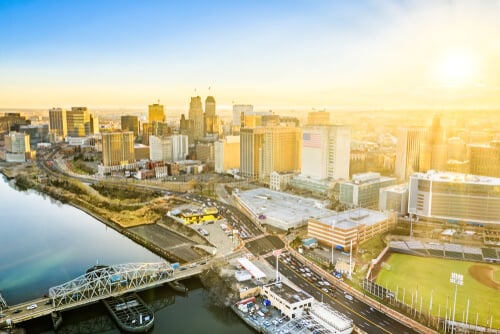 New Jersey Geography and Climate
Whichever area you chose to live in when you move to New Jersey, you will still be in close driving proximity to the bordering cities.
A lot of things have been said about New Jersey and some shows might even have given you the wrong idea of the essence of this city. But if you take the time to see what New Jersey is all about you will never regret calling it home. It features unparalleled beauty like the Great Falls of the Passaic River and the scenic South Mountain. Before you make a final decision on moving to New Jersey here are a few pros and cons to consider.
Although the summer and winter weather is predictable with hot and humid summers and cold winters, you will find extreme weather patterns when you move to New Jersey.
The summer temperature ranges from the low 60s to the high 80s. While the winter temperatures are around the 30s to around 16F.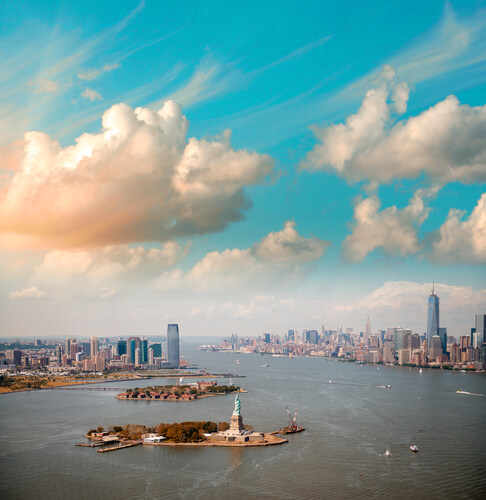 WARNING: New Jersey also experiences blizzards and extreme wind storms. Locals recommend a good pair of waterproof boots and a reliable car battery.
In summer, New Jersey experiences an average of 30 thunderstorms per year.
Due to these extreme weather conditions, you can definitely expect quite a few power outages during the course of a year. Locals are used to the outages but if you are a newbie, these conditions might catch you off guard.
New to wet, icy road driving?
Preparing an emergency kit for your home and car is a very good idea, especially in winter when the roads are icy and wet.
Our carriers provided a handy list of tips for driving safely in snow and ice.
New Jersey Driving Laws
New Jersey has a straightforward transportation system. which is very well coordinated. It covers most of the largest cities.
Residents in the smaller towns or in the city centers often use bicycles or take a walk to get from Point A to Point B. But it is highly recommended to have your own car for long drives in inclement weather.
Newcomers to New Jersey are often confused by the different ways of driving in the city, especially when it comes to:
Traffic circles: Roundabouts are very common on New Jersey's roads. You will have to learn how to navigate these correctly to safely attempt New Jersey traffic.
Jersey Jughandles: If you are from out of state, Jersey jughandles could take quite a bit of getting used to. They are used to make left-hand turns on busy roads. Over time, these jughandles have been proven to be safer and more efficient if you are traveling on high-speed roads.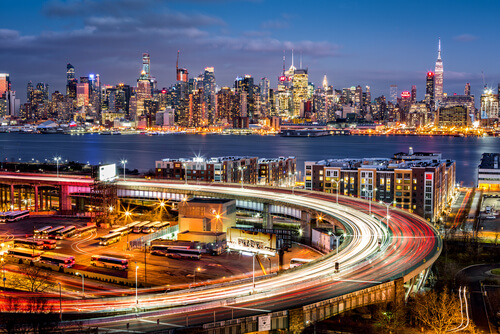 Benefits of Moving to New Jersey
New Jersey consists of quite a few large cities such as Newark, Patterson, and Trenton. Jersey City is probably the most well-known city in New Jersey.
But many people prefer the smaller towns to live in. Princeton, Ridgewood, and Chatham give a more country living feeling. New York is easily reached for business or other important trips into the city.
New Jersey Schools & Education Options
As one of the leading states in the US in terms of education, you have access to highly prized schools to choose from, including Princeton.
New Jersey's public school system was ranked No. 1 by Education Week in both 2019 and 2020. The New Jersey Department of Education runs a tight ship. This has earned them a No. 2 ranking (second only to Massachusetts) from the U.S. News & World.
Arts and science also prove to be a big part of the educational part of New Jersey.
If you have the worry of having a college age kidsthat is moving to New Jersey for University you might also want them to have the privilege of having their own car available. Quality transporters will transport your child's car and they do deliveries on almost all campuses where their trucks can move easily. Or they will meet your child at a public parking area to fetch the vehicle.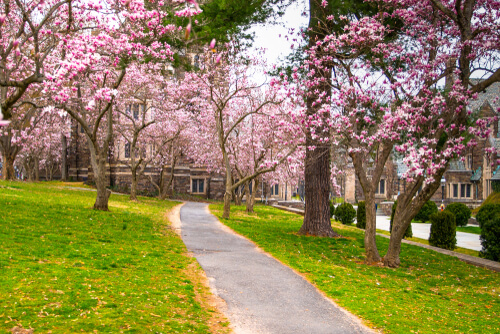 Cost of living in New Jersey
Based on research on cost of living by state, Newark and Jersey City are generally cheaper than New York City's outer boroughs. The only exception is Hoboken which is in close rivalry with Manhattan in terms of costliness.
The average income for a middle class family of four in New Jersey is between $60 000 and $177 000 per year. New Jersey does have the highest property tax rate in the country.
Everything in New Jersey seems to be just that tad more expensive from the consumer articles to taxes and even insurance. By all considerations, New Jersey is not a cheap place to stay.
But this comes as no surprise because it has one of the highest median household incomes in the country. That favorably compares to the New York cost of living. So if the cost of living in New Jersey vs New York is a deciding factor, this is something to keep in mind.
Selling your car vs. driving it to NJ
Did You Know? It's cheaper to buy cars in some states than in others. Even if you include the cost of auto shipping to bring the car to you.
Look into the difference in car prices between where you currently stay and the prices in New Jersey. Will you be able to buy a new car when you move? Will you have the same level of comfort that you currently have with your car?
Otherwise, you should consider shipping your car through a reliable shipping or transportation company. With all the new things like roundabouts and the Jersey jugheads, you would probably be more comfortable being behind the wheel of a car you know by heart.
New Jersey residents are not allowed to put gas in your own car. There will be attendants to help you with that.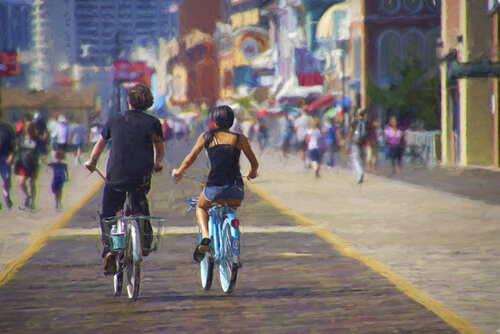 Attractions in New Jersey for Families
New Jersey is the perfect state to explore during road trips and nights out. There is so much to see and do for you and your family.
Many restaurants in New Jersey have a bring-your-own-bottle policy. Much classier than college parties, but it's the same idea. Locals who are used to this often wonder how the rest of the world functions without these traditions.
Places to visit in the Garden State
Then of course, there are many wonderful attractions in New Jersey.                                                                                                       
Atlantic City's Boardwalk—Constructed in 1870, this boardwalk spans over four miles. The Steel Pier offers carnival rides for all ages. While taking a stroll along the boardwalk, make sure to take a peek at the Entrance to the Stars. It features the handprints of many famous celebrities like Frank Sinatra.
Victorian Cape May—Tourists from around the world are still attracted to the very things that attracted so many former presidents to Cape May. It is also home to the beaches and the stunning beauty of the Cape May Point Lighthouse which was built in 1859. The attraction of the many Victorian styled holiday homes seems to hold a certain charm.
Liberty State Park—The park is home to a number of interesting monuments and memorials. The two that stand out are Liberation, which is dedicated to the holocaust; the other is the Sobering Empty Sky. The Liberty State Park also overlooks Ellis Island, which is home to the Statue of Liberty.
New Jersey | Someplace Great
Princeton Battlefield State Park & Institute for Advanced Study—Princeton has the title of being one of the best small towns in New Jersey and takes its name from the The University of Princeton; one of the most popular and prestigious Universities worldwide. This attraction also hosts several other research institutes, which include the Institute for Advanced Study. This is where the famous scientist Albert Einstein did his last work. In addition to the Battlefield itself, some other attractions in Princeton include the Clarke House Museum.
The Adventure Aquarium—This huge aquarium hosts more than 8,500 different species of marine animals. Some of the creatures you'll meet here includes sea turtles, penguins, and stingrays. This popular family attraction is one of the best aquatic educational aquariums in the United States. There is a large collection of sharks on show, which is also a big attraction for any marine lover. The family will enjoy an educational and very informative experience.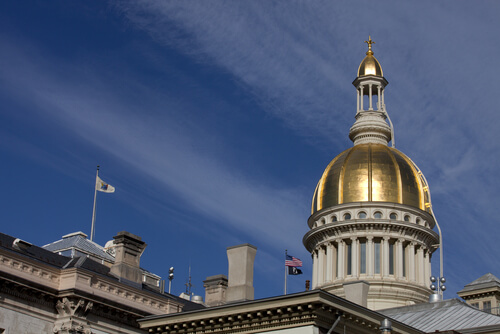 Road Tripping to New Jersey
Going on vacation or doing college road trip? Here is a short list of other places you can look up en route:
Delaware Watergap National Recreation Area
Morey's Piers
Battleship New Jersey
Liberty Science Center
Cape May County Park and Zoo
Thomas Edison National Historical Park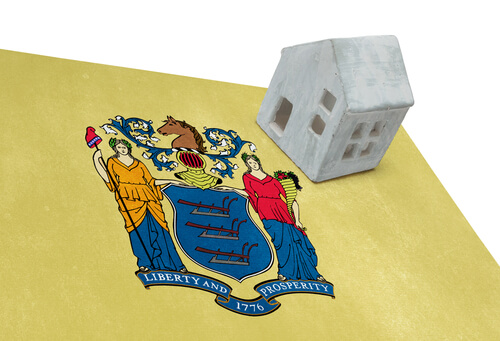 Moving to New Jersey Guide: Next Steps
Made up your mind to move to New Jersey? Here are some important steps to follow:
Find a job in New Jersey
Decide on a neighborhood in New Jersey
Do a test run of living in the city for a few weeks to see whether you like it
Speak to your employer about relocation assistance
Arrange for a moving company to help relocate your belongings
The Nationwide Auto Transportation Moving Checklist will help you arrange your move step-by step. Download your free copy today.
Depending on where you're moving from, you may consider shipping your car to New Jersey. You could make this task a whole lot easier on yourself by using an auto transport company.
Request a free car shipping quote now!