Reading Time: 13 minutes
Ah. The Big Apple. The city that never sleeps. NYC. Everyone dreams of visiting this vast, busy and diverse metropolitan city, and many people are inspired by the opportunities it has to offer. If you're thinking about moving to New York – the city or the state – this guide will tell you all you need to know to do that.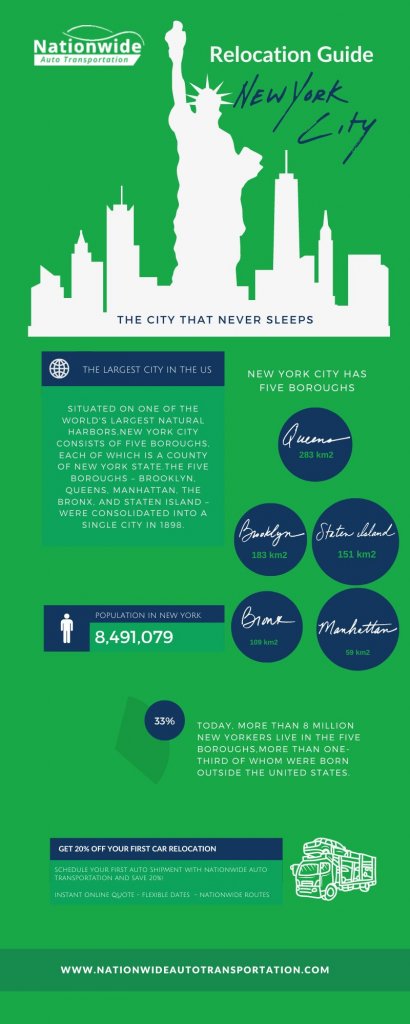 When the Big Apple Calls
You've likely heard the words "If you can make it here, you can make it anywhere". Perhaps a part of the allure is the message of hope, opportunity, and romance that the city holds, according to all the books and movies set in New York. But NYC is not all lights and parks. It is a busy city and it can be difficult to find some peace and quiet, but there are several different villages and small towns that make up the Big Apple and Manhattan, including Tottenville, St. George, Battery Park, Elmhurst, Brooklyn Heights and Chelsea. You could also move to any of the cities in New York State that are close enough to the city for you to enjoy the best of both worlds. Although it is not geographically the largest city at an estimated 300 square miles, it is the most densely populated.
Of course, in a city that never sleeps, you expect some good nightlife and New York City delivers in spades. Manhattan's major nightlife can be found in the Lower East Side, East Village and Murray Hill. Ridgewood, Greenpoint, Bushwick and Williamsburg are the busier areas in Brooklyn and Queens.
Expert Advice for a New York Move
Expert Moving to New York Advice: When you're house hunting, be sure to check out the pub scene during peak hours on a Friday and Saturday in the neighborhood you're looking at.
Thinking about moving to a different city? Check out our other guides:
About New York State
Located in the northeastern US, the state of New York is famous for Niagara Falls and New York City. Among the most popular sites in New York include Long Island with the Montauk Lighthouse, Fire Island and the Hamptons, The Statue of Liberty, located in Manhattan, Brooklyn and Queens. There are five separate boroughs in New York, namely Manhattan, Queens, Brooklyn, The Bronx, and Staten Island.
New York State is home to 62 counties, 932 towns and 62 cities. Ten pairs of towns in New York have the same name, but are located in different counties, including:
Albion in Orleans County and Oswego County
Ashland in Greene County and Chemung County
Brighton in Franklin County and Monroe County
Chester in Orange County and Warren County
Clinton in Clinton County and Dutchess County
Dickinson in Broome County and Franklin County
Fremont in Steuben County and Sullivan County
Franklin in Delaware County Franklin County
Greenville in Greene County and Orange County
Lewis in Essex County and Lewis County
Additionally, twenty-four towns have a city with the same name in the same county, while three towns have the same names as cities in different counties. It can be quite confusing!
Need to bring your car to New York but don't want to drive?
Car Shipping Near Me (New York)(Opens in a new browser tab)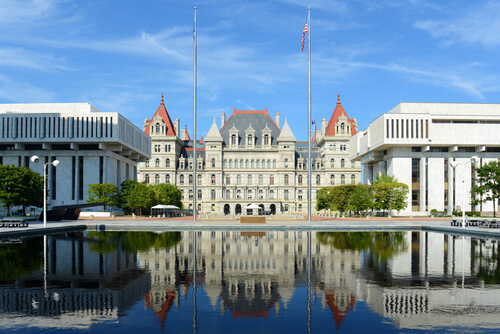 If you're thinking about moving to New York City, you may want to find a short term rental to research the city and its various neighborhoods properly. You want to know:
How far it is from the subway, and to work.
What the food and prices are like at your nearest supermarket.
What the neighborhood feels like at night.
How much noise to expect.
How well you will adjust to the vibe of the city.
What is the Neighborhood Like?
But researching potential neighborhoods goes further than distances and nightlife noise levels. Also research the following:
Crime statistics. The NYPD website will give you a sense of the amount and type of crime in a neighborhood. Remember, the city might have a completely different vibe during the day and at night.
Evacuation zones. Since Sandy, those parts of the city that are in high flood risk zones are evacuated first.
Pet-friendliness. If you have pets, your housing options will be more limited. Some New York buildings place weight limits on the size, weight, and breed of animals permitted, while others outright prohibit pets. If you have a big dog, look for a neighborhood with parks nearby.
Can't work in a exploratory visit before moving to New York? At least use Google Street View to take a look around the area. Popular neighborhoods in New York's five boroughs include:
Popular Neighborhoods
Upper East Side – Art enthusiasts appreciate the Manhattan Mile, which is home to the Solomon R. Guggenheim Museum and the Metropolitan Museum of Art. Enjoy the homely vibe of a residential neighborhood while enjoying a stroll through Central Park or shopping at high-end department stores and boutiques.
Murray Hill – If you're after a neighborhood where you can enjoy the nightlife until the city lights are replaced by morning light, this is the place to be. In addition to plenty of late-night spots, Murray Hill is a great area from which to explore the city.
Queens – Astoria is the gem of Queens, and home to young professionals who enjoy the world-class art institutions, lovely parks and awesome Greek food.
Brooklyn – Home to Williamsburg's hip residents that include young families, indie musicians, fashion designers and artists, this neighborhood, sometimes referred to as DUMBO (Down Under the Manhattan Bridge Overpass) offers amazing views of the city skyline and you can be part of a thriving small business community.
Hell's Kitchen – Home to some budget-friendly eateries, and with easy access to Broadway, this unpretentious neighborhood has been home to many struggling artists and actors. You'll also find many gay bars here.
Greenwich Village – Home to NYU, you'll encounter many young people in Greenwich Village, which is nestled between East and West Village.
Something for Everyone
Ultimately, you should find the neighborhood that gives the bang for your buck. According to Localize.city, Windsor Terrace in Brooklyn is the best neighborhood in that respect. For a median $2,300 for a one-bedroom apartment, you will be part of a neighborhood with leafy, bike-friendly streets near the Green-Wood Cemetery, and with easy access to farmer's markets.
Roosevelt Island below the Queensboro Bridge offers a tranquil setting with several parks and the Cornell Tech campus at a median rent for a one-bedroom apartment coming in at about $2,400.
Forest Hills in Queens is one of the safest neighborhoods in New York with a thriving economy and a low median rent.
Other affordable neighborhoods include Concourse, Woodhaven, Bedford Park, Washington Heights, Flushing, Clinton Hill and Bay Ridge.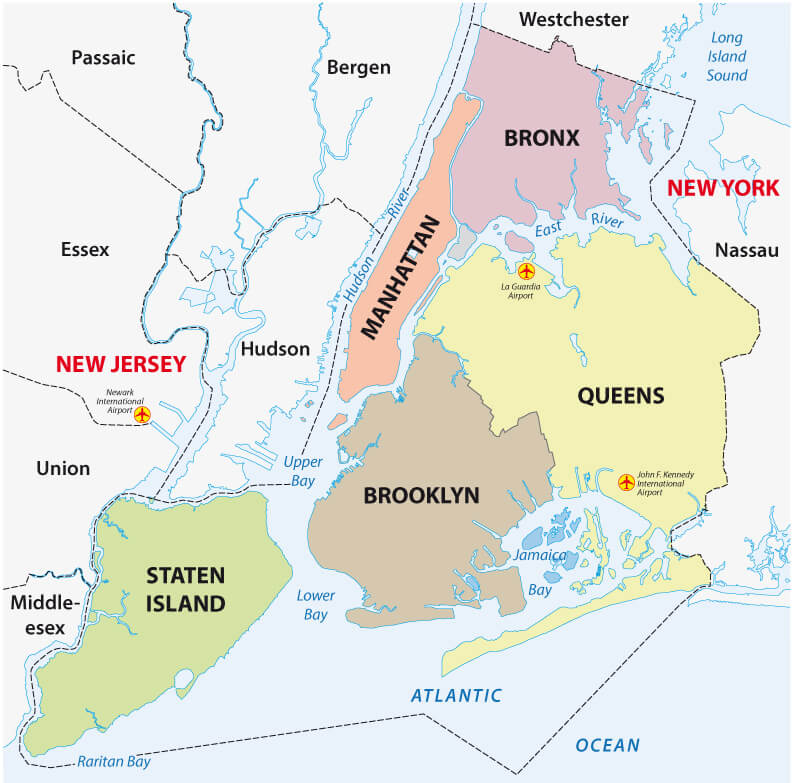 If you have kids, you will want to check out the local schools. Note that realty brokers are not allowed to tell you any more than whether your potential new home is within a specific school's zone.
How many people live in New York City?
New York, New York is home to approximately 8,5 million people, while 19,5 million people live in the state of NY. It is estimated that the people of New York City speak about 800 languages, which makes it the most diverse city in terms of linguistic multiplicity. However, English is the official language, spoken by most New Yorkers.
With the many different languages also come cultural influences that make it such a culturally diverse city.
Interestingly, despite the ways in which the media portrays the stresses of living in New York, a report by the Health Department found that New Yorkers have a life expectancy of 81.2 years, which is about two and a half years longer than the national average. Around 13% of the population of New York are 65 years or older.
Speaking of the people of NYC, you will want to meet new friends, especially if you're moving to New York alone. It's a good idea to use a Meetup service which will give you an opportunity to meet new people and possibly explore new things.
What salary do you need to live in NYC?
New York City is home to more billionaires than any city in the world, however, the disparity between rich and poor is also quite glaring, with more than 60,000 homeless sleeping on the streets.
If you're thinking about moving to New York, you should know that NYC is the financial capital of the world, and the cost of living reflects that. The GDP per capita in NYC is about $63,000 and salaries are high, but it's a good idea to see the cost of living before you make your decision to move to New York.
As one of the most expensive cities in the United States, the cost of living in New York is approximately 22% above the national average. If you want to live comfortably – meaning that you spend less than half your income on necessities – you need to know what salary you need to live in New York. Experts say you need to earn at least $87,000 per year to live comfortably.
The living costs in New York City are pretty high and the demand for accommodation is sky high, too. For instance, it costs 33% less to live in Los Angeles than it does to live in NYC. Sales tax of 8.875% is added to almost everything you buy, and in most cases, the price on the shelf does not include sales tax.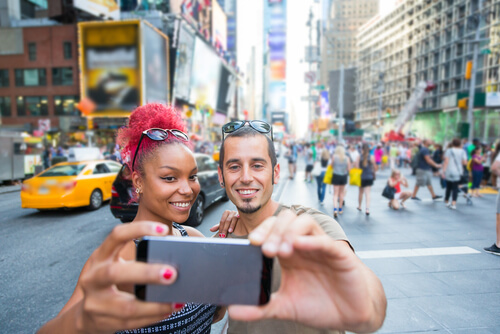 Urban Living
If you're planning to live in the City Center in order to avoid the lengthy commute, you can expect to pay upward of $2000 per month to rent a one-bedroom apartment, or $4000+ for a three-bedroom apartment. Outside of the City Center, you can find a one-bedroom apartment for around $1400 or a three-bedroom apartment for around $2200.
Some places to look for rental apartments in NYC include:
Purchasing a home in New York City Center costs around $850 per square foot, and less than half outside of the City Center. Each area has a different property tax percentage.
You can save on housing costs by looking at different boroughs, but be sure to look at the different living options in each neighborhood. Another good way to save on housing costs is to share a home with a roommate.
If you're still thinking about moving to New York, you will first need to find a job – unless your company is moving you to NYC. If they do, they will probably offer you a relocation package (Check out our handy relocation checklist here!).
Many individuals moving to New York do so for the potential opportunity to earn more money at one of the prestigious firms that call it their home. This includes working on Wall Street, in Film or Entertainment, or even in politics.
Transportation in NYC
The typical New Yorker uses public transportation (buses or the subway) to get around. The subway operates 24 hours a day and based on the number of stations, it is the largest subway system in the world.
At the time of writing, monthly unlimited season tickets cost around $116.50 per month, compared to a one-day ticket for $5.50 and an adult single metro for $2.75. If you're moving to New York without a car, you can save money on public transport by:
Walking to work, if you live close by.
Buying a bicycle to get from point A to point B.
Investing in an Unlimited Metrocard ($31 for 7 days).
Buying a Metrocard that gives you 11% extra on every $5.50.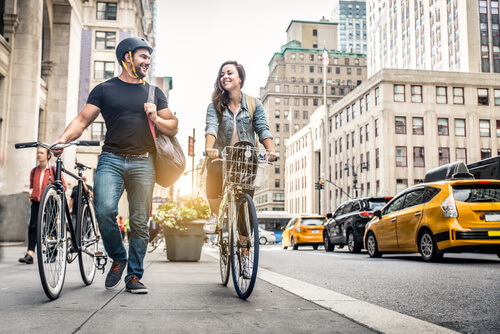 Get a Bike
New York has a thriving bike-share programme and many miles of protected bike lanes. There are commuter rail lines, ride-hailing services, yellow taxis and ferry services, so you can easily get around if you don't have a car.
Of course, you could bring your own car when moving to New York. Thinking about buying a car when you move to New York? Check out our guide to learn which car type suits you best.
Ridesharing is a great way to save money on transportation in New York. Be sure to look at New York RideShare and Commuter Link. Alternatively, you could opt for taxi services like Lyft or UberPool.
Sometimes, having your own car enables you to get around outside of the city as and when you want to, without having to rely on potentially unreliable public transportation. New York is not only an economical hub, but the state is well served by various auto shipping carriers. Learn more about New York auto shipping here or find common routes.
We would urge you not to try tow your car or motorcycle into New York. The traffic in the city is a nightmare and unless you're a professional who regularly tows vehicles, it is not safe to attempt.
Eating in NYC
Another factor to consider what salary you need to live in New York, is obviously the cost of food. The Big Apple does not fall short when it comes to good food. From award-winning street food to fine dining restaurants, there's something for every taste. If you enjoy cooking, you're bound to find ingredients to any type of food on the planet in some store somewhere in New York. A quarter gallon of milk is upwards of $0.79 to $1.52, while a dozen eggs will cost between $2.40 to $4.89.
New York is home to popular supermarkets, including Union Market, Trader Joe's and Whole Foods Market, to name a few. In addition to the usual supermarket chains, you are bound to be blown away by the many independently owned grocery stores in the city.
Keeping up with the city that never sleeps requires vast amounts of coffee. Your on-the-go caffeine fix will set you back between $3-$5 a cup, while a bottle of soda will cost you between $1.25 to $3. A meal in a cheap restaurant can cost between $12 to $25. If you're on a budget, you can grab a slice at just about any pizza joint for $1.
Looking for a Cheap Meal?
Wondering how to find a cheap meal? Simply look for street vendors with long lines. It's bound to be worth the wait in both cost and taste. Alternatively, check out Tripadvisor, Refinery29 and Grub Street.
Love a good time in a pub? New York is home to more pubs than any other city in all the world; also, they're allowed to open at 7 in the morning and close at 4 the next morning. You can grab a pint of domestic beer for between $5-$7, or imported for $6 – $9 in a restaurant or pub. The same domestic beer will cost between $1-$3 in a supermarket, or an imported beer for $1.25 to $4. A mid-range bottle of wine will set you back between $7 to $15 at a supermarket.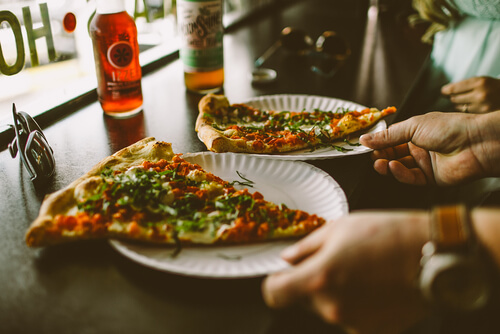 Saving on alcohol is easy when you keep an eye on the specials at bars or restaurants and also at restaurants. Look at Four Square or Time Out for ideas, and follow the establishments on social media to see their latest weekend and public holiday or after work happy hour specials.
Moving to New York: The Ultimate Cheat Sheet
Moving to NYC is a big change. After all, it's the most densely populated city in the US, but when you're a stranger in a new city, you can easily feel lonely and it may take some time to adjust. This is just one of the thinks you need to know when moving to New York. These tips should help you settle in:
Step 1: Find a job
Although NYC offers many service jobs and waitron positions, it's always easier to feel comfortable and get the best housing options when you have a secure income. A good idea would be to print out a stack of copies of your resume and visit New York for a week. Hand out your resume door to door.
You've probably heard of people moving to New York without a job. while it's not advisable, it happens. Working in a bar or restaurant provides a good foot in the door to moving to NYC. You will meet many interesting people and you never know what doors might open up for you.
According to many people, it's easy to find work in New York, despite the vast population. If you're willing to face a bit of competition, you can snag a job in. For salary comparisons and ideas to see how they treat workers, check out Glassdoor. Looking for work? Check out these sites:
Career Builder
Craigslist
Monster
Indeed
And Snag a Job.
The Next Step
Step 2: Try before you buy
We've discussed the differences between the five boroughs of New York City, but some things must be experienced first hand – especially if you're thinking about buying a home. Don't rush into buying property. Instead, try to stay with a friend or roommate for a while, or sublet an apartment before you make a long-term commitment.
If you're not shipping your car to New York, look for an apartment near a bus stop or subway station. This will shorten your daily commute and give you more time to enjoy exploring the city.
Step 3: Avoid scams
In NYC as in many parts of the world, there are unscrupulous individuals that prey on your lack of experience. When you look through classifieds, you will see many deals that seem too good to be true – probably because they are. Here are some rules you should know about renting in NYC:
Application fees should never exceed $20.
Brokers may charge a broker's fee, but not all do.
To secure an apartment, you will have to pay the first month's rent and a security deposit.
The security deposit will be equivalent to the first month's rent.
Need a Moving Company?
Looking for a company to help you move to New York? Request quotes from these full-service movers:
Alternatively, you could save some money on your moving costs by using:
Need moving boxes? Here's how you can save money on your move. Also check out our top truck rental companies comparison here.
Step 4: Buy warm clothes
It gets cold in New York in winter, and you will probably walk a lot, so it's a good idea to invest in lots of layers, warm coats, thick socks, and decent boots. Why boots? Because you'll walk plenty when you live in New York. It's a part of every New Yorker's daily routine. Twenty north-south city blocks make up around a mile.
New York has LOTS of People!
Step 5: Get used to the people
The people of New York can come off as harsh. They don't waste time on small talk, and if you're from out of town, you may think they're rude. They really are not; they're just busy and rushing from one place to the next. You'll get used to it.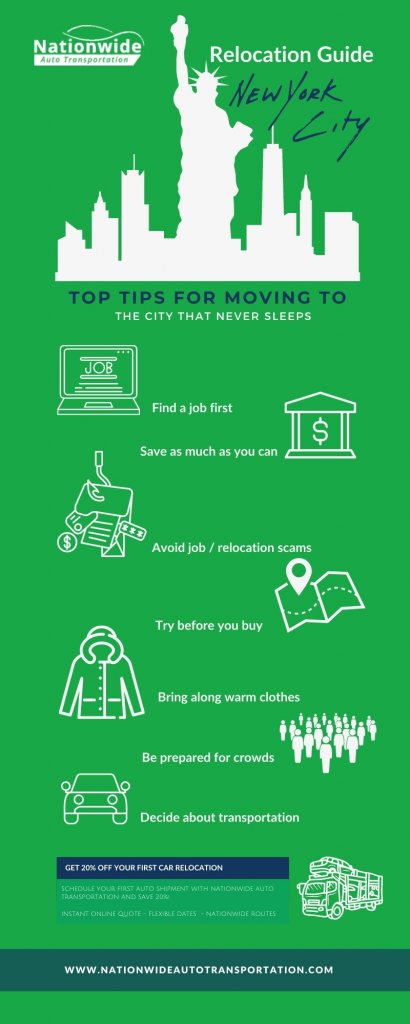 Step 6: Explore the city
If you're looking forward to enjoying the cultural side of the city, you're bound to experience a constant fear of missing out. Why? Because there's so much happening that you won't be able to do it all. Musicians perform at a variety of stadiums every night. There are hundreds of historic venues and theater performances.
Moving to New York presents many exciting possibilities. This diverse city combines many diverse experiences into an eclectic overall home to millions of Americans. Many people who have made the move say that falling in love with New York is much like a relationship with another person. There's the instant attraction, but that excitement can wear off quickly.