Reading Time: 6 minutes
The decision to move from one city to another in America is life-altering and you probably have a thousand questions to ask. Going online to look at hundreds of different websites to find answers isn't always practical from a time perspective. Let's face it – it's more like a vortex of browsing. Well, we have great news for you. Reading this post will give you as much info as you might need before making the decision about moving to Pittsburgh.
Is Pittsburgh a good place to move to?
How much do you need to live comfortably in Pittsburgh?
Is it expensive to live in Pittsburgh?
What should I know before moving to Pittsburgh?
These are just some of the questions you're probably asking if you're moving to Pittsburgh with family or on your own. We'll help you find the answers. You may also want to read our guide on moving to the state of Pennsylvania.
About Pittsburgh
A city that is known for its bridges. With 446 bridges, it is the city with the most bridges in the US.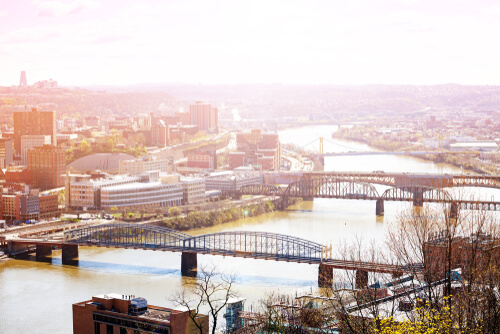 Location
Pittsburgh, Pennsylvania is situated on the southwestern side of the state where the Allegheny and Monongahela Rivers meet to become the mighty Ohio River.
History
Historically, steel was the leading industry which saw an influx of people moving Pittsburgh and made it an economically thriving metropolis; from there, the name Steel City arose.
Today, Pittsburgh is still home to more than 300 steel-based businesses. But a number of other industries have increased. Popular industries include aluminum and glass. The petroleum industry also has a heavy footprint in the city.
Education & Research
This is a vibrant college town since it is home to many colleges and universities. University of Pittsburgh is the largest, and is a leading provider of employment in the city. 
The town is one of the best cities for young people. Is your kid is moving to Pittsburgh to attend school and you don't want them driving across several state lines?
Pittsburgh has many schools, colleges, and a few universities for you to choose from. It is also a relatively safe big city in America, with a relatively low crime rate.
Having a medical research center is located in Pittsburg. If you're in the medical field, you could apply for work at University of Pittsburgh, Institute for Clinical Research Education. Pittsburgh has several other excellent general, teaching, research, and specialty hospitals.
Pittsburgh weather
Pittsburgh's summers can be very warm and humid and the winters very cold with snowfall. The warmest month of the year is July when the city enjoys many sunny days.
The city is one of the sunniest places in America. The coldest month in Pittsburgh is typically January when temperatures sometimes drop below zero with snowfall in November and December. 
If you're moving to Pittsburgh in winter, consider having your car fitted with snow tires. Also, you will have to learn how to drive on wet, icy roads.
Median income in Pittsburgh
Pittsburgh's median income is $78,769 per year on combined income n, which provides a modest lifestyle for two adults and two children. We never condone moving to Pittsburgh without a job – or anywhere for that matter.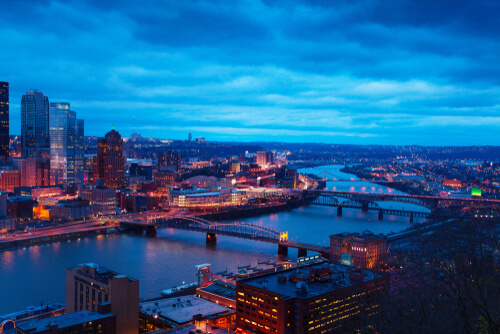 Neighborhoods in Pittsburgh: Choosing your new suburb
Before moving to Pittsburg, PA, consider visiting the city for a week or two to explore the surroundings, and see which neighborhoods appeal to you most. This is also a great opportunity to check out the local amenities and routes to and from work and schools. You'll see the pros and cons of living in Pittsburgh during your reconnaissance visit.
Do the research on which neighborhoods will be suited for you and your family – if you are moving to Pittsburgh with family. Many young professionals live in the city center. The tree lined suburbs are much more suitable to families.
Moving to Pittsburgh: Choosing the best neighborhood
Downtown is home to the Pittsburgh city center, and bears the name "the Golden Triangle".
The four areas surrounding Downtown are known as the Central, Northside, South Side, East End, and the West End. Downtown mainly has apartments and lofts, within close proximity to businesses, office blocks and stores in the city center.
Northside is home to the Carnegie Science Centre, National Aviary, Andy Wathol Museum, Mattress Factory, and several others.
Southside is a popular destination for locals. The development of East Carson street has made it one of the most vibrant areas,which offers diverse activities and eateries, as well as nightlife and live music.
East End is home to The University of Pittsburgh, several parks, as well as the Carnegie Institute's museums of art and Natural History. The opulent East End neighborhoods feature an array of apartments and condos as well as pedestrian-friendly shopping districts.
Squirrel Hill is the Jewish home of Pittsburgh. This Pittsburgh neighborhood is home to twenty synagogues.
West End features charming views of the Downtown skyline against the backdrop of Mount Washington, with a variety of beautiful family homes.
Nationwide Auto Transportation ships many vehicles on behalf of students and their parents at the start and end of school terms. They will transport your child's car from your home to the campus. Remember to arrange with the campus to allow the truck entry to the parking area. If the campus doesn't have adequate space for the truck to maneuver, they will request to meet your student at a public parking lot.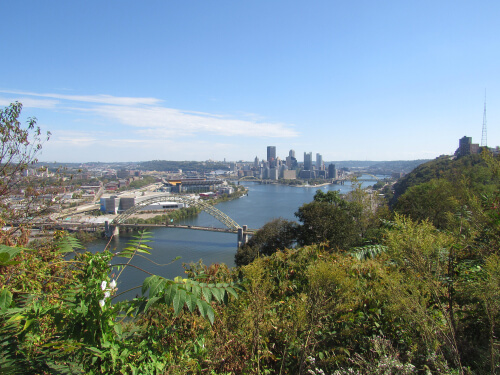 What do people do for fun in Pittsburgh?
It has a rich history and with it quite a few museums and historic sites. The Carnegie Museums of Pittsburgh hosts the original building of the Carnegie Library and  the illustrious music hall. The Carnegie Museum of Art was a vision of  Andrew Carnegie who saw a collection of "old masters of the future".  It was the first museum of Modern art in the US.
The Carnegie Museum of Natural history features about 230 dinosaur exhibits and the Walton Hall of Ancient Egypt.
The Andy Warhole museum was the first museum to focus solely on a  post-war artist.        
Pittsburgh is home to thirty skyscrapers.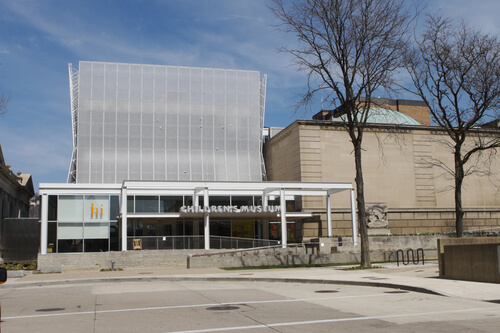 Moving to Pittsburgh Tips
When you are transferred by your company, speak to your employer about a relocation package.
Without the financial stresses, you can focus on the task at hand, and be over and done with the relocation quickly and without so much stress.
[Don't forget to download a FREE copy of our Relocation Checklist]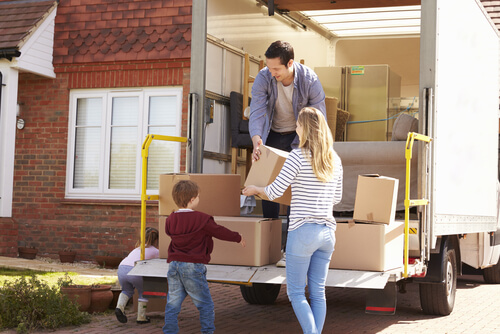 Moving across several state lines? When most people move from one city to another, they usually drive to the new city in a U-Haul or in their personal cars. However, that's not always the best idea. If your car is still relatively new, you wouldn't want to put unnecessary miles on the clocks that could drop the selling price if you ever want to sell it.
And if your car is older, be sure to have it professionally serviced before the trip to prevent wear and tear or mechanical breakdowns halfway to Pittsburgh.
3 ways to move your car when moving to Pittsburgh
Auto transportation could be the simplest, safest way to move your car from your current city to Pittsburgh. Professional, reliable auto transportation companies use the best equipment and employ well-trained, experienced personnel to safely transport your vehicle, boat, pickup truck, bus, RV, or ATV.
Making use of auto transportation services to Pittsburgh ensures that your car will not gain any mileage or wear and tear along the way. Now you can simply fly to Pittsburgh without having to worry about breakdowns.
Use the tools and tips available to make your move as smooth as possible. For instance:
Popular Pittsburgh Shipping Routes