Reading Time: 4 minutes
The Pacific Northwest is home to a gem of a state. Washington, the Evergreen State, combines picturesque natural beauty and a booming economy. The state is home to more than seven million people, and half of them call the Seattle metro area home. Have you been thinking about moving to Washington? If you love the great outdoors, or if you wish to make your mark in the ever evolving tech space, it's time to stop wishing and start planning your move.
But before you start packing and booking moving companies and announcing "I'm moving to Washington state!", let's take a look at the most important aspects of moving to Washington.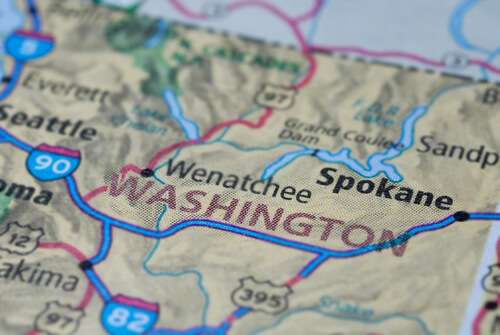 Moving to Washington State Pros and Cons
Washington state is diverse, both in geography and the people who live there. Rubbing up against Canada, state has more than its fair share of explosive volcanoes and earthquake fault lines. However, there are many upsides to living there too.
Traffic in Seattle is heavy, since it is a metropolitan area.
The weather in Washington is rather dreary, especially in Seattle. It's much nicer in Eastern Washington state. Luckily, there's good internet, with as many as 83% of people living in homes with high-speed internet access.
If you like craft beer, you'll love living in Washington state, as it has the second most permitted breweries in the country. The state produces more hops than any other state in the U.S. and more than every country other than Germany. Washington also has the second highest wine production in the U.S. and the largest producer of apples in the U.S.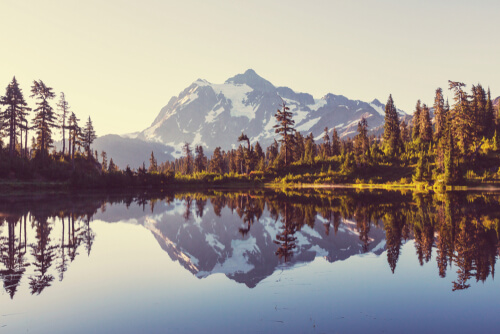 Washington's electricity rates are the third cheapest in the U.S. which is great for your budget and there's no income tax. Unfortunately, the state does have several regressive features when it comes to the tax policy. State and local sales tax is charged at 6.5% and 10.4%.The state has multiple hydroelectric dams and much greenery, too. Much of the state is near water, forests and parks. Washington is bike-friendly with plenty of energy conservation, clean air and clean water. It follows a Clean Car Law, is home to green buildings, and 70% of waste is recycled. Of course, the water bodies and national parks lend themselves to water sports, whale watching, hiking, biking and participating in winter sports.
The violent crime rate in Washington is low, but there's a lot of petty theft, grand theft auto (not the game!) and phone theft. Perhaps this can be attributed to the fact that marijuana is legalized in Washington, so don't be surprised to see people smoking in public.
The Puget Sound, located in Washington state, is the U.S. Navy's third largest area of concentration. So if you're dreaming of hooking up with a sailor, set your sails for Washington!
Wondering is it worth moving to Washington state? In 2016 and 2017, Seattle added more tech jobs than any other city, employing 33,803 new software engineers at an average of $130,000 a year. In addition to Amazon and Microsoft, other major employers who have made a home in Seattle include Starbucks and Boeing. The cost of living reflects the high salaries (Seattle's cost of living is 48% higher than the national average!), but by living smart, it may just be worth grabbing and opportunity there. Another great fact is that Washington has the highest minimum wage per hour in the country.
The people of Washington State are intelligent, and 44% of the population have Associate degrees or higher qualifications. Bill Gates calls it home, after all. Also, people in Washington tend to take care of their body's as well. Obesity rates are lower than average.
Speaking of education, if you want to send your child to university in Washington state, he or she can complete a degree in less than four years thanks to the opportunity to reduce tuition by 15-20%.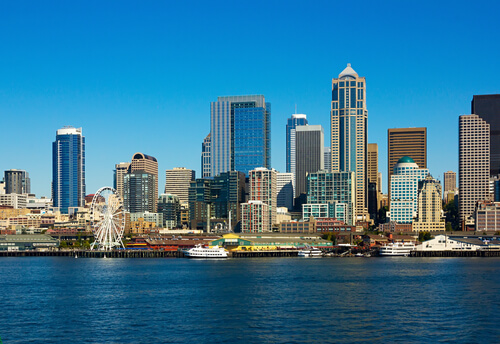 What to Expect Moving to Washington State
Looking for tips for moving to Washington state? We have you covered!
Try before you buy! Take a trip out to your chosen destination in Washington state to see what it's like to live there as a resident and not as a vacationer before you cast your plans in stone.
Not settled on moving to Seattle? That's fine! There are many fine cities in Washington state that may be more suited to you. Think about Tacoma with its lovely views of Mount Rainier, the beautiful Spokane, Olympia with its amazing seafood, the tech hub Richland, affordable Bothell, or the popular Redmond. House prices in cities like Auburn, Richland, and Olympia tend to be much lower than in Seattle, Redmond, Bellevue, and Bothell.
Find a job before you quit your current job. The unemployment rate is the ninth highest in the country, but at 6.4% it is not very high. Despite this high unemployment rate, Washington is home to good jobs at world-renowned employers.
Look at all possible moving options to find the best one for you. That might include:
Moving pods Washington state
Conventional furniture removals
Don't forget your boat!
5. Don't let your student moving to Washington state drive all the way across the country, especially during inclement weather. Rather take advantage of deals on student car shipping.
Ready to take the plunge? We at Nationwide Auto Transportation wish you all the best with your new adventure! To make it easier, download our relocation checklist.