Reading Time: 6 minutes
Looking for a long distance towing cost estimator? That probably means that you are one of the many unlucky vehicle owners that have had to have your vehicle towed. Of course, apart from the actual monetary costs, there's also much inconvenience, especially if your insurance doesn't cover roadside assistance. You're probably also wondering why nobody can give you a straight answer to your question: How much does it cost to tow a car?
There's a good reason why it's so hard to find a precise long distance towing quote. It's not only because towing services are expensive and somehow "hiding" their costs. It's actually because towing a car involves much more than just providing transportation from the breakdown or accident scene. There are the unique circumstances of the situation, as well as the location to factor into the cost.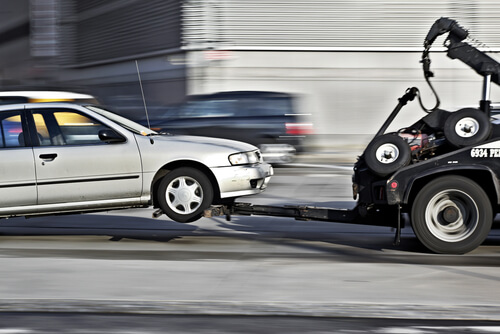 Reasons why you might need a tow truck
There are several reasons why you might need a towing service, and thankfully, some of those reasons are completely avoidable. Many tow truck services offer roadside assistance as well as tow services. However, if they are unable to repair your vehicle, they will have to consider using a tow dolly vs auto transport to get it to the shop. This might include any breakdowns that render your car unable to drive, and that's why it is important to learn the basics so that you don't end up paying a lot of money unnecessarily.
Cars are typically towed when they are unable to be driven reliably. In many cases, they break down on the side of the road because of a deflated tire, or because the car won't start. That typically indicates an issue with the battery, the starter, or the engine. Sometimes, a jump start is all you need to power the battery enough to get it to the next location. However, if the battery is completely dead, you will have to opt for tow dolly vs auto transport.
Towing companies can be helpful
If you left your car's hazard lights on overnight, it will deplete the battery, and your car won't start. Unless you have a battery charger or towing cables, you will have to call the towing service to get you back on the road. Likewise, if you have a flat tire and you don't have the tools or knowledge to change it, you will have to call roadside assistance to help you out, or decide on tow dolly vs auto transport to take the car to a shop where it can be changed.
Towing companies are surprisingly helpful. In addition to towing cars, they often offer roadside assistance services. They may even bring you gas, change your tire, jump start a dead battery, unlock car doors, or tow the car. If you are signed up to a roadside assistance company, they will typically pay the tow truck for their services. Find out if your auto manufacturer, car dealer or credit card company included roadside assistance in your package. Roadside assistance membership clubs also offer this benefit at a small monthly or yearly fee.
Why Tow a Car?
Another issue that should be mentioned is the fact that cars are sometimes towed for matters relating to public interest. This could include:
Parking violations, such as unauthorized parking on private property;
No valid license or proof of insurance;
The driver being arrested for a DUI.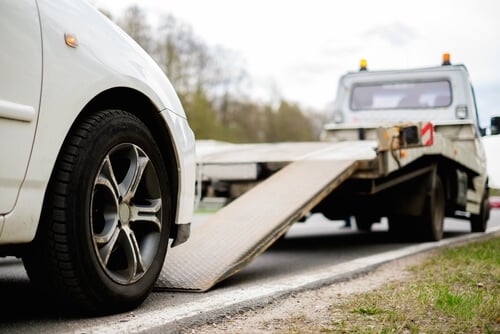 How much does it cost to tow a car?
Towing costs – much like shipping a car – will depend on several factors, such as:
The type of vehicle – The vehicle size will determine how much it costs to get your car towed. An RV will obviously cost more to tow than a small hatchback.
Condition of the vehicle – If the vehicle is totaled, it may be more complicated to get it onto the tow truck than a car that's run out of gas.
Distance – The tow trucking company will typically charge by the mile. As such, it will cost more to tow a car across the country than just a few blocks down the road.
Special circumstances – Towing a car from a quiet parking lot in the middle of town will cost less than having to pull your car out of a ditch and shipping it across the country. Likewise, towing a car on a Sunday afternoon or on a public holiday on a winding mountainous country road will cost more than retrieving it from an accident scene.
What is the cost to tow a car?
With some towing companies, the time of the day may also affect your price. However, most tow truck companies work 24/7.
These are just some factors that influence the cost to tow a car. Based on our research, tow truck companies charge between $2 to $4 per mile. However, they tend to charge a base rate for local towing, as well as a hook-up fee. As such, it can cost on average $75 – $125 to hire a tow truck service.
Our calculations show that it can cost on average:
$80 to tow a car for up to 5 miles
$95 to tow a car up to 10 miles
$145 to tow a car up to 20 miles
$233 to tow a car up to 50 miles
$388 to tow a car up to 100 miles
$450-$600 to tow an RV for up to 80 miles.
It's important to remember that each company will charge their own fee. Most will charge a flat rate for the long distance towing service. However, if your car broke down in a remote area, there may be an additional fee.
Can you tow an automatic car in neutral?
Car owner's manuals typically warn against towing an automatic car by putting it in neutral. This practice places much pressure on the vehicle and your prized vehicle can sustain transmission damage from towing. It is always best to transport an automatic transmission car by placing it on a flatbed truck or car transporter.
How much does it cost to get a car back from being towed?
The cost of getting your car back from being towed will depend solely on the circumstances under which it was towed, where it was towed to, and how long it was being stored.
If your car was towed by a public agency, the reason will determine the charge. It could be anywhere from $10-$100 per day for storage, and the towing charge could be between $100-$1,000.
If the car had to be towed and repaired, you will have to pay the towing cost, in addition to repairs and storage.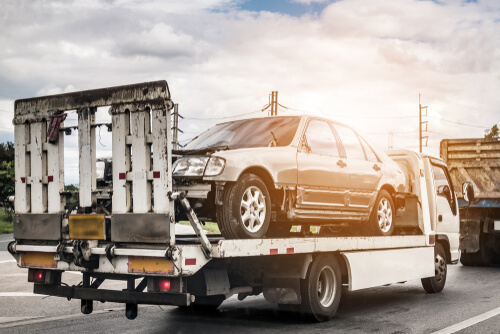 How much will it cost to tow your own car?
If you're looking to tow your own car, you might be wondering:
How much does it cost to install a tow hitch on a car? Companies charge between $40 to $1,100 for tow hitch installation. That will enable you to pull your car using any other car with the right equipment. You will obviously need another driver for the other car.
How much does it cost to tow a car behind a U-Haul on a tow dolly? You can hire a towing dolly from U-Haul ($99) on which you can load your car to tow it behind your other car. This way, you won't need another driver, but it is not as easy as it seems. Alternatively, you could hire a U-Haul auto transport trailer (tow dolly) for $200 or a 10'truck if you prefer enclosed transportation for $1,448.
Budget rents out car dollies for $159, car trailers for $318 and 16' for $1,404. You can also purchase additional tow protection for $99.50.
Penske offers car dollies at $238, car carriers for $477 or a 16'truck for $1,276.20.
However, there are some risks involved in towing your own car so you should seriously consider your options of tow dolly vs auto transport. Driving while towing is not something an inexperienced driver should ever attempt, especially if you are inexperienced with long distance towing. Many cars have sustained transmission damage from towing. That's why only experienced people should attempt that. Rather rely on a professional car shipping agency about more affordable, reliable options. It will probably cost less than to tow a car.