Reading Time: 8 minutes
Nationwide Auto Transportation breaks down the facts about moving to Charlotte, NC in this all-in-one relocation guide.
Charlotte is the most populated city in the U.S. state of North Carolina. It is situated in the Piedmont region and serves as the county seat of Mecklenburg County.
According to the U.S Census Bureau the estimated population is 885,000. This ranks it at number 15 and second largest in the Southeast. Charlotte city also serves as the transportation, cultural and economic center in the Charlotte metropolitan area. The community living here is culturally diverse with about 17% of the population moving to Charlotte as a foreign-born national.
Charlotte has been ranked as one of the fastest growing metros in the United States, with more than 100 people moving to the suburbs every day. It tops the country in millennial population growth and is ranked as the third-fastest-growing city, and the second-largest banking center, in the U.S.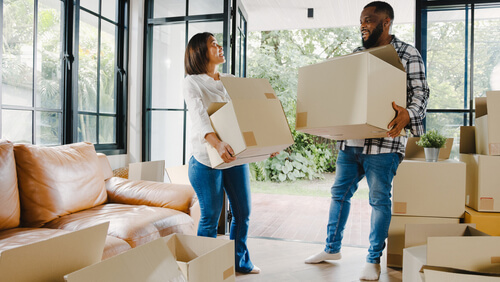 A Glance at Moving to Charlotte, NC
It is among the fastest-growing cities in the U.S with over 100 moving here daily. It is suitable for young professionals with 35 as the median age. 
The cost of living in Charlotte is 1.5% lower compared to the national average. The cost of houses also falls below the national average, which is great if you want to buy a house when you move to Charlotte. 
The average salary is about $45,000
Charlotte is home to 14 Fortune 1000 companies and 6 Fortune 500 headquarters. 
Healthcare, finance, and technology are some of the top industries in which you might find a job in Charlotte. 
International delicacies are in plenty and you can't go hungry with wine and barbecue all over Charlotte.
Charlotte is and outdoor adventures and vacation paradise. Mountains are roughly 2 hours from the city while beaches are roughly three hours away.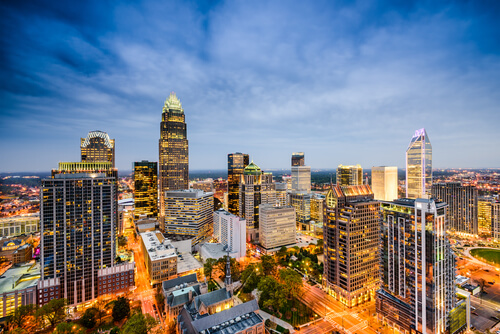 Cost of Living in Charlotte
Charlotte's cost of living is 1.5% lower than the national average thus making it relatively affordable to live in Charlotte. $200,000 is the median home price and $1,080 is the median rent per month. The median household income is $60, 700 and the per capita income is $37, 900. These figures do not fall far from the national numbers.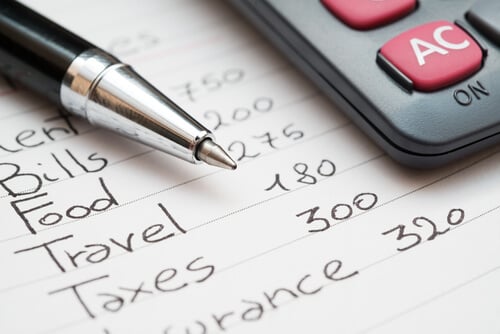 Job Market in Charlotte
The unemployment national average is 8.4%, not great when compared to 4.1% in Charlotte. This city has continued to attract investors and businesses thus generating more jobs.
Charlotte is the second-largest banking city in the United States. More jobs on the rise include education, healthcare, hospitality, and technology sectors. 
Always get a job before moving to a new city. That shouldn't be too hard when you move to Charlotte, NC.
If you are hunting for a job in Charlotte you can browse through the 14 Fortune 1000 companies and 6 Fortune 500 companies.
The top employers are Atrium Health, Duke Energy, Bank of America, Wells Fargo, and Novant Health. Lowe's Home Improvement and Red Ventures are also top employers in the greater Charlotte area.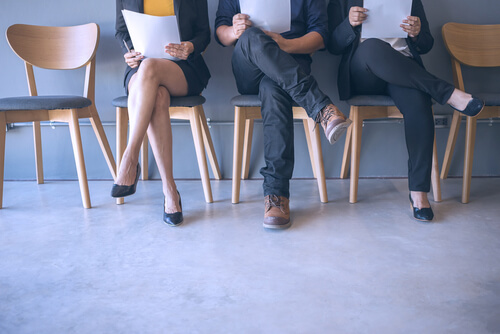 Schools and Education in Charlotte
North Carolina has 116 district schools with a good number of them ranked on Best High Schools in the U.S list.
There are 85 private schools and 40 charter schools. The region boasts more than 10 colleges and universities, making Moving to the suburbs with your children ideal.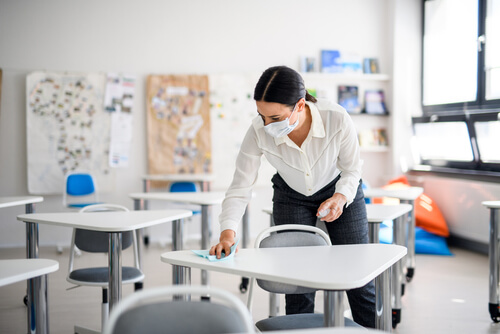 Best Neighborhoods to Consider
If you're moving to Charlotte with family, you'll be happy to know that the city offers a wide range of neighborhoods that will suit your budget and your lifestyle.
Start by checking out these neighborhoods:
Wildwood, the hottest neighborhood in Charlotte and in the U.S according to Redfin. This neighborhood is affordable, homes cost around $250,000 and it's just 15 minutes from downtown. 
Madison Park. This area is attracting new residents fast. It has a population of about 6,000, is located in the south of Uptown Charlotte, and has close proximity to Park Road Shopping Center. Homes cost around $370,000 according to Zillow. Within a four miles radius, you will have access to coffee shops, restaurants, bars, parks, and schools. Access the light rail via Scaleybark and Woodlawn stations to ease the commute to the city center. 
Elizabeth. It is a historic neighborhood just outside uptown. Its population is below 5000 and it favors urbanites with its close proximity to retail stores, businesses, and restaurants. CityLYNX Gold Line Streetcar offers commuters free access to the city. Homes in Elizabeth cost around $338,000 and it is close to highly-rated public schools.
Plaza Midwood. It is located only a mile in the Uptown Northeast and has a population of about 4500. Charlotte is popular for its restaurants and art galleries. People who like to live near the city and yet enjoy a quiet environment. The city has a well-connected network of buses and light rail are available for commuting in the city center. The median cost of homes is $600,000. 
Uptown Charlotte | Growing Fast
Dilworth. Its population is about 7000 people and it is located just a few minutes from Uptown Charlotte. This neighborhood is lined with trees that bring out the urban feel, and both rail and commuter buses make getting around relatively easy. There are ample restaurants with a variety of delicacies and fashion shops in the Park Square retail plazas and Kenilworth Commons. Houses range at $470,000 in Dilworth.
Fort Mill, South Carolina. It is a fast-growing township with a population of 19,000 in Charlotte. The median cost for a home is $352,000. Living here offers a small-feel town and easy access to the city center. 
Tega Cay, South Carolina. It is a fast-growing suburb with over 10,000 people. %370,000 is the median price for a home in this neighborhood. Golfing and walking are common leisurely exercises. It is located 20 miles to the south. 
Waxhaw, North Carolina. It is home to over 16,000 people. The median price for a home in this neighborhood is $419,000. You can enjoy local breweries and leisurely walks in the quaint downtown. This neighborhood is located 30 miles from the city center.
Learn about inter-state auto shipping here.
Charlotte, NC for Families or Single People
Carolina Panthers and Charlotte Hornets are football and basketball teams respectively. The Spectrum Center and Bank of America Stadium are their home grounds. There is a major league soccer team in the making. Because Charlotte is a major center for motorsports in the nation, fans are ready to enjoy NASCAR All-Star Racing. Sports are just some of the things to do in Charlotte, NC.
Cultural seekers get to enjoy live performances, fine art, and history. There are nine history and six art museums that showcase the diversity and backgrounds of the communities living here. Morrison Motorcar Museum is a must-visit for motorsport fans as well. Kids will enjoy hands-on learning and scientific marvels at the ImaginOn and the Discovery Place.
Music lovers who move to Charlotte (or visiting on a reconnaissance mission) before you take the leap can visit the AvidXchange and the Spectrum Center to catch top artists and live shows. Charlotte hosts its own annual opera, ballet, and symphony. They are famous for innovative works and beloved classics.
Food Lovers Love Charlotte
Food lovers will have their taste buds tickled by Charlotte's southern barbecue which includes pulled pork, smoked wings, and brisket.
Cheerwine, or 'nectar of the Tar Heels' is made in the nearby Salisbury.
It is served in almost all restaurants and it's distinguished by its strong cherry notes and sweet soda. The restaurant selection is wide in this city and it mirrors its diverse communities. International dishes like ramen and sushi are available for you to explore. The East-side is a perfect place for you to discover the Hispanic fare.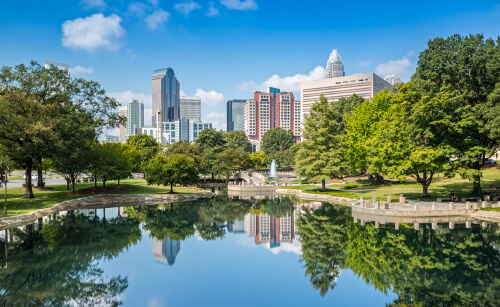 Outdoor explorers have access to 64 hiking trails and 216 parks. Picnics are a usual weekend thing in the Marshall and Freedom parks. There are 19 community gardens and kids can enjoy a football-themed Panthers Play. U.S National White water Center is the getaway for zip-lining, trails, whitewater rafting, ropes courses, and massive outdoor music hype.
Travelers have the Charlotte-Douglas International Airport at their service. You can access up to 35 International Flights. Weekends will never be the same again with beaches and mountains just a few hours away.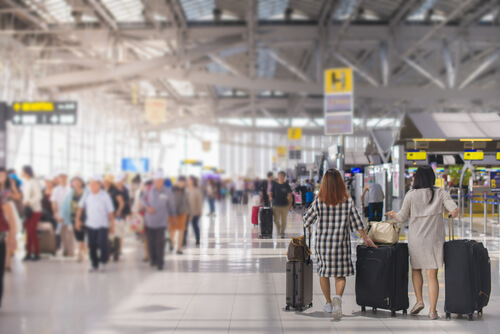 Weather in Charlotte
Charlotte has a humid subtropical climate. Winters are cool, April is the driest month, and summers are hot and humid. The city experiences ample precipitation all year long.
The weather here is one of the reasons why you will love moving to the suburbs. If you are coming from a region with a half-year winter season then you will still enjoy skiing.
In Charlotte, you can have a great outdoor experience all year long due to plenty of sunny days and mild temperatures. It has an inland position that protects it from damage that hit the Carolina coastal areas. When these events happen, Charlotte experiences severe weather leaving the area vulnerable to flooding.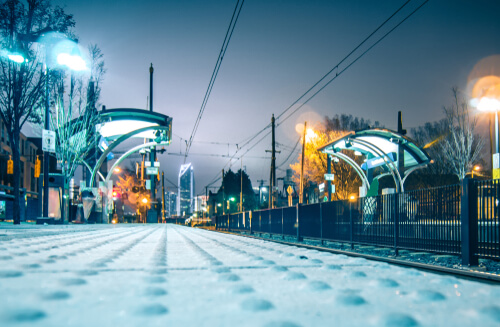 With about 100 people moving to Charlotte daily, it's a clear indication that it is one of the best parts to live in Queen City. People here tend to be happier than in other cities, they are proud of where they live. It is ranked as the 14th best city to stay in the nation.
Raleigh, North Carolina is also highly ranked as it's the capital for North Carolina. The community in Charlotte is very welcoming because most people here relocated in search of a better life and opportunities to afford the life of their dreams.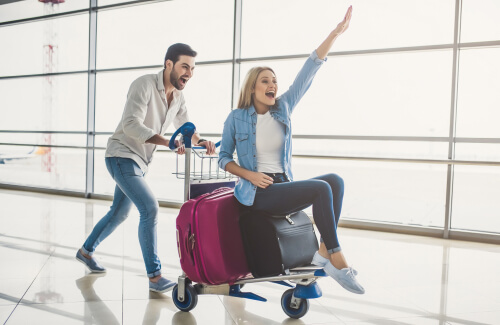 There is plenty of space for everyone with the number of homes and jobs available. Moving to the suburbs could be just what you need to live a happy and fulfilling life.
The cost of relocation to Charlotte, NC is determined by your current location. The number of miles to the suburbs and containers required to ship over is also dependent on the size of your family.
What must I know before moving to Charlotte?
For more moving tips, relocation resources, and free car shipping quotes, don't hesitate to contact Nationwide Auto Transportation today.