Reading Time: 12 minutes
If you're a fan of the Chicago One franchise (Chicago Fire, Chicago PD, Chicago Med, and Law & Order: SVU), the city probably holds a certain charm – if you can avoid being frightened by its portrayal of a lawless land. Moving to Chicago is actually a great idea if you're looking for a bustling city in the Midwest with world-class architecture that has inspired architects around the world. It's a nice place to live and is much cleaner than New York, for instance, and home to The Steppenwolf Theatre and The Art Institute among many cultural institutions.
Chicago is a diverse place, with a well developed public infrastructure and great jobs at large multinational companies. As portrayed on TV, the people of the city really are still rooted in humbleness. Yet, despite the diversity, the city just works. It is home to some of the nation's first, biggest, tallest, and most, including:
The world's first Ferris wheel
The country's oldest zoo
The tallest building in the Western Hemisphere
And much more.
What to Know When Moving to Chicago
Some of the most admirable facts about Chicago is that it is the birthplace of improv comedy, and gospel music. Chicago was the first city to recognize and honor the LGBTQ community openly by erecting rainbow pylons in the streetscape. With such diverse cultural backgrounds, the city is home to people from all races and walks of life, all contributing to making Chicago an entire world in one city.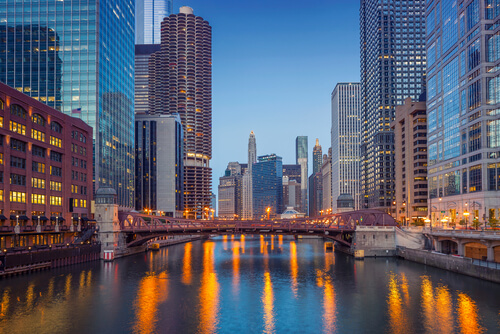 Did You Know? You might know that Chicago is referred to as the Windy City, but that has nothing to do with the weather. Instead, the windiness stems from the hot air corrupt politicians have spewed over many years. But that's everywhere, so it should not deter you from moving to Chicago.
One thing you should know before you decide not to move to Chicago for fear of the violence you see in above-mentioned shows and all other publications, is that the city's violence is not always accurately portrayed in the media. Yes, the city has a hurtful history in terms of segregation, disinvestment, abuse and police brutality. However, after a concerning spike in Chicago's homicide rate in 2016, the city saw double-digit declines in shootings and homicides in the following two years.
Unfortunately, the southern and western neighborhoods of Englewood and West Garfield Park have been portrayed disproportionately, leading them with a legacy as bad neighborhoods.
Choosing the Right Neighborhood in Chicago
Chicago consists of seventy-seven established neighborhoods in nine districts. Each neighborhood is unique in terms of personality, history, culture and attractions. When you decide that you would like to move to Chicago, we recommend that you try before you buy. Moving from Washington DC to Chicago? Book yourself into an AirBnB for a week or two or three and see what it is like to actually live there.
On average, you will pay around $228,500 for a median home in Chicago. If you're planning to rent, you can expect to pay around $ 1,750 per month. Although that is somewhat over the national average, it's significantly less than New York and Los Angeles. Buying property in Chicago depends on affordability and availability, and that's why many people are buying fixer uppers in the city that fit their budgets, and then remodelling it to make it their own.
For some residents, the suburbs feel disconnected from Chicago, which is why many people choose to stay in the city itself. They prefer the city lifestyle, which is lost in suburbia.
Some of the popular areas in Chicago include:
South: The South Side is a social and cultural hub. There's authentic cuisine in Chinatown, Museum Campus in South Loop, and Bronzeville with its monuments.
Downtown: Chicago's Downtown is home to the "Bean" in Millennium Park, and other tourist attractions, including the Historic Theatre District, Buckingham Fountain, and Michigan Avenue's shopping opportunities, cocktail lounges, and art galleries. While the wealthy residents shack up in luxury condos, Downtown can be a ghost town over the weekends. There's not a lot of living space here.
West: Chicago's West Side has an eclectic vibe, which is a combination of the churches of Wicker Park, several monuments, ethnic eateries, and beautiful murals.
North: The Northern suburbs offer much to do and see, especially for the hip, youthful residents. From live jazz performances in Uptown to Cubs games in Wrigleyville and upmarket shopping in Bucktown, you'll never be bored.
Andersonville has a great party vibe with a strong LGBT contingent.
Bridgeport is great for working-class residents, with rents starting from around $850, and houses and condos are sold for about $130,000.
Wicker Park or Bucktown has always been known as Chicago's hipster neighborhoods, but it is becoming more mainstream. It's fashionable and alive with creative types, cool clothing stores, live music (great if you're moving from Nashville or Atlanta), and classy eateries.
River North is for the wealthy, beautiful people. Here you'll find the largest concentration of art galleries outside of New York. This is where visiting celebs party with locals on Hubbard Street, where dress codes are enforced.
Lincoln Park is considered the place to move to when you move to Chicago. It's a great place to become adjusted to living in the city, and you'll be close to the Lincoln Park Conservatory and Lincoln Park Zoo and it's easily accessible by bus.
Chinatown is home to more than 65,000 Chinese residents, and Chinatown Square, the largest Chinese mall in the midwest.
Humboldt Park with its national pride, brightly colored murals, and Spanish-Colonial architecture celebrates Puerto Rican heritage. Rent starts at about $800.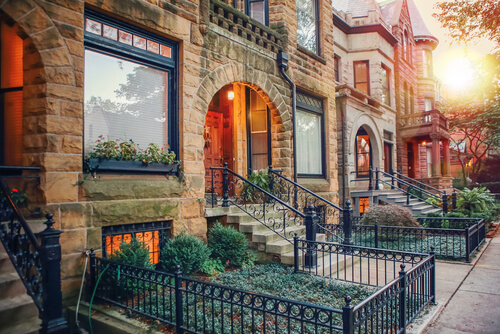 Chicago is a friendly city, much like Seattle. Communities are close-knit, which gives the city a small-town feel, unlike large cities like New York.
Although Chicago doesn't have an ocean, the city definitely has a beach. That's right. Lake Michigan is to the east of Chicago, giving the city a majestic, blue 18.5 mile lakefront with plenty of green space to enjoy. Maggie Daley Park and Millenium Park offer plenty of sprawling public spaces to enjoy right on the lakefront. If you enjoy hiking or biking, you can enjoy the Northside's 606 trail.
The city has even committed to ensuring that every child in Chicago was no more than ten minutes away from a playground or a park, and as such, there are more than 377 playgrounds and 1,000 acres of parkland in the city. Much of it can be found along the Chicago River, where you can find industrial projects that have been converted to recreational projects, such as Ping Tom Memorial Park, 312RiverRun, and the Wild Mile. There are parks, walking paths, bird sanctuaries, conservatories, art installations, outdoor pools, and nature preserves, to name but a few.
Chicago may not have a coast, although residents are quite happy with the lakefront beaches. But getting to either the east or west coast is easy enough. O'Hare, the busiest airport in the US is right here, as is Midway International. If you'd rather not fly, you can take the Amtrak from Union Station.
Of course, there are some downsides to moving to Chicago and living there, and that includes:
Concentrated areas known for gun and gang violence;
Significant segregation;
One of the country's highest tax rates;
And crippling state debt.
Did You Know: Chicago has one of the simplest street numbering systems in the world, which makes it super-easy to get around.
Looking for an apartment in the city? Check out Zumper Select. Simply provide your preferences, budget and preferred move-in date, and a local agent will put together a list of apartments you might like. They're basically a free apartment concierge in Chicago. One of the best things about using Zumper Select as your apartment locator, you will get $100 off your first month's rent when you move to Chicago.
Related articles:
Employment in Chicago
We typically recommend making sure you have a job lined up before moving to Chicago, but realize that sometimes, you just have to do what life demands of you.
The good thing is that many thriving business sectors are represented in Chicago, including food processing, insurance, finance, printing, and publishing. In fact, after New York, Chicago has the second biggest publishing industry. You will also find the Chicago Mercantile Exchange, Chicago Board of Trade, and the Federal Reserve Bank in Chicago. All of these industries employ the majority of residents and they often advertise in the jobs sections of websites and newspapers. Furthermore, you can find jobs on Indeed, GlassDoor, and LinkedIn, or speak to employment agencies. Be sure to also check out:
https://www.builtinchicago.org/Fortune Magazine's list of the 50 best companies to work for in Chicago.
The Muse, for the offices of companies such as Crate & Barrel, The Oprah Winfrey Network, Trunk Club, and Pabst Brewing Company.
Built in Chicago is the place to be if you're into start-ups, especially those in technology.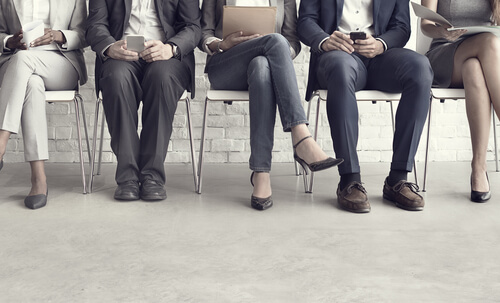 However, if you don't have a job and you're looking at becoming an entrepreneur or sole proprietor, you will feel right at home when you move to Chicago. The city offers many awesome shared coworking spaces. Be sure to check out:
Bond Collective
Premier Workspaces
Your Studio
Transportation Considerations in Chicago
Chicago is a city measuring 237 square miles, which makes it the third-largest city in the US. The two that are bigger are Los Angeles and New York City. Chicago has over 200 miles of buffered, protected and shared bike lanes.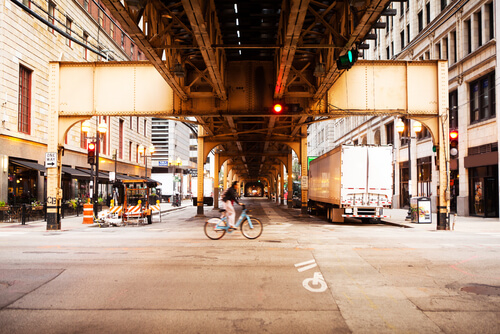 Speaking of getting around Chicago, it's important to note that the city has extremely long rush hours that last four hours in the morning and again in the late afternoon. If you're planning to live in the suburbs, you can always bring your own car when you move to Chicago. That way, you're able to drive out of the city on weekends and enjoy the outdoors. However, it can be challenging when you live in the city. There are many tow zones and No Parking signs, and it can easily cost you $30 an hour to park downtown.
When driveway space is limited, people tend to depend on street parking. Chicago enjoys about forty inches of snow every year, and when they shovel a public parking space, residents will assume that they are entitled to the space. They will place random items such as cones, lawn chairs and whatever other objects they can find in order to save the spot.
But if you don't want to sit in traffic every weekday before and after work, you can choose one of the many offers from the Chicago Transit Authority, which covers pretty much the entire city. Options include:
Ride sharing – Cheaper than a taxi, you could use Lyft or Uber from your smartphone to get to your destination. Both companies also offer a carpool option, known as Lyft Line or Uber Pool, which will further reduce your costs by picking up other passengers heading in the same direction.
Getting Around can be Fun
Cabs – There are many taxis in Chicago and most of them accept debit or credit cards. Use Hailo to hail a cab from your phone if the weather is unpleasant.
The L – The CTA has a well-developed system of elevated trains or buses, known as the L that are under $3 per ride. You can save more money by getting a ventra card. Simply tap your card by the turnstile entrance and they will automatically deduct the money from your account. You don't need to carry cash on you to use this.
Bike – Chicago is a great city for biking; so much show that Divvy launched a bike-sharing company with rental stations across the city. This is ideal for people who don't want to walk or be confined to public transportation time schedules.
Pedway – Chicago's pedestrian walkway – Pedway – is a system of overhead bridges and underground tunnels that connect more than forty blocks in the Central Business District. It's a safe, convenient way to quickly get around downtown, especially in winter when it is cold. Thousands of commuters use the Pedway every day.
Don't feel like bracing the icy cold to get your groceries? Try Peapod, a grocery delivery service that will bring your groceries right to your door.
Be Prepared for the Weather in the Windy City
During your first winter after moving to Chicago, you will be introduced to the lake-effect. The wind will sweep over a nearby lake, and bounce off nearby skyscrapers. Snow-days are common in schools in Chicago, because it is dangerous for students to go outside. Chicago can be bone-chillingly cold in winter, with a windchill of minus 40 at times…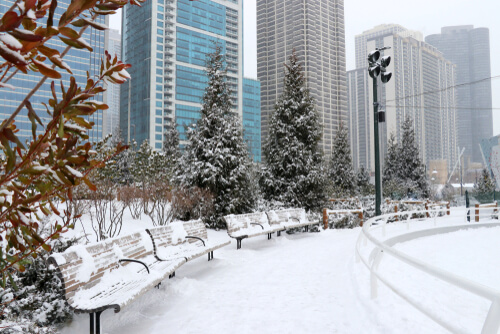 If you're moving to Chicago, you need to be prepared for the weather. Locals don't want to hear new residents complaining about the weather. Simply invest in plenty of layers and waterproof boots, and an umbrella with wind vents. Do your best to avoid black ice, as it can be extremely sleek.
Expert Tip: If you're bringing your own car when you move to Chicago, be sure to have emergency supplies on hand, including a small stash of energy bars, water, extra gloves, a show brush, shovels and jumper cables.
On a more positive note, summer is a good time to be in Chicago. During Festival season, which runs from May through October, the different neighborhoods put on local street fairs to celebrate their heritage. Each year sees more than 150 events, with great music and awesome food and lots to drink.
Education in Chicago, IL
If you're considering moving to Chicago with your family, you're bound to receive an education in architecture. That's great for homeschoolers, of course. But what about working parents who move to Chicago for work?
In 2019-2020, Chicago Public Schools (CPS) reported that they were overseeing 642 schools, which included 477 elementary schools and 165 high schools serving 355,000 students. The majority of these schools were district-run, and there were one SAFE school, nine contract schools, and 118 charter schools.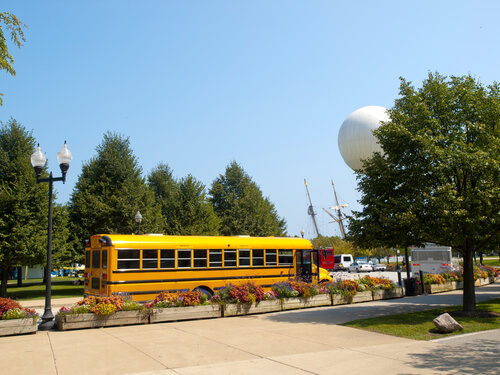 Students attending Chicago Public Schools attend the schools closest to their residences. This does not apply to selective enrollment, magnet or charter schools.
In recent years, Chicago's public schools have made the city proud. Students learned faster than 96% of all the other school districts in the US. Their test scores were also the most improved in the country.
High school students may also attend charter schools, career academies and military academies.
Becoming a Part of the City
Getting to know people in Chicago is fun and easy, and it's a great city to explore with friends. There are three main food-groups in Chicago, namely:
Deep-dish pizza
Italian beef, and
Chicago-style hot dog.
But you will find many other fantastic eats in the city, which features more than 8,000 restaurants, including many ethnic delights. The bustling bar scene is extremely lively in Chicago, and most places are open until after 3 a.m. For a classy night out, check out a speakeasy.
Hotel rooftops are popular for summer night parties, and restaurants have Michelin Stars. Whatever you do, don't put ketchup on your hot dog in public in Chicago. Instead, Chicagoans enjoy all-beef dogs encased in poppyseed buns, topped with mustard, celery salt, spicy sport peppers, tomato wedges, sweet relish and diced onions.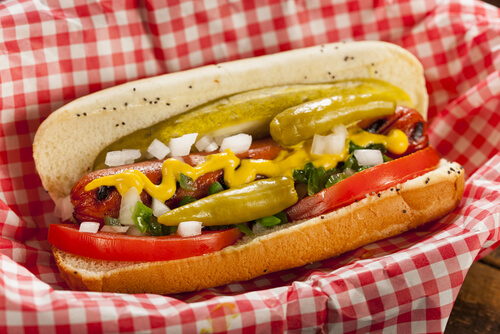 Then of course, there's the ongoing Cubs / White Sox feud. Chicagoans are big sports fans and they celebrate hard.
If you're moving to Chicago without a lot of money, you'll be happy to know that the city offers plenty of free activities for old and new. Illinois residents receive free entry to museums such as Shedd Aquarium or the Art Institute on certain days. Enjoy improv? Head to the iO Theater for free weekly performances. The Cultural Center, Garfield Park Conservatory, the National Museum of Mexian art and the Lincoln Park Zoo are free every day.
Additionally, Night Out in the Parks lists thousands of free events across the city, including nature walks, circuses, yoga classes, dance and theater performances, and movie screenings and much more. Attending these functions would be a great way to get to know people when you move to Chicago.
Final Thoughts on Moving to Chicago
Yes, Chicago has a few drawbacks. But if you stay in the city for a couple of weeks while deciding whether to move to Chicago, you will quickly see why locals love the city:
There's a kinship among locals.
The air blowing in from River North smells like chocolate.
Each neighborhood has its own charm.
The architecture
The affordability
The history
The community gardens
Baseball
An abundance of transportation options
The food
The many activities that happen throughout the year…
If you're an independent person on-the-go and you don't want to leave your car behind, that's no problem. You could own your car and still enjoy the convenience of the public transit options. Worried about driving in the snow or on the black ice? That's no problem either. Drivers at Nationwide Auto Transportation who cover this route have many years of experience in handling their trucks on the city streets. They can safely deliver your vehicle to you, or from you to someone else.
Connecting All Major Cities
We connect all the major cities in America to Chicago through our professional auto shipping services. Our popular routes include: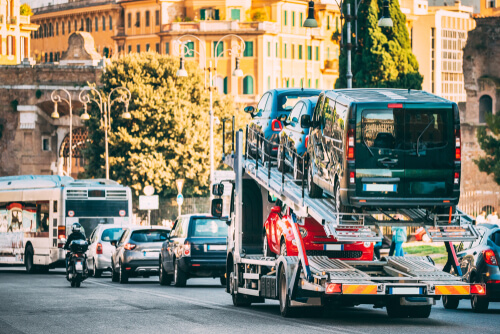 Auto Shipping When Moving to Chicago
If you're moving to Chicago from abroad, consider whether it is better to bring your car along, or whether to sell it and to buy a new vehicle when you're in the US. If you bring it along, a reliable auto transporter like Nationwide can collect the car from the US seaport for cars and bring it to you.
Want to buy a car when you're in America? Our blog covers just about any topic you might think of concerning buying and or transporting cars, including what to look for in used cars and the best places to find good cars for cheap. If there's any topic that interests you that's not yet covered on our blog, be sure to mention it below for our consideration! Otherwise, request a free auto shipping quote now.
Need a relocation guide for another city / state?
Also, check out our ULTIMATE relocation guide.