Reading Time: 8 minutes
Welcome to Nationwide Auto Transportation. We assume you need to ship a car in the near future, and we're here to answer all your questions. Perhaps you want to relocate your business premises and need your fleet or business vehicle shipped, or you're doing a long-distance house move. Maybe you just need to move a classic car from a buyer to a seller, or to a show or auction. No matter where you move your car, you probably have some questions to ask before you settle.
[Moving house? Download our Relocation Checklist]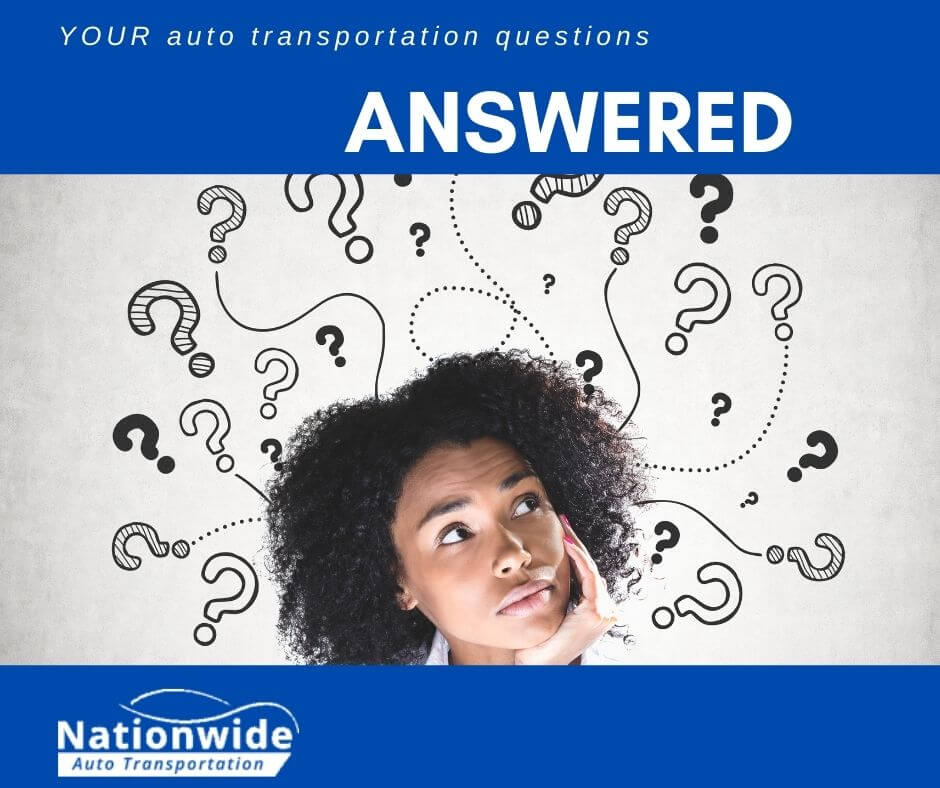 It's easier than ever to get car shipping quotes online; however, it can be hard to tell just by looking at the company's website that they are legitimate.
Don't hesitate if you have questions to ask about auto transport. It's important that you are comfortable with your decision. When it comes to shipping an asset as valuable as your car, you want to be sure that you can trust them before parting with your vehicle or hard-earned money. Choosing the cheapest possible car shipping company can be a costly mistake.
Carefully assess each company's website, and google some reviews to find out whether they really are the best company for your car shipping needs.
[How to spot fake car shipping reviews. Learn more…]
What questions should I ask the car shipping company?
Most of the answers to the questions below should be on their website, but don't hesitate to call them to double-check.
Are you an auto shipping broker, a vehicle carrier, or an auto transport logistics company?
Ever wondered about the difference between those three terms? Auto transport logistics companies serve by acting as a single point of contact throughout the process. This process is very secure, but it can also be slower; that's because it is rare for a company to have transporters in every area. That means that they may only operate in a few selected areas, and it will be more expensive to send trucks to outlying destinations, as the drivers will have to go out of their way.
In many cases, carriers are usually truck owner-drivers who handle the shipments.
Auto shipping brokers connect vehicle owners with carriers when they need to transport a car across long distances.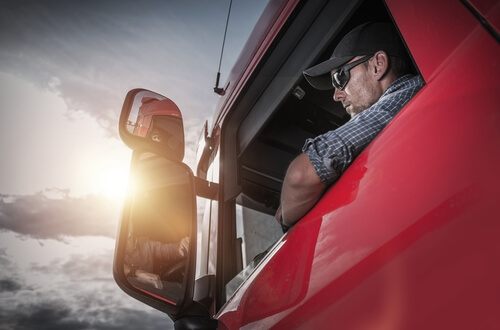 What other types of services do you offer?
It seems redundant, but there's an important reason why we suggest that you add this to your list of questions to ask about auto transport. Don't simply assume that all companies transport cars atop trucks. No.
Some auto transport options include:
Can you ship all types of vehicles?
Ask the car shipping company if there are restrictions on the type of cars they ship. Most companies would happily ship most vehicles, but in some cases, special equipment will be needed. This usually applies to:
Cars that are written off
Heavily modified or oversized cars
Exceptionally valuable cars (antiques or race cars)
Importantly, if your vehicle is modified or something unusual, be sure to ask the company if they can safely handle the car.
[Junk cars for extra money – learn more…]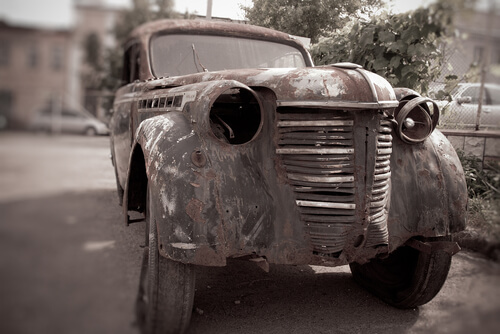 Is the auto transportation company licensed and registered?
Perhaps you don't want to ask them directly – although you could – it's important to find out if the company is licensed and registered. It is probably the most important of all the questions to ask about auto transport. You can often find this information online.
All companies that legally move vehicles across state lines must have a USDOT number, issued by the Federal Motor Carrier Safety Administration. You can use the USDOT number to look up the company's registration numbers, safety records, and operating status on the FMCSA website.
Carriers that ship vehicles internationally need a Federal Maritime Commission license.
Is the car shipping company fully insured?
Reputable car shipping companies will be fully insured, because that is the law. Look for a company that has sufficient coverage to respond to emergencies or other issues that may arise. Ask:
May I see proof of insurance?
What does your policy cover?
Should I buy additional insurance?
What is covered and what is excluded?
Will the company have to pay a deductible?
Arguably, all legitimate auto transport companies carry valid insurance certificates.
What documents do I need to ship my car?
When you speak to the car shipping company, ask what documentation they will need to ship your car. Prepare these papers right away to avoid delays.
For domestic car shipments, you will typically need:
The car's title documentation
Your photo ID
Insurance documentation
You will likely need additional documents for international car shipping. These requirements will be based on your home state requirements and that of the country the car is being shipped to. We recommend you find out what those requirements are. Contact your local department of transportation and the international port for car shipping. The car shipping company that will receive your car at the destination country can answer your questions.
If you fail to meet the requirements, the international port may hold your car.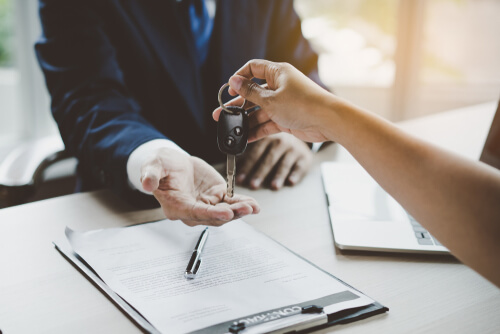 Can I ship personal items in my car during auto transportation?
It depends… Always ask the company you work through what their policy is regarding shipping personal belongings in your car. Read more here.
How will my car be transported?
Is it enough to know that your car will be shipped, or do you want to know the details relating to the actual journey? If your answer is the latter, be sure to ask:
How do they load cars onto the truck?
Does the vehicle make stops along the way, and where?
Will they leave your car alone at any point?
How does delivery take place?
How much does car shipping cost?
Find out if the car shipping company will give you a free car shipping quote. How well you relay information regarding your vehicle to the company is crucial to quote accuracy. Be sure to include any special requests.
When you get your quote, ask if the price is all inclusive, or whether you need to budget for additional fees.
Companies tend to calculate their car shipping quotes differently. As such, when you request a quote, be sure to check each item on the quote to ensure that you understand all charges. Check your invoice against your itemized car shipping contract to ensure that you don't pay any unnecessary fees, charges, or unexpected costs.
[Get a FREE car shipping quote here]

How long will it take for my car shipment to reach me?
Ensure that the car shipping broker understands if your car has to be collected and delivered on a specific date. Of course, you should remember that there are additional fees for expedited shipping and guaranteed pickup dates. When speaking to your chosen auto transportation company, be sure to ask them about the rates for different time frame options.
Learn more about car shipping duration.
What does a car shipping quote include?
Calculating a car shipping quote involves a range of variables, including:
Car make and model (GVWR)
Shipping distance
Pickup and drop off locations
Shipping method
Special handling instructions
Fuel costs
Demand on the route, and
Seasonal auto shipping cost fluctuations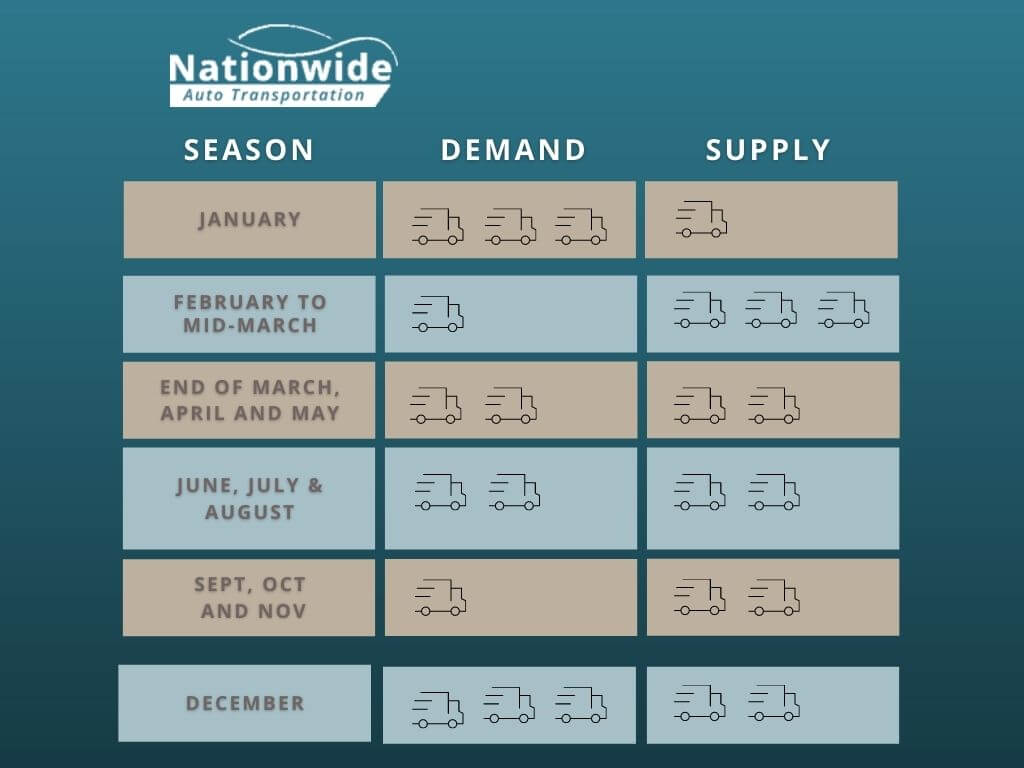 Whether or not the car runs is another important aspect of the shipping price and process.
Interestingly, it's usually cheaper to ship a car across states than it is to ship it within state boundaries. Because prices work on a sliding scale, long-distance shipping works out cheaper per-mile.
[Learn more: How is car shipping cost calculated?]
Can you ship my non-running vehicle?
When you ship a vehicle, the carrier places it on the trailer of a truck; but don't assume that all auto transport companies can transport non-running vehicles.
Sadly, some people don't mention that their vehicles don't run until the driver arrives to collect them in order to save money on car transport.
If your car doesn't run, be honest from the start. That way, we can send you a carrier with the necessary loading equipment. Clearly, your honesty will actually work out cheaper than hiding the fact. Basically, if a carrier shows up without the loading equipment, you will still pay the call-out fee for the first driver, and the same-day shipping fee to secure a last-minute car carrier. Also, there's the strong possibility that you can't find a spot on another suitable truck.
Need to ship a non-running vehicle? Be sure to let us know:
If your car is non-running
Whether it steers, brakes, or rolls.
Most car shipping companies will be able to ship your non-running vehicle if it can steer, brake, or roll.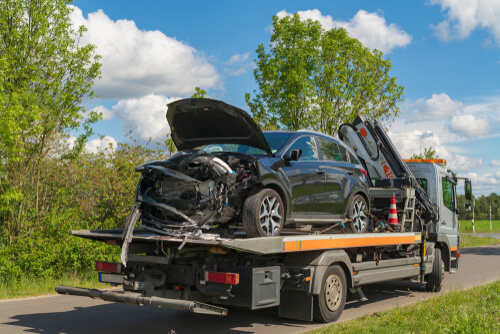 How can I pay for car shipping?
That's a popular question about car shipping.
In most cases, you will make a partial payment or deposit when you schedule your car shipment. Sometimes, this is payable before they deliver your car. Therefore, speak to your car shipping company and ask exactly how their payment policy works. Ask about their payment options. Never hesistate to ask questions about car shipping.
Where will you pick up and deliver my car?
If you don't want to drive your car all the way to your destination, you could ship it. Select an auto transport company that offers door-to-door service. In that way, you won't have to take an entire road trip to drop off or collect your car.
Typically, car shipping companies charge more for door-to-door shipping than for terminal-to-terminal services; however, you save on inconvenience and car rental costs.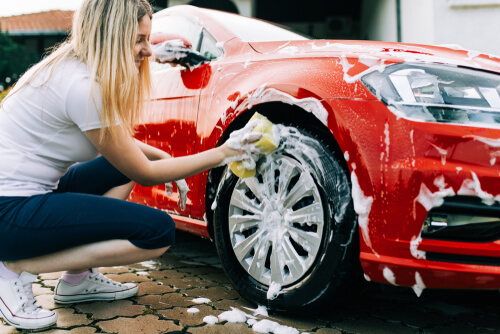 How do I prepare my car to be shipped?
A consultant at the car shipping company will usually tell you to:
Empty the car
Clean the car
And find the spare keys.
Follow the instructions in this post to secure the best outcome and don't be shy to ask any questions about car shipping.
Must I be present for pickup and delivery?
Usually, an auto transport company requires that an adult is present both at pickup and at delivery points to sign off on the paperwork and to hand over and accept the keys. You can choose a friend, relative, neighbor, colleague, friend, or adult child if you're unable to receive the car yourself.
Ideally, the car owner should be present, as he or she will know the car well enough to spot any issues right away. Afterward, the driver performs an inspection and complete a bill of lading document. The person who receives the car must sign it.
Conclusion
Obviously, there's a lot of questions to ask about car shipping. If you choose the right auto transport company it will go a long way to give you peace of mind:
You have experts with a good track record in the industry;
Your car will be collected and delivered within the preferred timelines;
You won't run into any complex issues along the way.
Choose a professional car shipping company; choose Nationwide Auto Transportation. Request your free quote today or call us to discuss your questions about car shipping.