Reading Time: 7 minutes
Are you moving soon? We know that there's a lot to be done during the lead-up to a home or office relocation. You're probably facing many complex decisions, and the last thing you want to worry about is choosing the correct moving boxes. That's why we at Nationwide Auto Transportation put together this simple guide to help make choosing your moving boxes, packing materials, and help you figure out how to pack.
[Also check out our Travel Packing Checklist & Article]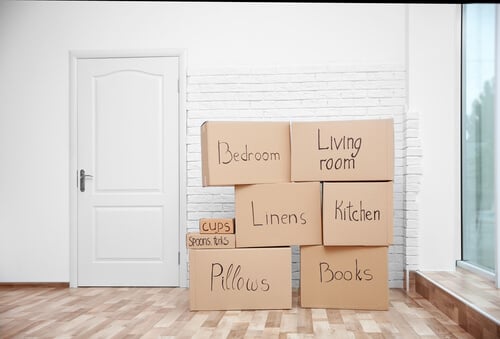 Moving Box Sizes
When you're moving – especially if it's a long-distance relocation – you need to pack your household goods in such a way that they are protected while in transit. But what is the right size box, and what do you pack in which box?
With this guide, and your relocation checklist [free download!] we aim to make your next move much easier!
Standard size moving boxes were designed to store items of a certain size, shape and weight. When you collect or buy boxes, you will come across both standard size moving boxes and specific boxing options.
Here are some of the common moving boxes:
Small moving boxes – These boxes are approximately 16" x 10" x 10" in size and are ideal for packing small appliances, books, DVDs and CDs. If you have a large book library, you may be tempted to pack them all into one large box, but don't. Books are heavy and can cause big boxes to be difficult and awkward to carry at best, and to break, at worst. Rather place all books of a similar size in one box, and avoid letting them hang from the spine. You can buy these boxes for approximately $1 a piece.
Medium moving boxes – Measuring approximately 18" x 14" x 12", these boxes can also be used for DVDs, ornaments, and towels. You may even use towels to cushion fragile items, thus saving on packing materials. These boxes retail for approximately $1.50.
Large moving boxes – Large moving boxes are around 20" x 20" x 15" big and ideal for larger, lighter items such as pillows, drapes, bedding and larger kitchen appliances, such as a microwave or food processor. Expect to pay around $2 per box.
A Size for all needs
Extra-large moving boxes – These boxes measure around 23" x 23" x 16" and work well for light but bulky items, such as large pillows, comforters, or awkward items such as sports equipment. Extra large moving boxes go for about $2.50 new.
Kitchen boxes – Protect your fragile glasses, China and dishes with kitchen boxes. These boxes come with customizable partitions to provide added protection for your valuables. Simply wrap the items in packing paper or bubble wrap, and use the inserts to provide added protection.
Office or file boxes – These boxes are easy to assemble and will keep your important documents safe in transit with the help of double-walled design.
Picture boxes – Available in a range of sizes, picture boxes are assembled in two parts, allowing you to customize it to fit any size artwork. You can expect to pay between $5 to $8 per picture or mirror box.
What kind do you need?
Dish barrel boxes – These boxes are double-walled, offering maximum protection for delicate antique glassware and fragile kitchen items. These boxes are approximately 18"x 18" x 28" and cost about $6.
Lamp boxes – It's often hard to find boxes to accommodate large or awkwardly shaped items that can't be disassembled. These tall boxes can accommodate lamps as high as 48".
Wardrobe boxes – As the name implies, these boxes are designed with a rod across the top so that you can easily hang items from your closet into the box. They're typically available in 3 sizes, and range in price from about $11 to $14. There's space in the bottom for all your purses, belts and shoes. These boxes typically take the same amount of clothing that would fit in two linear feet of closet space.
TV boxes – Let's face it: TVs are expensive and flat screen TVs require extra protection. TV boxes provide heavy-duty storage and protection. Assembled in multiple sizes, you can accommodate any size TV, whether it's 32" or 70".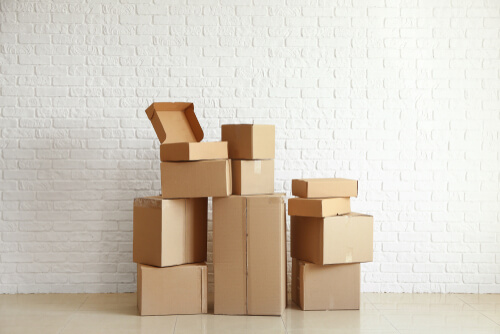 No moving boxes? No problem!
When most people plan a move, the first thing they think about is a large stack of boxes. They are convenient, efficient and easily stored, once they are flattened. But what if you don't have boxes, or if you wish to have a greener move? Here are some options.
Perhaps you want to cut the cost of your move by a few dollars, instead of buying brand new moving boxes.
Perhaps you are a collector of oddly-shaped items that take up too much space in boxes, or are too big for standard sized boxes.
Maybe you don't have time to hunt down free moving boxes.
Maybe you're put off by the thought of second-hand boxes for cleanliness reasons, or maybe because they may no longer be sturdy enough.
Or maybe you simply want to facilitate a greener move by using materials you already own and by renting a U-Haul truck to do a DIY move.
Whatever your reasons may be for not using moving boxes, keep on reading to find the perfect solution:
Solutions
Furniture drawers – simply leave your goods inside the dresser and desk drawers. It will save you on packing, unpacking and repacking.
Trash cans and buckets – After cleaning your trash cans, you can pack cleaning supplies and detergents in them for transportation.
Beer boxes and wooden crates – Provided they are clean and in good condition, these sturdy boxes offer great protection for crockery, China, glasses and cups. Many of them have handles, which makes them easy to carry.
Even more solutions
Laundry baskets or hampers – You don't want to pack dirty shoes such as flip flops and running shoes with your clothing, so toss them all in a laundry basket. You can also use these hampers for toys, kitchen utensils or cleaning materials.
Garbage bags – Pack your lightweight, durable items in trash bags. Cheap and convenient, trash bags are ideal for packing pillows, comforters, curtains and other bulky lightweight items. You could even color coordinate them by room… Just bear in mind that poor quality bags will tear easily, so they offer minimal protection. Since they trap moisture inside, it may cause mold if you don't unpack it soon.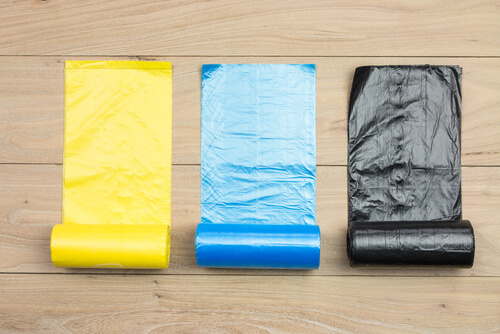 Sheets – Wrap clothing and bed linens in sheets.
Backpacks, totes and suitcases – All of these items are handy for storing clothes, accessories and so forth. Use your backpack as an overnight bag for things you will need on moving day. Heavy-duty shopping bags are particularly handy for carrying nick-knacks or moving-day essentials.
Briefcases to Ziplock
Briefcases – Although not suitable for oddly-shaped items, briefcases are handy for carrying laptops, documents, books, CDs, DVDs, chargers and other items.
Pillow cases – Pack a duvet cover, sheet, and pillowcase folded up inside another pillowcase. It is compact and makes for easy unpacking.
Appliance boxes – Whenever you buy appliances, keep their boxes. That way, if you have to return it while under warranty, you have the box handy. Also, you have the perfect box in case you have to move. The same applies to tool boxes, jewelry and toy storage containers.
Vanity cases – Pack cosmetics and toiletries in your vanity cases or toiletry bags.
Ziplock bags – Probably the most underrated bag ever, a resealable bag is handy during a move, especially when it comes to storing small items such as nuts, bolts and screws from disassembled furniture. It is also handy to safeguard small gadgets, toiletries, and keys.
Bear in mind: If you're using a moving company to facilitate your move, they will not transport loose items, or most of the items above if it is not in a box. However, these packing materials will be fine if you're doing a DIY move. Also, if you have your car shipped, you can typically load up to 150lbs of personal belongings in the trunk – but check with your car shipping company first.
[Looking for the best truck hire company? Check out our comparison here!]
Plastic boxes
One of the most practical ways to a green move is to hire plastic moving boxes. They are weather-resistant,lightweight, easy to carry and stack, strong, sturdy, waterproof and reusable. If you buy your own, you can always use them to store goods in your garage or storage unit.
[Speaking of a garage… How do you move a car during your relocation? Find out here!]
How many moving boxes will I need?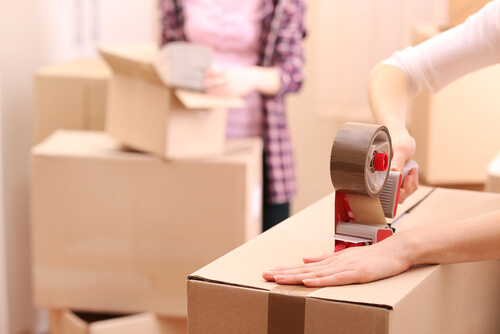 When it comes to buying or getting free boxes, you will want to know how many moving boxes you need. There are many factors that come to play when you're moving house, including:
Your home's square footage
Number of years you lived in the house
The number of rooms in the house
The number of people sharing the home
The kind of lifestyle you enjoy
The amount of decluttering you do before moving.
Some people believe that you need on average sixty moving boxes, but this is not necessarily the case. Depending on how you pack, how far you're moving and how much stuff you have, you may get away with fewer boxes. Also, if you're doing a short distance move, you can probably take several loads of bags, baskets and crates in your car, and only leave the big things for the moving company. That way, you will need fewer boxes.
[Not sure how much space you have at the new house? Perhaps it's a good idea to try before you buy!]
Want free moving boxes?
You can get boxes from many stores, such as McDonald's (the fry boxes are great!), liquor stores, grocery stores, Starbucks, your workplace, or schools. Use the U-haul box exchange message board, Craigslist, or Freecycle to find people offering free used moving boxes.