Reading Time: 8 minutes
Every year, thousands of people from around the world move to Los Angeles. The City of Angels in the heart of California considered a land of opportunities for fame and fortune. Only a small percentage of those people with stars in their eyes make it to stardom. Thankfully, there are many other opportunities to choose from in L.A.
Tourism is a huge industry in Los Angeles, the sprawling city in Southern California. The Hollywood entertainment district lies at the foot of the iconic Hollywood sign. Here, popular film studios offer behind-the-scenes tours. Walk in the footsteps of your celebrity crushes on the Walk of Fame. After a tour of Hollywood Boulevard, visit TCL Chinese Theatre. Finally, pick up a map to the homes of the stars from a vendor. Follow the directions to get a glimpse of how the rich and famous live…
But there's more to moving to Los Angeles than just chasing the stars. With this guide, we hope to help you decide whether moving to Los Angeles is the right decision for you.
City of Angels: An Overview
Los Angeles is sheltered by the coastline on one side and the mountains on the other day. These elements combine to deliver an excellent climate. LA sees about three hundred sunny days a year and enjoys an average high of 75 degrees.
Although the climate is beautiful, California does have issues with smog. Traffic (so much traffic!), and the industries that are most active in the state contribute to pollution. Los Angeles has a moderate level of air pollution with an air quality index of 74 US AQI. The main pollutant in the city is PM2.5. What does that mean?
According to the CDC, that measurement relates to the size of the particles (particulate matter). Any particles can be bad for your health. The bigger the number (PM10) the bigger or coarser the measure of particles. Bigger particles will typically irritate your respiratory system, eyes, and ears. Smaller particles can penetrate your lungs and enter the bloodstream, and are therefore very dangerous.
The US Environmental Protection Agency considers a particulate measure of 2.5 safe in terms of national air quality standards. That is, providing an individual does not inhale more than 12 micrograms of particulates per cubic meter of air per day, over a year.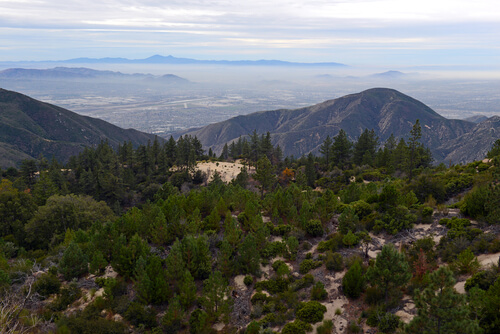 Main Employers in L.A.
We don't recommend you move to L.A. with only a pocketful of sunshine and a dream in your heart. While the entertainment industry in LA is booming, you still have to show talent. Don't expect to be found by a talent scout and be famous by month-end.
Although many average blokes moved to Los Angeles and became superstars, that is not the norm. We don't see the hard work that goes into a superstar's behind-the-scenes life. There's a whole process before they become famous and start rubbing shoulders with the rich and famous.
LA County's major industries include:
Aerospace and Defense
Advanced Transportation
Trade and Logistics
Bioscience
Fashion, Apparel and Lifestyle
Hospitality and Tourism
Food manufacturing
Information Technology
Entertainment and Digital Media
Marketing, Design and Publishing
Where to find work in LA
You can find a job in Los Angeles by scouring the typical job boards. Look at sites such as Indeed, LinkedIn, and Simply Hired.
L.A. City is the second-largest municipal government in the United States, so you might even find work with the City. Alternatively, speak to your employer about potentially working remotely. You could visit the Los Angeles County Economic Development Corporation website for more information about careers in LA.
Strange Laws in Los Angeles
California is a melting pot of quirky creatives, high tech professionals, and interesting characters. That's probably why the state has such strange laws.
Women may not drive a motorized vehicle in California while wearing a housecoat.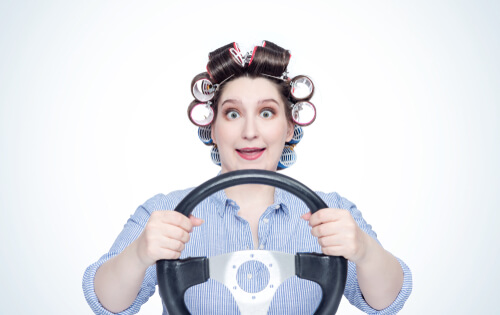 Until 2012, no footballs were allowed on Los Angeles beaches without first obtaining permission from the lifeguards.
Remember that it is illegal to wash your neighbor's car without permission. You may be yearning to do them a favor or repay them for being such good people… Just get permission first, okay?
Things to Consider When Choosing a Neighborhood in L.A.
Los Angeles is arguably one of the most popular cities in the world for travel. It's the hub of the business and entertainment world. Here, fame and fortune balances with quality of life and gorgeous nature (beaches, mountains, hiking trails and more) to keep residents calm in the rat race.
With much to offer, you can enjoy the best of LA's business and entertainment world. Many talented entertainers make money doing what they love in a city full of dreams come true.
Types of property in Los Angeles
Dreaming of a mansion in Malibu? A townhouse in Santa Clarita? How about a humble home in Huntington Beach or a simple studio apartment? Perhaps penthouse in Hollywood is more your style. Be as it may, there's a lot more to consider when deciding where you want to live in Los Angeles.
However, life is not all about work and never about play. That's why it's important to consider your proximity to recreational activities. People who enjoy living in the great outdoors often move to Castle Rock Beach or Rocky Beach. Other great neighborhoods near the coastline include:
Rustic Canyon
Passific Palisades
Santa Monica
Venice
Torrance
Redondo Beach
Long Beach
Huntington
Affordability and cost of living of LA
The minimum combined state, county, and city sales tax rate for Los Angeles, California is 9.5% in 2021. The California sales tax rate is 6%.
If you want to move to LA with no money or job, please rethink that decision. There's no way to live in LA on minimum wage. The bare minimum you need to earn to pay the rent and barely scrape by is $20 an hour. That applies only if you have no bills or emergencies.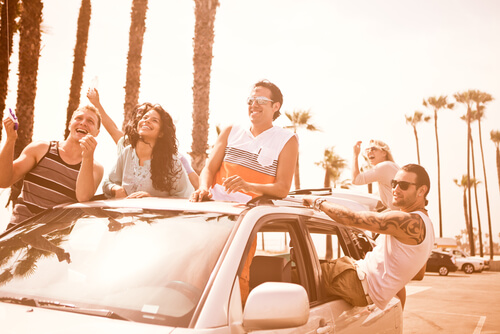 Speaking of unexpected costs… Consider other aspects of your lifestyle when choosing where to live in LA. If you move to Los Angeles with family, you should probably find a neighborhood near schools or bus routes. Need to choose the right accredited online school? Look into the following organizations:
There are many prestigious institutes for higher education to choose from in Los Angeles. NAT frequently delivers cars from other parts of the US to the various campuses in LA.
*** Obtain permission from your campus for your car to be offloaded on the campus parking lot when you have your car shipped to the school. ***
Proximity to work and the cost of fuel are important considerations when you move to Los Angeles.
Buy or Rent: Is it a good time to buy a house in Los Angeles in 2021?
The best time of the year to buy a house in Los Angeles is usually autumn or winter. That's because there's less competition in the market. People are busy during the holidays and may push out the buying process during this time. That makes winter a good time to get a good deal on the prime property if the seller is desperate.
The average house in LA is listed at $860,000 (January 2021). That places the median listing price at $551 per square foot. However, the median sales price is closer to $743,000. Property is slightly cheaper in the Long Angeles-Long Beach-Anaheim Metro area, where the median list price averages $447.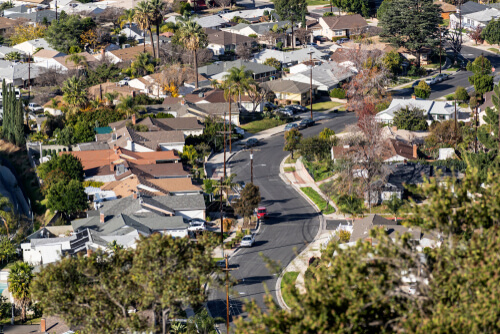 Rental apartments in LA
Renting an apartment in LA costs almost double the amount for the same apartment in another city. This is especially true for prices of property in the more trendy neighborhoods in LA. Venice ($3,203) and Playa Vista ($3,415) are some of the most expensive neighborhoods in LA. – Bungalow.com.
$1,255 for a studio apartment
$2,164 for a one-bedroom apartment
$2,606 for a two-bedroom apartment
$2,817 for a three-bedroom apartment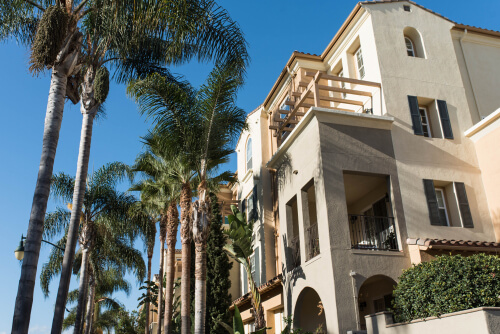 How much is utilities in Los Angeles?
Utilities range by the city's micro-climates which differ. Malibu rarely gets hotter than 80, and it's very rare for it to dip below the 30s. The San Fernando Valley can reach triple-digit highs in summer. On the contrary, it can be rather chilly (at least by SoCal standards!) in winter.
However, the average utility bill for a 915 square foot apartment is about $200 per month.
Where do celebrities live in Los Angeles?
We all want to be surrounded by people who are at a similar station in life to us. As a result, we find familiarity when we live in a community that represents our lifestyle and values.
For example, if you're frequently rubbing shoulders with the Kardashian-Jenner clan, you'll probably fit in well in neighborhoods like Calabasas.
If you're a Gloop / Gwyneth Paltrow fan, Santa Monica is the place to be.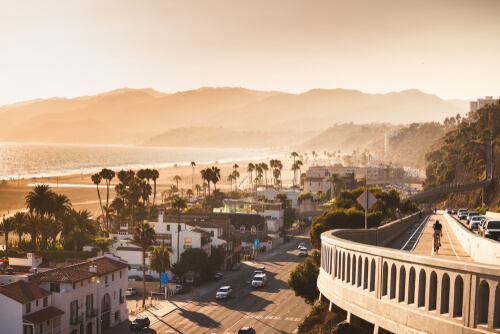 Why is Traffic in Los Angeles so bad?
The one major issue in California is the fact that traffic is a nightmare, even at the best of times. Here are a few fun facts about getting around in L.A.:
The LA morning rush hour is 7 a.m. to 10 a.m. Heavy traffic resumes for the evening rush hour from around 4 p.m. to 7 p.m. These hours are often extended on the I-405 north-south freeway. This highway connects the densely populated areas of West Los Angeles, Santa Monica Mountains, San Fernando Valley, and Downtown, these hours can be extended.
How do you get around in California without a car?
The L.A. Metro subway and over-ground trains cover the most popular attractions and neighborhoods in the city, it is limited. Other options include taking a shuttle, rent a car, or catching an Uber. Sadly, you remain confined to areas of operation.
Costs add up on your daily commute if your transportation is charged by the hour. If you have a limited budget, this can quickly put a dampener on your fun.
If you drive infrequently, you can always rent a car. Being able to come and go as you please gives you more personal autonomy. Your own car gives you a more flexible schedule. Bring your car when you move to Los Angeles. You can always save money by carpooling.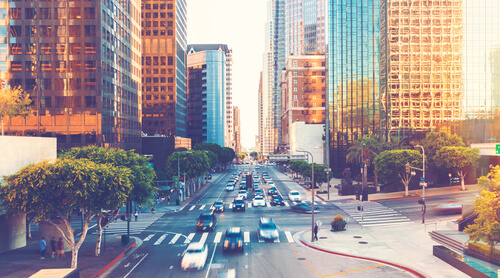 Having your car transported is clearly the best solution for most people who are thinking about moving to Los Angeles. Getting a quote is as simple as visiting the Nationwide Auto Transportation quote calculator for an instant calculation. Want to know how the quote calculator works? We explain that here.
Nationwide offers car shipping routes running across the country from the furthest corners in all directions.
Get a free car shipping quote
EXAMPLE: Imagine you had to get an enclosed vehicle transport quote for a brand new premium sedan from New York to Los Angeles. It had a lead time of about 2 weeks.
(**Remember, book in advance to avoid paying extra due to scheduling limitations**.):
Click on the Free Quote button and enter your details…
2. View your discounted New Customer price. Tip: Call our consultants at 1800-311-7073 and ask if you qualify for additional discounts. We're always running deals, especially for students or military personnel.
We also have special deals on shipping cars for snowbirds or retirees heading to California this winter…
If you have an older car, you're probably less worried about protecting the paint. Remember, there's a highly unlikely chance of damages.
Besides – that's what vehicle shipping insurance is for! In this case, can opt for expedited car transportation. Open car transport is another cheap option.
Click on Calculate Rate to see your price. You will have the option to confirm your booking.
Can you trust Nationwide Auto Transportation with your car? According to these testimonials from verified customers, you CAN!