Reading Time: 13 minutes
Are you thinking of moving to Salt Lake City? Are you looking for affordable housing, tons of outdoor recreation, and a thriving tech industry? Salt Lake City has it all!
Utah's capital city is growing and diversifying, making it one of the best mid-size cities in America and a great place to raise children.
Brigham Young founded Salt Lake City in 1847 to enable him and other Mormon settlers to practice their religion without persecution. Salt Lake City (SLC) still has some vestiges of its native Ute and Navajo people, but the majority of the city's structure was created by these pioneers. Utah's capital city has a distinctly Mormon influence, from its majestic temple in Temple Square and its 132-foot-wide streets to the sheer volume of Church of Jesus Christ of Latter-day Saints (LDS) chapels.
What Can You Expect When Moving to Salt Lake City
Though Utah has the largest number of Mormons in the U.S., the Mormon population in Salt Lake City is decreasing as new residents move in. Latter-day Saints number only about 50% of the population.
In the meantime, Salt Lake City has become more open and welcoming to LGBTQ people. Salt Lake City is home to the Utah Pride festival and has a large LGBTQ community-and former mayor Jackie Biskupski was the city's first openly gay mayor!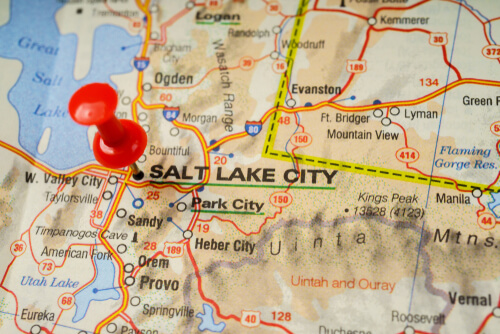 The city's ethnic diversity is also evident. There has been significant growth in Salt Lake City's Asian-American and Hispanic/Latino populations since the 2010 census.
What should you consider if you're moving to Salt Lake City? You can find articles on specific topics, but there isn't a one-stop guide that walks you through the entire moving process.
That's why I decided to create one. I'll walk you through the process of moving to Salt Lake City from start to finish below.
Also download our Ultimate Relocation Guide to help you keep track of your move.
What to Consider Before You Move to Salt Lake City
There are many reasons to move, whether for a job, family reasons, or merely a change of scenery. Keep reading if you've already decided to move to Salt Lake City (or if someone has done it for you).
As an example, let's say you've just graduated college and are looking for a change of scenery. Where should you go? Is Salt Lake City a good place for young people? MoveBuddha agrees, as they rated it as one of the best cities for interstate relocation.
The best city for you may be different from the best for another person, and it all depends on what you value in a city. I value living in a city (and neighborhood) where I am able to walk, bike, and take public transportation almost everywhere. In that case, a sprawling city such as Los Angeles would not be a good choice.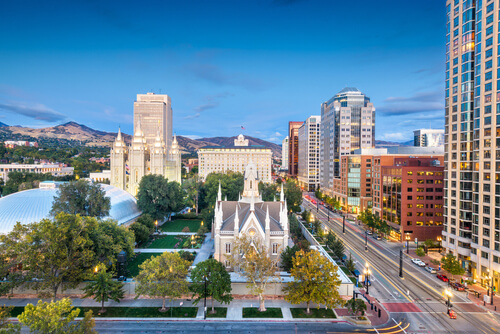 What Do you Like in Utah
That's just my preference, though. Other people might prefer to drive everywhere and value the variety of opportunities Los Angeles offers. For them, LA would be a great choice.
When it's time to decide whether to move to a new city, here are some things to consider, depending on your priorities: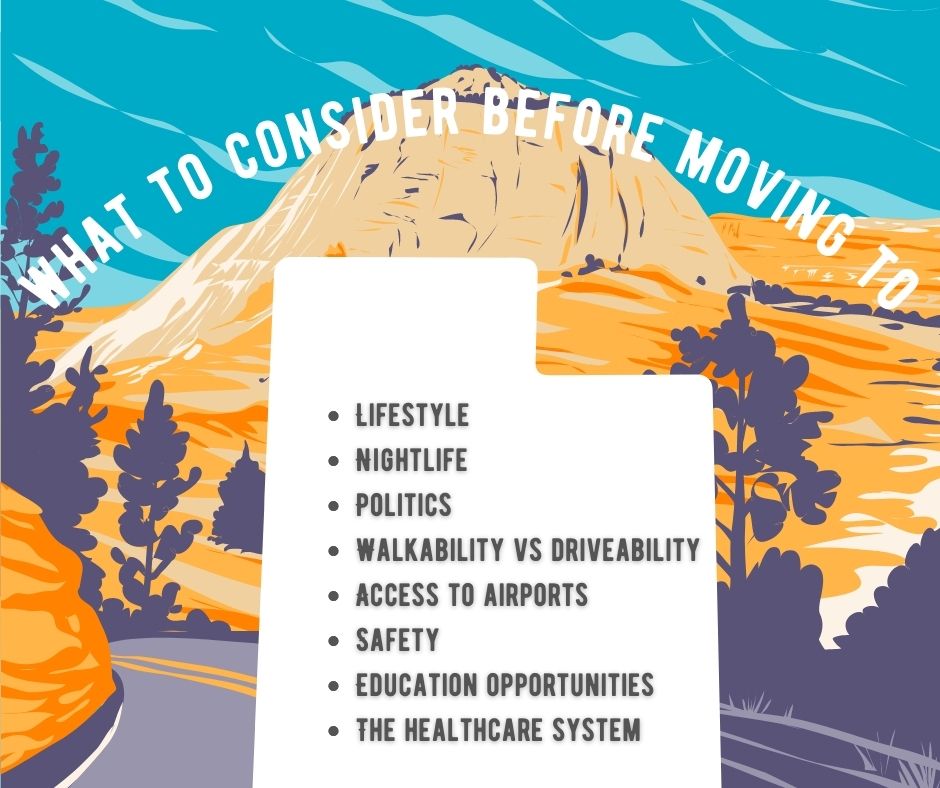 If you haven't visited a city, how can you evaluate its quality? Well, I advise you to visit any city you are considering moving to seriously on a reconnaissance mission. Before the move, make sure you visit the new community. Being there in-person will give you a better feel for the area's various neighborhoods and amenities.
Moving to Salt Lake City | Shopping is Part of the Fun
Whether you're looking for shopping, dining, nightlife, museums, sports, or live music, downtown Salt Lake City has it all!
City Creek Center offers retail therapy both indoors and outdoors.
Shop for fresh foods and handcrafted goods at the Downtown Farmers Market in Pioneer Park.
Make sure you take a photo in front of the "You Are Here" art installation at Salt Palace Convention Center.
Take the kids to the Clark Planetarium to see an exhibit with a space theme.
The Salt Lake Film Society operates Broadway Centre Cinemas to show independent films and documentaries.
Come check out the up-and-coming standup comedians at Wiseguys Comedy Club.
Use the UTA's free-ride zone to get the most out of your trip!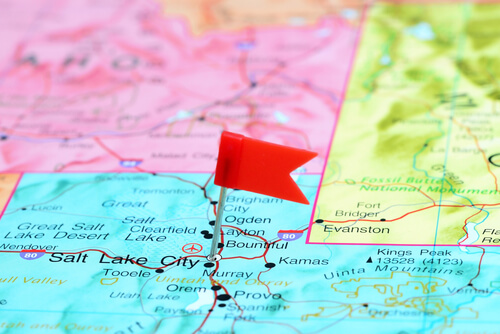 Trying to find a new professional sports team to cheer for in Salt Lake City? Utah Jazz (NBA), Salt Lake Bees (MLS), Real Salt Lake (MLS), and Utah Grizzlies (ECHL) are just a few options to consider. The Jazz can be seen at Vivint Smart Home Arena in Downtown, the RSL at Rio Tinto Stadium in Sandy, the Bees at Smith's Ballpark in Central City, and the Grizzlies at Maverik Center in West Valley City. Even if you don't fancy professional sports, you can always watch the Utah Utes or the BYU Cougars!
How big is Salt Lake City's Population?
Have you ever wondered why so many people are moving to Salt Lake City? How you define the city's boundaries will determine this answer. Salt Lake City is home to around 200,000 people, but the SLC metropolitan area is much larger. Salt Lake County covers the entire Salt Lake Valley between the Wasatch Mountains and Oquirrh Mountains, including Salt Lake City, West Jordan, South Jordan, Sandy, Murray, and West Valley City, bringing its total population to just over 1.16 million.
Utah has five national parks within four hours of Salt Lake City, making weekend getaways easy for those who enjoy camping, hiking, canyoneering, horseback riding, backpacking, and more.
The Grand Circle has the nation's highest concentration of national parks, including Arches, Bryce Canyon, Canyonlands, Capitol Reef, and Zion. A Grand Circle road trip is a great way to visit multiple national parks at once!
What's Salt Lake City's Weather Like?
If you're moving to Salt Lake City you may want to consider the seasons.
It is often overlooked, but your daily life is greatly affected by the local climate when deciding where to live. Your clothes, activities, and even your mood are affected by the weather.
Take into account both how you like your climate and what the local climate is like in the cities you are considering. It might not be the right city for you if these two factors don't align.
Snow-capped mountains are one of Salt Lake City's most iconic features. Utah is actually the second driest state in the country, despite getting more than its fair share of fluffy powder.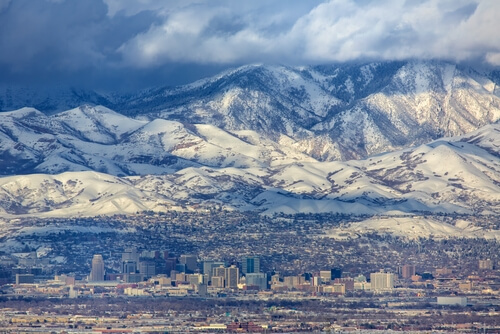 If you're not used to driving in snow you may need to get snow tires.
The dry air may come as a surprise to those who are accustomed to humid environments. Lakes and reservoirs, however, are great for recreation. Salt Lake City sits on the rim of the Great Salt Lake, which is the remnant of ancient Lake Bonneville. As part of the unique ecosystem, you will find wetlands for migratory birds and scenic salt flats. Don't expect to go fishing though. Saline water is unsuitable for anything but algae and brine shrimp.
Move to Salt Lake City for the Weather
The chances of an earthquake of magnitude 7 or greater in the next 50 years are 43%. A drop to a 6 on the Richter scale increases that probability to 57%.
Salt Lake City regularly tops the lists of best cities for outdoor enthusiasts due to its beautiful mountain climate. This city enjoys mild weather all year long. Winter temperatures range from the low 20s to mid 40s, while summers range from the low 70s to mid 90s. The area does not receive much rainfall, but it receives considerable snowfall averaging nearly 62 inches annually. The snow doesn't prevent locals from enjoying the outdoors, though. The fact is, the ski resorts around the valley will be busier than usual.
It is common between December and February to wake up to thick fog hovering over the city. Inversion occurs when cold air gets trapped below warm air layers. Salt Lake City is surrounded by mountains, so this happens quite often, especially after a snowstorm.
Winter inversions trap pollutants in the lower parts of the atmosphere, so they can affect overall air quality. The city does its best to notify residents in advance. In addition to the Clear the Air Challenge, SLC continues to introduce green initiatives to reduce emissions in the valley.
Are you ready to drive in the snow? Speak to the experts about the best tires for your vehicle.
Cost of Living in Salt Lake City
Living costs drastically affect your daily life. It determines where you live and what you do for fun. There are even longer-term implications, such as when you can retire and the number of children you may have. So how can you find out the cost of living in Salt Lake City? I recommend Expatistan.
The website is designed to help digital nomads and other expats figure out how much money they need to afford a particular city. As it is based on real-world data from users, you can also use it to get a rough idea of the cost of living in a particular area.
Apart from providing the cost of living in Salt Lake City, Expatistan can give you a comparison of two cities (such as comparing where you currently live to where you wish to move).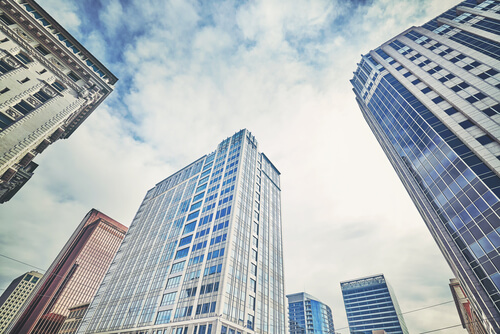 This will also help you determine whether it's best to ship your car or sell it. Perhaps it's a better bet to buy a car from out of state where there's less corrosion.
Where to Find Employment in Salt Lake City
Are you aware that Utah is the youngest state in the United States? As a result of the high birth rate in Utah, and the continuous inflow of college graduates and young professionals, Utah appears to be ageless.
Population-wise, Salt Lake City is no different. Ages 25-34 and 5-14 make up two of the largest demographic groups. In part due to the relatively young population of both the state and its capital city, the local economy has grown strongly, particularly when it comes to entry-level jobs and startups—and it has created a hot real estate market for young homebuyers and developers!
It's likely you'll need a job in your new city unless you work remotely. As such, you should consider what the job market is like before making a move. Read our guide on how to find a job in a new city.
You should instead examine the job market for your specific skills and interests, not just the overall job market. You can learn about a city's job market by looking at its largest industries. Job boards can also be useful for finding positions that interest you. However, always keep in mind how competitive the market is.
Move to Utah for Employment
Are you relocating to Salt Lake City for employment? That's great! Utah is not only one of the top states in the U.S. to find a job, but Salt Lake City itself is one of the best cities to find a job as well! There are 3.9% unemployed in the city, and its median household income is $50,353. It also has steady job growth in the government, retail, technology, and healthcare industries. Salt Lake County, Intermountain Healthcare, University of Utah, and Delta Airlines are among the area's top employers.
Interestingly, Extra Space Storage is based in Salt Lake City, as well.
You're familiar with Silicon Valley, of course. Have you heard of tech industry up-and-comer Silicon Slopes? Due to a boom in startups in the Salt Lake City metro region over the last few years, Salt Lake City is poised to join the ranks of top U.S. cities for tech jobs.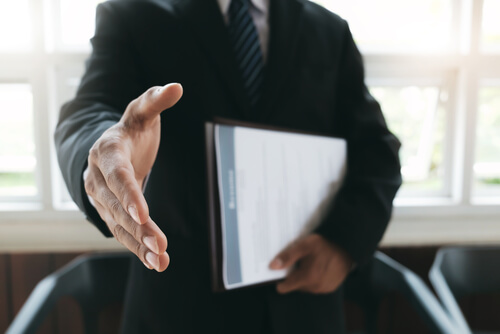 Many big companies have also set up shop on the Wasatch Front, making it a great place for people looking to relocate for tech work but don't want to live in the Bay Area. You should consider moving to Salt Lake City if you want to be in on the ground floor before Silicon Slopes gets big.
These companies can help you find a job in Salt Lake City:
Expert tip: Speak to your employer about relocation assistance and to your financial adviser about tax deductible moving expenses.
Choosing a neighborhood in Salt Lake City, UT
After you have decided to move to Salt Lake City, it is time to pick the neighborhood you'd like to live in. Rather than sifting through hundreds of options all over the city, this method will make it much easier to find an apartment in your chosen suburb.
How do you choose a neighborhood? You have to decide what matters most to you.re are some things to consider when picking a neighborhood:
It is a Healthy Place
Who is the healthiest city in the United States? It's right in front of you! Life in Salt Lake City is all about the outdoors. You'll find a hiking trail somewhere in the city no matter where you go. The summit of Ensign Peak is where Salt Lake City founder Brigham Young gazed out over the valley below. A short hike into Big Cottonwood Canyon can lead you to Donut Falls, where a nearby stream runs into a small cave through a "donut" opening.
Alternatively, you can hike Mount Olympus' nearly eight-miles to its Instagram-worthy summit.
Great Salt Lake is located northwest of the valley and is named for the Great Salt Lake. It is the largest saltwater lake in the Western Hemisphere, measuring 75 miles long by 35 miles wide. Antelope Island State Park offers hiking, biking, camping, horseback riding, and the chance to view bison roaming freely along the lake. Despite the lake's high salinity, you can swim in it at Bridger Bay Beach—though it's more floating than swimming. After your float, be sure to rinse off the brine!
SLC offers a variety of housing options to suit any lifestyle, from living in the heart of the city near the action to raising a family in the quiet area of the community.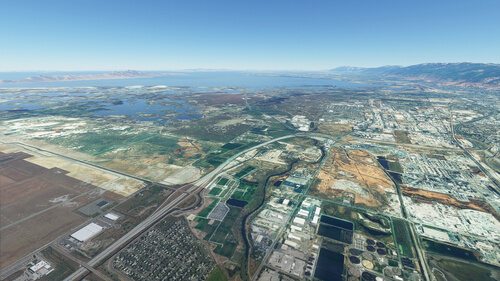 Would you like to live in a hip neighborhood where you have access to a thriving nightlife, unique bungalows, and hip boutiques? Sugar House, Yalecrest, East Bench, and Greater Avenues are just a few of the many great places to buy a home in Salt Lake City. Perhaps you prefer a large home with a lush yard near good schools and recreational opportunities. You might consider Salt Lake City suburbs like Bountiful and West Jordan in that case.
Getting Around: Transportation in Salt Lake City
Thanks to the city's focus on sustainable living and conservation, public transportation is becoming easier to find in Salt Lake City. Residents can travel back and forth between Ogden (in the north) and Provo (in the south) thanks to the commuter train FrontRunner. The city also offers a light-rail system, TRAX, which connects suburban neighborhoods and the International Airport. The UTA bus line also provides access to local ski resorts in the mountains. Despite needing a car for traveling outside the SLC metro, you can still get around without one in general!
Salt Lake City residents engage in many other outdoor activities besides hiking! Mountain biking and urban cycling are very popular among residents, so there are loads of bike racks on the streets and on top of cars. Get your adrenaline pumping on a seven-mile bike ride along Little Cottonwood Creek or train for your next triathlon on the 20-mile Wasatch Crest Trail.
Getting Around in Salt Lake City
Prefer a more leisurely pace? Almost every Salt Lake City neighborhood has a bike lane, and you can also ride the Cycle the City loop around downtown or take advantage of the city's many multi-purpose trails. No bike? No problem. Become a member of GreenBike, a nonprofit bike share program in the city.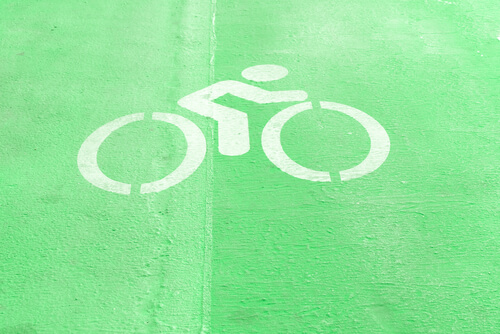 The first step to moving is deciding where to go. Many times, a third party is responsible for this decision. Moving for a job or family is the most common reason to move. But how can you learn about these things without visiting the neighborhood? I recommend the following method:
You can learn a lot about the neighborhoods by searching for "best neighborhoods in Salt Lake City".
Make sure you know how walkable the neighborhood is and how easy it is to get there by transit (it may not matter if you mostly drive, but it is worth knowing).
You can take a virtual tour of the neighborhood using Google Maps. Look at satellite and street view to find homes and apartments around you, as well as nearby businesses.
Also, I like to visit the subreddit for the city and read the FAQ for those moving. Many of the FAQs include information about the various neighborhoods.
There is no such thing as the "perfect" neighborhood. You're going to have to compromise on at least one thing, and probably several.
My ideal neighborhood would be walkable, near amenities and shopping, and close to nightlife. I got this with my current place, but it did come with some tradeoffs.
Your expectations must be realistic and your priorities must be clear. It's always possible to move to another neighborhood at a later date if your priorities change.
Education in Salt Lake City
There is no shortage of good education options in Salt Lake City, whether you're looking for the best schools for your children or hoping to earn an advanced degree. There are a number of outstanding public school districts in this area, as well as a number of excellent private schools, such as Canyons School District, Jordan School District, and Salt Lake City School District. In terms of higher education, the most prominent universities include University of Utah and Brigham Young University (BYU), but the area is also home to Utah Valley University, Weber State University, and several community colleges.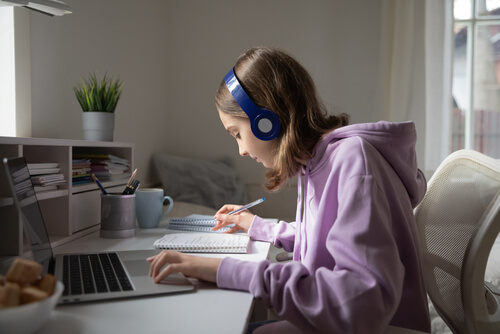 Are you from out of town and your kid is attending university in Salt Lake City? You don't have to travel all the way or suffer the stress of a new driver on the road for long distances alone.
Student car shipping is at its peak in August. Wouldn't it be easier to drive your vehicle to school? Here are a few reasons why college student auto transport is often the best option:
Time Quality – Do you really need to ride in separate vehicles on the first day that your kid leaves for college? The car shipping service lets you share a little quality time with your kid before you start living in separate places for the first time.
Flexible – Maybe you want to make the trip to college into a final extended adventure. A college student auto transport service takes the worry or logistics out of getting your car to college – you simply pick a time and leave the rest to the experts.
Typically, college students arrive at school and realize that they will need more than just a bike to get around. Despite the fact that the car is at the family home, there is no easy way to get the vehicle to school without inconveniencing the driver. It makes it simple for students to travel from point A to point B so that they wouldn't be restricted to their campus.
How to Budget for a Move
Moving can be very expensive. There is no set price for a move since it depends on where you move and what you take with you.
I recommend budgeting your moving costs before moving instead of assuming you will worry about the costs later. If you do this, you'll know how much money you'll need to save before moving.
Budget for the following moving expenses at a minimum: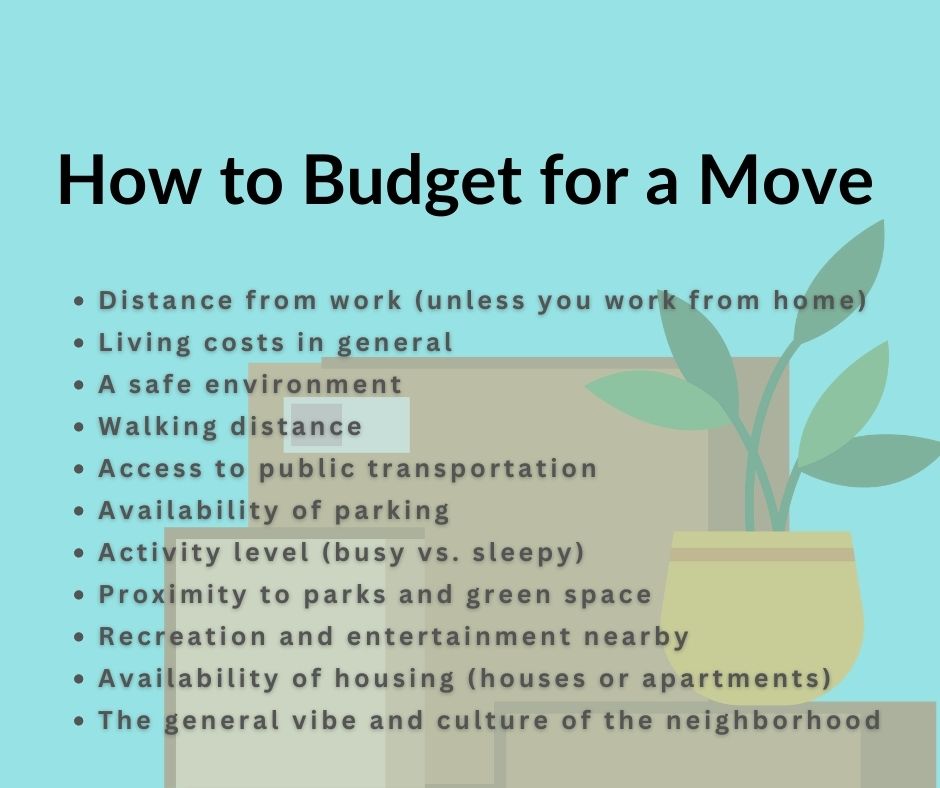 There is always something to discover in Salt Lake City. Salt Lake City offers a wide range of services, whether you are looking for a kid-friendly town to raise your family, a place to meet singles, or a place to retire. You can call it home with pride.
Which are the cheapest states when it comes to house prices? Learn more…
So if you're ready to take the leap, we wish you all the best with your move to Salt Lake City. Before you go, request a FREE auto transport quote and get 20% off your first car shipping booking.
Claim 20% OFF
Learn more about intermodal transportation