Reading Time: 11 minutes
There are many benefits to moving to Phoenix, including its proximity to the Grand Canyon and Las Vegas. English is the de facto language of Phoenix, but residents speak more than one-hundred languages, including Spanish, Navajo, Mandarin, German, Cantonese, Serbo-Croation and African languages.
Every year, around sixteen million people travel to the Phoenix metropolitan (Phoenix-Mesa-Glendale Metropolitan Statistical area) MSA, which is the sixth-largest in the nation based on population. Many of them end up becoming residents because they simply fall in love with the city and can't resist moving to Phoenix.
What to know about moving to Phoenix AZ
Phoenix AZ a great place to visit, and if you can handle the heat and the dryness, it's a fabulous place to live. In this moving to Phoenix guide, we will look at all the factors to consider when you're thinking about relocating to Arizona.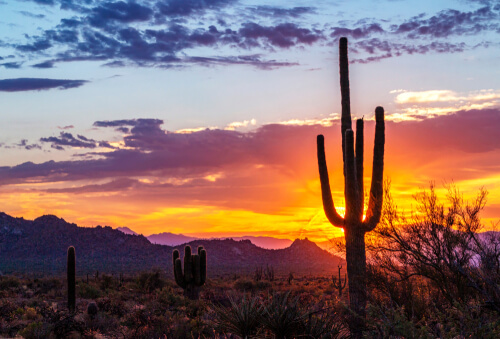 Located in the Sonoran Desert (which is the warmest desert in North America), Phoenix is affectionately known as the Valley of the Sun. Home to just under five million people, Phoenix is the fifth-most populous city in the United States. Centrally located along easily-navigated roads, you can reach Las Vegas, Lake Mead, Mexico, or California in a matter of hours, which means you're within easy access to a plethora of weekend activities.
Pros and cons of moving to Phoenix AZ
There are many benefits to moving to Phoenix, including its proximity to the Grand Canyon and Las Vegas. If you're tired of shoveling snow, you will enjoy the mild year-round temperatures of Phoenix Arizona. The city's diversity is influenced by its residents, who stem from a range of cultures, including Latin American, Native American, and Wild West. There's much to see and do in this wonderful city.
English is the de facto language of Phoenix, but residents speak more than one hundred languages, including Spanish, Navajo, Mandarin, German, Cantonese, Serbo-Croatian, and African languages.
As in most cities, Phoenix has very safe areas and others that are less safe. On the whole, the city has a Crime Index of 7 out of 100. The outer parts of the city are safer, while most crimes happen in South and East Phoenix.
If you like tacos, you're in luck! Phoenix is reputed for having the most authentic Mexican cuisine north of Tijuana.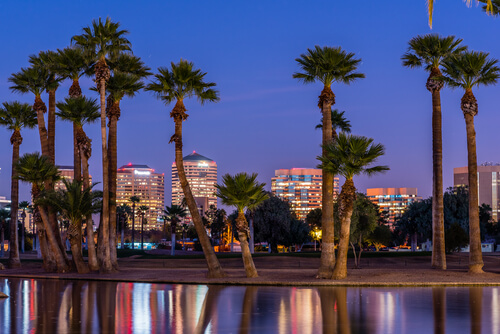 How to stay healthy when living in the desert city
Arizona is one of the states that does not recognize daylight savings time. Instead, the state follows Mountain Standard Time. During summertime, the temperatures soar above 110 Fahrenheit. It's therefore important to keep the following dry heat weather tips in mind when moving to Phoenix:
Stay hydrated by drinking half your body weight in water.
Keep your phone in a cool, shaded place, or it will overheat.
Hang on to your winter clothing. You'll feel cold when temperatures drop below seventy degrees.
Never leave children or pets unattended in your car, whether it's summer or winter.
Park your car in the shade.
Run the air conditioner as soon as you step into the car to cool it down.
Avoid touching the leather seats or steering wheel in your car with bare hands as soon as you get into the car.
Pros and Cons of Living in Phoenix Arizona
Heat. You'll be choosing colors of your clothing and your car based on the amount of heat it traps. But there's a lot more to get used to when living in the desert.
Heat Exhaustion. You'll also have to learn to recognize the signs of heat exhaustion and how to handle it if you're planning on moving to Phoenix. Most importantly, drink water.
Dust Storms. Haboobs (seasonal dust storms) and monsoons take place approximately three times a year. During the monsoon season, Phoenix receives massive downpours of rain. Both of these weather patterns tend to develop abruptly and can cause flash flooding which leads to road hazards.
Scary creatures. Additionally, the city's metro area houses actual black widow spiders, killer bees, fire ants, coyotes, rattlesnakes, and scorpions. Speak to locals about how you can minimize encounters with these creepy critters.
Transportation. Due to the heat and the fact that the public transportation system (which consists of a light rail and a bus network) does not serve the entire city, you will need your own car to get around. You could bike to and from work if you live in the city, using the 4,6 mile stretch of bike lane known as Bicycle Boulevard that enables a safe commute throughout Downtown Phoenix.
Traffic. Traffic congestion is about average, but the roads may be more congested between November and February when snowbirds make a landing in the city for the winter.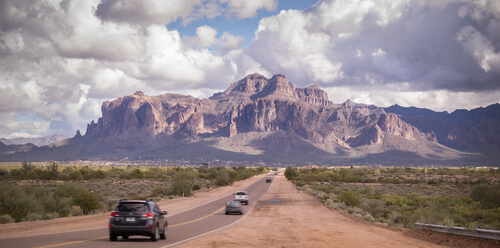 Cost of Living in Phoenix
Living in Phoenix costs about 5% less than in other cities. With the average rental on a one-bedroom apartment coming in at about $900, Phoenix is significantly more affordable to live in than Sacramento or Los Angeles. That's one of the reasons why snowbirds tend to transplant to Phoenix permanently as a way to live a balanced life with great amenities on a fixed income.
However, unlike Orlando, Florida, retirees in Arizona will have to pay state income tax. Property taxes are lower in Phoenix than in many large cities. You will also have to pay a vehicle tax when you register or renew your car registration in Arizona.
Central City, Desert View, and Laveen Village are the more opulent neighborhoods, and the average rental is around $1,300. Alhambra, Maryvale, and North Mountain are the more affordable areas for the budget minded resident. Here you can rent a place for around $900. If you're looking for something more middle-ground, opt for Camelback East Village, Estrella Village, Encanto Village, and Paradise Valley.
When renting a home in Phoenix, make sure you have the following:
Air conditioning. It's extremely hot in summer.
A washer / dryer.
Taxes also affect the affordability of living in Phoenix. Arizona charges a 5.6% sales tax on most goods and services, and the price on an item usually excludes sales tax. Your property taxes will depend on whether you buy your home or rent it, as well as the area and the size of the property.
Find a Job Before Relocating to Arizona
Phoenix is a technological hub with a large presence of software and technology companies. The Greater Phoenix Economic Council estimated that operational costs for companies in Phoenix are as much as 42% lower than the same in California. The city is also home to a number of Fortune 500 companies, including Insight Enterprises, Republic Services, PetSmart, Avnet, and Freeport McMoRan.
The uptick in availability of tech jobs in the Phoenix metro area can be attributed to the government organizations that work hard to lure companies here. Some of the recent new technology companies that have made a home for themselves in the Greater Phoenix area include an Amazon fulfillment center, and Yelp, Shutterfly, and Uber offices.
Additionally, Phoenix's Center for Entrepreneurial Innovation is a small business job creation incubator that makes available a variety of co-working spaces. That makes it a great place to launch startups.
It's a good idea to learn what you can about Arizona Required Landlord Disclosures.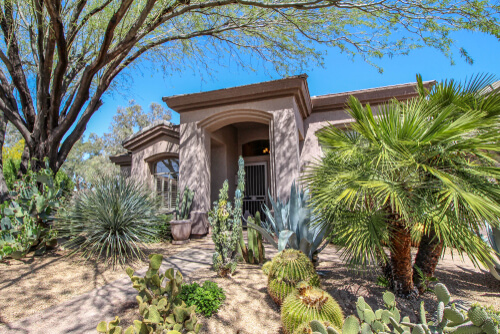 Where to find a permanent rental
When you're looking for a place to stay when moving to Phoenix, you'd be surprised to find that there are many listed on Craigslist. Of course, you should be careful about who you trust. Alternatively, look on Apartmentlist and Zumper.
Other things to consider when moving to Phoenix Arizona include:
Moving services
Schools
Employment
Public transportation
Discovering Potential Neighborhoods in Phoenix AZ
Not only is Phoenix the largest city in Arizona, but it is also the sixth most populated city in the United States. Phoenix's metropolitan area which straddles Pinal and Maricopa counties, is also known as Salt River Valley, and is home to about four-and-a-half million residents. That makes it one of the largest metropolises in the country.
Downtown Phoenix experienced a bit of a renaissance in recent years, and new hotels, high-rises, apartment complexes, restaurants, businesses and art galleries have opened up.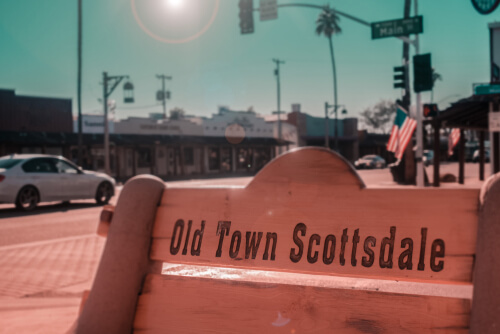 Phoenix Neighborhoods
Let's look at a small selection of neighborhoods in Phoenix to showcase where you might want to live when moving to Phoenix.
Arcadia is an established and sought after neighborhood with amazing views of Camelback Mountain and streets lined with mature citrus trees. The greenest suburb in Phoenix, Arcadia is close to downtown Phoenix with its vibrant nightlife and shopping in downtown Scottsdale.
Greater Coronado is a historic suburb that consists of Country Club Park, Coronado, and Brentwood. This area features ranch-style, Spanish Colonial Revival, and Bungalow style homes, which gives it tremendous charm. Coronado is close to the downtown area and the freeway, which makes it perfect for people who commute to work. 
Grand, just northwest of downtown, is a bike-friendly neighborhood. Hip and eclectic, this suburb consists of converted warehouses and art gallery spaces and is decorated with colorful murals. 
Roosevelt Row, also known as RoRo (not to be confused with RoRo car shipping!) is one of Phoenix's oldest arts districts. The area has been intensely revitalized, making it a sought-after neighborhood with art galleries, First Friday events once a month, and locally-owned coffee shops and boutiques as well as award-winning restaurants.
Where to Stay in Phoenix
The Phoenix Metro also has four other suburbs nearby that offer suburban amenities within close proximity of the city. 
Glendale is a West Valley suburb approximately nine miles from Downtown Phoenix. It has been dubbed Arizona's Antique Capital, which makes it the perfect place for sports fans and history lovers alike. 
Gilbert is a fast-growing suburb with a small town vibe and many popular restaurants. The local outdoor farmers market sells locally-grown produce as well as artisanal products. 
Tempe is a city with more than 160,000 residents. Home to Arizona State University, Tempe is a bustling college town. 
Mesa is located about fifteen miles east of Phoenix. Living in this third-largest city in Arizona, you will enjoy the benefits of the small city's suburban feel while being part of a growing metropolis. Weekend warriors can enjoy the great outdoors; whether they want to paddleboard or kayak the Salt River, or hike the Superstition Mountains, there's plenty to do and see in Mesa.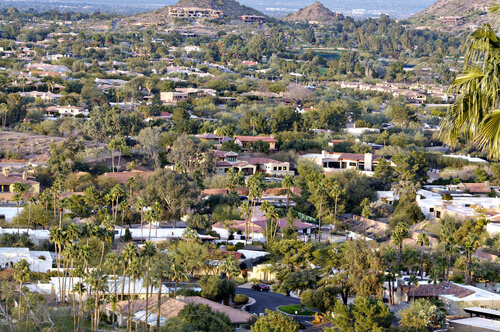 Although Phoenix, Arizona is one of the hottest cities in the USA, the region offers incredible outdoor adventures, tourist attractions, and cultural experiences. Explore these adventures during the off-seasons, when many of the resorts offer awesome deals for residents.
Things to do in Phoenix Arizona
So if you're wondering "what do I need to do when first moving to Phoenix?", check out the following activities:
Annual Events and Festivals – Phoenix hosts a range of events every year, including the Phoenix Flea, Phoenix Film Festival, Devour Phoenix and McDowell Mountain Music Festival.
Sporting events – Phoenix is home to more than two hundred golf courses. The Valley of the Sun hosts The Waste Management Phoenix Open, which is the largest annual PGA event. Other sporting events include NASCAR events, College Football's Cheez-It Bowl, College Football's Playstation Fiesta Bowl, and Cactus League Spring Training. The city is also home to at least six professional sports teams in disciplines such as USL, MLB, NHL, WNBA, NBA, and NFL. The city has more than two hundred golf courses, which makes it one of the world's top golfing destinations.
OdySea Aquarium – With more than 65 exhibits to explore, OdySea Aquarium is home to over six thousand animals.
Butterfly Wonderland – Now you can experience the wonders of visiting a rainforest that is home to over three thousand butterflies in the heart of the desert.
South Mountain Park and Reserve stands on more than sixteen thousand acres of land, which makes it larger than Central Park in New York, and is home to three mountain ranges. The highest publicly accessible peak is Dobbins Outlook, which stands 2,330 feet high and can also be accessed by car.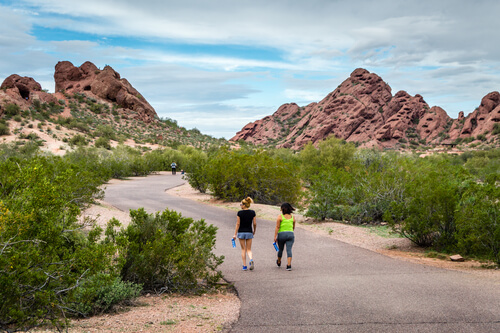 Arizona Science Center – Always focused on providing access to science that is based on the community's present demands, the Arizona Science Center encourages old and young to visit the CREATE Makerspace where they can get their hands dirty by innovating and building new technology. Adults enjoy laser shows coordinated to hit music while sipping craft beers and cocktails.
So Much to See in Phoenix
Desert Botanical Garden hopes to educate visitors about preserving the desert landscape. That's why every plant found in the garden has been adapted to thrive in harsh conditions. Different events take place in the garden every year, including live music performances, holiday celebrations, food festivals and more.
Salt River Tubing provides a relaxing day of floating beneath the mountains. Various trips ranging from two- to five hours are available.
The Phoenix Zoo opened its doors in 1962 and welcomed close to 50 million visitors since then. The zoo contributes greatly to conservation science and inspires guests to take better care of their natural world.
Ak-Chin Pavilion is a scenic outdoor amphitheater where you can listen to your favorite live music. With seating for twelve thousand people, this is a popular stop for traveling festivals and major musical acts.
Piestewa Peak, Camelback Mountain, and Papago Park offer wide-open spaces to hike to your hearts' desire.
Getting Around in Phoenix
When it comes to getting around your new city, that goes to the top of the list of what to know before moving to Phoenix AZ. If you live close to the city center, you can typically rely on public transportation. However, if you wish to visit the many tourist sites and outdoor activities around the metropolitan area, it would be a good idea to take your car with you. Make sure your car's AC is working well, especially in the hot summer months.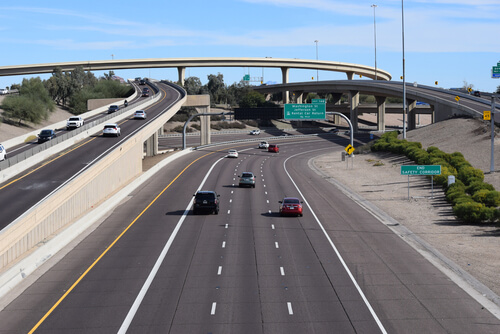 Commute
While Phoenix is nowhere near as bad in terms of a commute as other large cities, Phoenix's freeway system is growing fast. Traffic is worse in Desert Ridge, North Scottsdale, South Tempe and Gilbert during peak time commutes.
Unfortunately, large parts of the city are not serviced by the public transportation system. The most walkable parts of Phoenix include Washington Mall, Booker T. Washington, and Downtown.
The city has a light rail system that connects the main neighborhoods. Some residents use the park-and-ride system whereby they park their cars in the lot in the morning and then take public transportation to work. At the end of the day, they use public transport to the lot and then drive home from there. This saves the hassle of having to find parking in the central business district.
In recent years, the city of Phoenix has worked at improving bike routes. Although it's typically too hot in summer, many people prefer to bike around the city rather than using cars or relying on public transport.
How much is public transportation in Phoenix AZ?
Operated by Valley Metro, both Metro buses and Metro rail use the same fare system, as well as the Express / RAPID bus systems. Fees are as follows:
Adult Single Metro bus / rail: $2
One day ticket: $7
Monthly season ticket – unlimited rides: $64
Express / RAPID bus single fare: $3,25
Express / RAPID bus monthly pass: $104
You can save money on public transport by buying a 30-day student pass for only $24, or get unlimited travel for a week with a 7-day pass for only $20. Many people save money on transport by walking or cycling to work, but it is not pleasant during summer.
Move Across the Country
As you can imagine, people who live in Phoenix prefer to have their own cars as it gives them freedom. If you currently live in the US, it's likely cheaper to ship your car to Phoenix rather than selling it and buying a new car.
You're able to keep your driver's license from another US state if you're moving to Phoenix from within the US, but you must update your address on the system.
Find out about the cheapest way to move across the country or moving out on your own.
Check out these handy relocation guides for different cities: