Reading Time: 6 minutes
Want to ship your car to another state? For cross-country moves, it might be more convenient to ship your vehicle and fly instead of driving yourself. Then you have to decide how to ship your car, whether it is logistically feasible, and how to include the cost in your moving budget.
Transporting your car from one state to another isn't as complicated as you may think. Your choice of company and the way you prepare your vehicle for transport are both critical to a smooth, cross-state auto transport experience.
You may need to transport a car for other reasons as well, aside from simply moving. You might want to do this if you're selling your car, displaying it in a show, or taking it on vacation.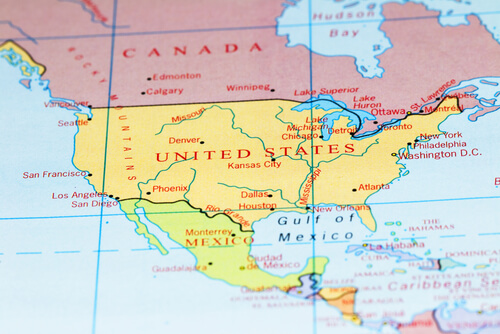 Ship Your Car to Another State | How do You do it?
Furthermore, adding thousands of extra miles to your car lowers its resale value and decreases its lifespan. If you are only using your car for city driving, you have a higher risk of it breaking down on the interstate, and this can cause a lot of headaches during your move. With a car shipping service during your big move, you can reduce stress for you and your car.
No matter which method you choose, we'll make sure you understand everything you need to know in order to successfully transport a car from state to state, along with some tips to help make the process go as smoothly as possible.
[Moving to another state? Check out our free relocation guide HERE]
Ways to transport a car to another state
Auto transport companies aren't your only choice when it comes to shipping cars across state lines. Other methods may be an option for you.
Moving your car with a tow strap. Using a tow dolly or car trailer, you could attach your car to the back of your moving truck. Ask your truck rental company if they allow it (if so, they will also provide equipment for you). You should be aware that a car trailer will make driving a bit more challenging in terms of mobility, so if you don't like hauling a big moving truck, you may not want to add that on top of it. Be sure to know how to tow a car before embarking on this endeavor.
You can hire a driver. You can hire a professional driver through concierge transportation companies (also known as professional driving companies). The majority of them will even take your pet along with them, stopping for potty breaks along the way. Although it is a pricey option – and it will put added miles on your car – it may be a good alternative.
Whenever you are hiring a driver, you must work through a driving company, rather than hiring someone online. Concierge transportation companies pre-vet their drivers and ensure the move is insured.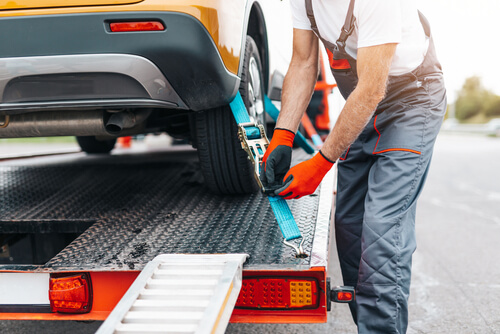 Enclosed transport vs open air transport
The type of transportation you select-an enclosed carrier or an open air carrier—will have a significant impact on your costs. [Wondering what's the cheapest way to move across the country? Read more…] Since open air carriers tend to be less expensive than enclosed carry transports, they are often favored. However, there are other factors to be considered besides simply cost.
Open air transport
You have probably seen a lot of open air carriers on the road. On average, they hold nine to 10 cars at a time on two separate levels, with each car firmly tethered to the base.
Part of the reason they're more affordable is that they're more readily available. Being able to see your car the entire way is also advantageous as it gives the driver the opportunity to notice any damage immediately. Having said that, open air carriers may expose your car to the elements during transit, including any inclement weather that may occur. This increases the likelihood of damage. However, we at Nationwide have an impeccable damage-free record.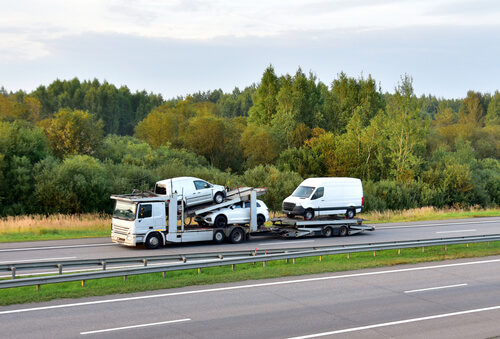 Time is also an important factor in open air carry transport. Due to the number of vehicles they carry at any given time, open air carriers often make multiple stops on their travels. It is important to ask for delivery specifics when sourcing quotes to avoid being surprised with a delayed delivery.
Enclosed carriers
An enclosed transporter is the best option if you want your vehicle to be completely protected while you ship your car to another state, though it is more expensive. In addition to reducing exposure to the elements, enclosed carriers offer a higher level of security. On many occasions, only three to five vehicles are on the carrier, so you get your car back faster.
There is, of course, one major con: the price. Shipping your car on an enclosed carrier costs an extra $0.25 to $0.50 per mile. This can add up quickly if you're shipping your car across the country. In the event that you're concerned about exposure to the elements, and especially if you're shipping a classic or luxury car, this is certainly something worth considering.
How long does it take to ship your car to another state?
First time auto shippers should know a few things before scheduling auto transport to another state. While the route that your car is taking might appear straight and easy, this does not mean that the route that your 18-wheeler will take to transport your vehicle will be straight and easy. Transporting vehicles across country is a complex logistical puzzle where vehicles can be picked up, dropped off, and run into conditions that can slow down the process.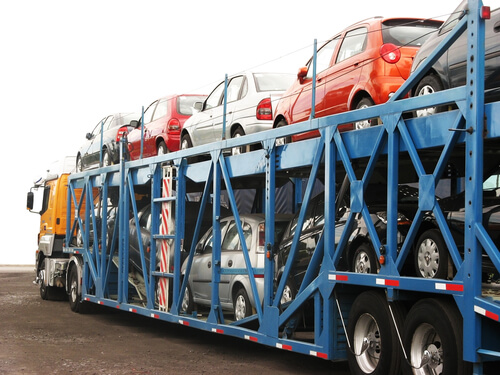 In light of this, you should plan accordingly. Generally, long distance car transport takes the following time:
100–500 miles takes approximately 1–2 days
500–1000 miles takes approximately 2–3 days
1000–1500 miles takes approximately 3–4 days
1500–2000 miles takes approximately 4–5 days
2000–2500 miles takes approximately 5–6 days
2500–3000 miles takes approximately 6–7 days
Have each shipping company provide you with an estimate of the shipping time when you ship your car to another state before you book an auto transport quote to move your car from one state to another.
Obtain the necessary documents when shipping your car from one state to another
Preparing for car shipping is an important part of the success of the process—an especially important factor if you have a luxury or classic and need to transport your car to another state. Although it is ideal to have registration, title, and proof of insurance at hand when making the handover, it is not required by most shipping companies.
If you are moving cross-country, keep your car's insurance current. When transport companies ship your car, they will cover your vehicle under their insurance policies, however it's safer to have additional coverage on top of this.
What to Do Once Your Car Arrives
You could wait at the drop-off site to have your car unloaded from the trailer. Alternatively someone else may do this for you. Depending on the condition of your car and your budget for transporting your car to another state, your car might be delivered directly to your driveway or delivered to a parking lot. It is common for door-to-door service to be more expensive than lot-to-lot service. Make sure to plan for pick-up based on which one you are paying for.
After the car arrives, the driver will check the identification of whomever is picking up the vehicle. This is to check that it matches the name you gave to the shipping company.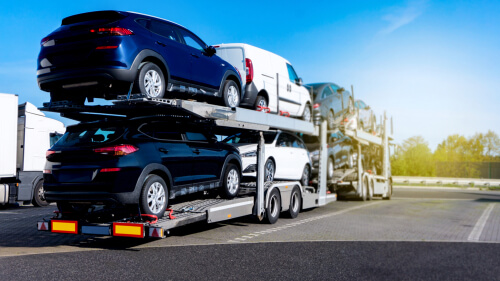 Nationwide AT Knows How to Ship Your Car to Another State
Immediately after your car touches pavement once again, be sure that you do a thorough inspection of its interior and exterior with the driver of the car shipping company.
Sign the bill of lading once you have inspected the car and you are satisfied with it. If the vehicle does end up having any additional dents or dings, you will use this document to file a claim with the shipping company. It is rare for these kinds of claims to emerge with respect to reputable auto transportation companies, since they employ drivers who place safety first, ensuring that the vast majority of cars are delivered without issue.
You may not notice a small dent or ding until a few weeks later, so take pictures in this phase as well. This will allow you to document the dent or ding as being caused by the time spent on the trailer, rather than by driving around your new town in those two weeks.
Want to ship your car to another state? Get 20% off your first auto shipment with Nationwide Auto Transportation. Request a quote now.