Reading Time: 3 minutes
If you're looking to buy a new vehicle, you might be wondering which is the cheapest state to buy a truck. Let's face it, buying a new car or truck is never cheap, per se. There are several costs involved, apart from just the cost of the vehicle; you must consider sales tax (state and local), dealer documentation fees, registration fees, and sales and local sales tax. You should bear these costs in mind when you buy a truck so that you can effectively negotiate the price.
Because unexpected fees can result in sticker shock – or even be a deal breaker if you're on a tight budget – it's a good idea to budget for those fees. If you live in a state with additional sales tax and other fees, it can be even more expensive. On the other hand, it is much less expensive to own a car in states like New Hampshire and Florida than in New York or California. That means that it's often cheaper to buy used cars from out of state.
So, what's the cheapest state to buy a truck?
Some of the cheapest states to buy a truck include North Carolina, Missouri, Wisconsin, Ohio, Virginia, New Hampshire, Oregon, and Florida. In New Hampshire, registration fees and sales taxes are the cheapest, which makes it the overall best state to buy a truck.
Florida – Best, Cheapest Used Trucks
The price of a new or used truck differs across all states, so it's always a good idea to shop around. In many cases, Florida has some of the cheapest options. On average, a used truck is about ten percent cheaper than in other states. The state has a generally older population, which means more people are selling their vehicles than in other states. Also, older people tend to be safer drivers and they take better care of their vehicles, which means the vehicles are in a generally better condition.
When residents in wealthy parts of Florida sell their vehicles, it creates a buyer's market. Wealthier people tend to buy new cars every two or so years, and sell their older vehicles. Also, these vehicles have not been driven in snow and salt.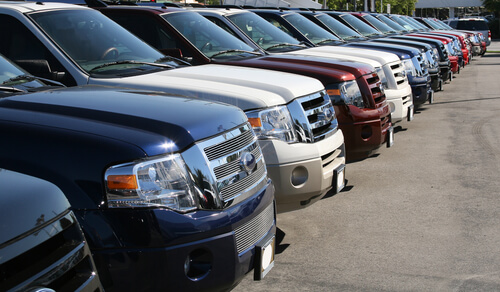 Oregon – Lowest Fees on Trucks
When you buy a truck from out of state, the initial cost is a factor, of course. But there are multiple other fees to bear in mind, and they tend to add up. If you're buying a car in Oregon, these fees are capped at $130. In New Hampshire and Alaska, the fees are capped at around $360.
In states like Tennessee, Connecticut, Colorado, Arizona and Alabama, these fees can be upwards of $2,000.
Shop Around for the Cheapest State to Buy a Truck
When looking for the cheapest state to buy a truck, remember that prices can fluctuate. It could be worth your while to check out auto auctions. Knowing the type of truck you want can provide more opportunities to save. If you can find a reputable dealer online, you can have your new truck shipped to you. In most cases, it can be cheaper to buy a truck from out of state and ship it to you. Just check out our free online truck shipping quote calculator!