Reading Time: 9 minutes
If you're thinking about moving to Denver, you probably already know that the Mile High City is a fantastic place to be – and we're not being biased… Gorgeous mountain views, big blue skies; a big city with an Old West feel and beautiful 19th century buildings compete with ultra-modern facilities, and of course, it is close-by the Rocky Mountains and many ski resorts within about 75 miles.
With a population of 2.7 million people, the city's growth rate consistently outpaces the national average every year, and it has done so since the 1930s. One of the major drawcards is the fact that the Metropolitan (Denver / Aurora / Broomfield) is expected to have close to four million residents by 2030, and experts are expecting that close to a million new jobs should be created in the process. Are you one of those people who are thinking about moving to Denver?
Keep on reading and you will find out why it is a good idea to seriously consider this relocation…
There are many reasons why people are flocking to the Mile High City. But first, why are they calling it that? Well, at an elevation of 5,130 – 5,690 feet, the city is approximately a mile higher than sea level.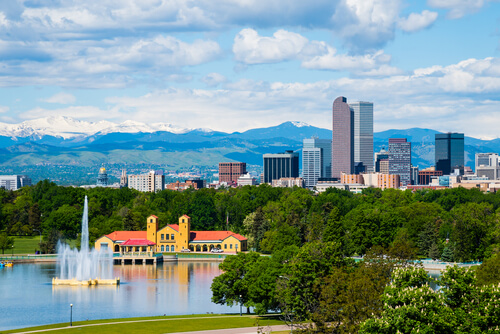 Legal Marijuana
There's another reason why it is playfully called a high city, and that's because of the booming legalized marijuana industry in the state of Colorado. It doesn't really affect your life if you're not a smoker. You may smell it, but because it is illegal to smoke in public, you won't see people actually partaking. Even then, only 13.6% of residents smoke, and even fewer do it daily. Of course, if you want to enjoy that Rocky Mountain High, you need to know marijuana etiquette:
Although marijuana use is legal, that doesn't mean your employer must agree. Companies can administer drug tests or ban the use in their policies.
You should not use marijuana if you are pregnant. Hospitals may test babies for THC and they are obliged to contact child protective services if the test is positive.
The legal age for buying and consuming pot in Colorado is 21.
Some establishments restrict the use of marijuana on their premises, so if you're planning a trip, be sure that your hotel or AirBnB is smoker friendly.
You can buy pot from dispensaries, which look a lot like pharmacies with a green cross. At the dispensary, a bud-tender will walk you through the process of buying your strains.
You don't have to smoke to partake in the Rocky Mountain High. You can also use vaping, edibles or topicals.
Introducing Denver: facts and figures
Denver, the state capital of Colorado, is also its largest city, and the 22nd most populous city within a five-hundred mile radius. The U.S. News & World Report ranked Denver the second-best place to live.
Denver offers a unique lifestyle. It is a young city, which means many people desire it.
Living Costs
As of 2020, the cost of living has started to increase in Denver, but that's to be expected, as it has been rising everywhere. Denver's cost of living is much less than Boston, Los Angeles, New York or San Francisco, but not quite as low as comparable big cities such as Texas. Denver's living costs are about somewhere in between.
Job Market
Salaries differ depending on the industry you work in. In 2014 Forbes ranked Denver fourth on their list of Best Places for Businesses and Careers. As always, it is best to have a job lined up before moving to Denver.
Prominent industries in Denver include hospitality, biotech, finance and healthcare, and finally, the recreational cannabis industry that has a major impact on the local economy.
As a result, Denver's unemployment rate is quite low when compared to the national average.
Many top companies are based in Denver, which means that you can find a higher paying job if you can beat the competition when moving to Denver. Denver's median income is $57,773, according to Metro Denver, placing it at 6% less than the national average. Some of the top companies or industries providing employment in Denver include: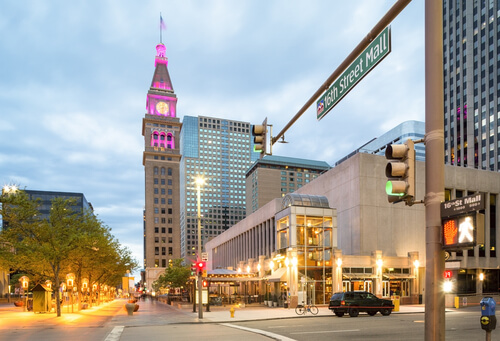 Marijuana – The legal cannabis industry is huge and continues to grow.
Agriculture – Colorado has a $5 billion food and agriculture industry, with Nutrien, Leprino Foods, and Love Grown Foods in the lead.
Technology – Denver's tech industry is booming, with popular companies like HomeAdvisor and Google, as well as Baker Technologies providing employment.
Aerospace – Denver is home to Northrop Grumman, Raytheon and The Boeing Company located in the city, which hopes to become Aerospace Alley.
Craft Beer – Colorado has the third highest craft beer production and sales in the nation.
Casual Concepts – Another big industry leading the charge in Denver is casual concepts. Some companies that are headquartered here are Boston Market, Quizno's, Qdoba, Smashburger and Noodles & Company.
Taxes
Although state taxes are slightly above average in Colorado – 7.65% – property taxes are pretty low.
Other taxes include federal and state taxes, which you will pay no matter where in Denver you live.
Colorado's state income tax rate is 4.63%, which is on a par with most of the country.
Homeowners in Denver are subject to property tax based on the size of the property and the area in which you live. When you buy property in Denver, you will have to pay real estate transfer tax.
Housing Costs
Denver has very reasonable housing costs, compared to other major US cities.
If you're moving to Denver and purchasing a home, you can expect to pay:
$4,000 per square metre in the City Center
$2,300 per square metre outside the City
If you're renting a home, you can expect to pay:
$1,200+ for a one-bedroom apartment in the City
$900+ for a one-bedroom apartment outside the City
$2,100+ for a three-bedroom apartment in the City
$1,500+ for a three-bedroom apartment outside the City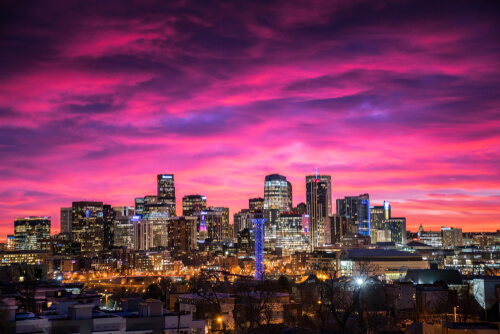 Of course, some areas in Denver are more or less expensive. Neighborhoods to look at include:
Golden Triangle Museum District and Capitol Hill are popular with affluent professionals. Lower Downtown is popular with people who want to be close to Denver's bustling nightlife, and close to work. Here you will find rooftop bars, restaurants and more.
Five Points is close to the City Center and more affordable, being an older neighborhood.
Uptown Denver combines modern skyscrapers with Victorian buildings to create a trendy, new neighborhood.
Sunnyside is an easy walk or bike ride from downtown with a mix of older and newer homes, and a good selection of trendy stores.
East Colfax, River North and the Art District are popular with musicians and artists.
Cherry Creek features beautiful, large family homes, and is close to schools and shops.
Washington Park is located near a part that offers many recreational activities for kids.
Country Club is also a family friendly neighborhood.
Lowry Field / Stapleton is a newer development that was built on an old airfield. There are excellent schools. Most homes are less than a decade old.
Aurora is another neighborhood that's great for young families and people who wish to buy a home. One of the most affordable neighborhoods in Denver, you can expect to pay about half for the same house as you would in Denver proper.
Arvada offers a mix of apartments and houses, and is located only twenty-five minutes from downtown.
Lakewood is an outdoor lover's dream, with a whopping 180 miles of walking, biking and horseback trails.
Platt Park is a charming and walkable neighborhood with a quaint shopping district.
Harvey Park in Southwest Denver has a selection of affordable homes of mid-century modern architecture and Cliff May-style contemporary homes.
Although you're within close proximity to Rocky Mountain National Park wherever you are in Denver, you don't have to leave the city limits to enjoy the outdoors. Of course, the great weather means there's plenty of opportunity to do so. There are many great parks right within the city – more than 200 in fact.. Washington Park has two ponds and several trails, while Confluence Park on the river is perfect for picnics. The largest park in Denver is City Park.
No matter which suburb you choose, you can enjoy spectacular views of the 140 miles of mountain vistas, which include two hundred visible mountain peaks.
Transportation
Denver has an advanced public transport system operated by RTD. One-hundred and twenty-five bus routes are serviced by 1,000 busses. The rail system is an efficient alternative. If you take the bus or rail. You can save some money by buying a 12-month Value Pass.
Denver also has dedicated cycle lanes and many trails to enjoy. Most people who live close to their workplace prefer to bike or walk to work.If you want to cycle for enjoyment, take a ride on the 24 mile Cherry Creek Bike Path, which runs from Cherry Creek State Park to downtown Denver.
Despite the good public transport system, most people in Denver own cars, which means that traffic can be an issue during rush hour. You can save yourself the hassle by carpooling or car sharing, or by using a taxi, if you don't want to have to park all day. Remember to update the address on your license if you are moving to Denver from out of state.
Another factor that affects the traffic in Denver is the city's proximity to the Rocky Mountains. People visit the mountains all year round, which adds a significant amount of traffic – especially on winter Friday evenings and Saturday mornings. But you can't blame them… After all, you want to move to Denver for its beautiful views and scenery.
Outside of rush hour, it takes about twenty minutes to get around the city, which is geographically small.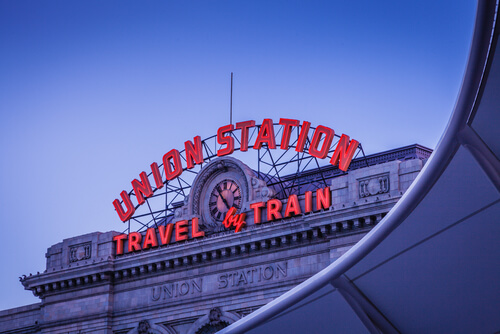 Other tips for moving around the city include:
B-cycle bikes. These bikes can be rented by the hour or by day from docks around the city.
Light rail lines. There are light rail lines running to the airport and to some suburbs.
Four-wheel drive. If you're buying a car, get one that is suited to varied weather conditions and rugged mountain driving.
Street sweeping. Parking can be an issue as many of the side streets are restricted on certain days to accommodate street sweeping.
Weather
It is said that Denver has three hundred days of sunshine a year, which may not be completely accurate. However, the weather is still pretty awesome. Winters aren't quite as bad as people imagine, with more than fifty inches of snow a year, and temperatures are quite mild between December and April. Snowfall usually happens in big storms, and it usually melts pretty quickly.
Denver springs are absolutely beautiful, while summers are hot. However, with the high elevation, it is not humid.
Sometimes, the weather can be unpredictable due to the altitude. Temperatures can shift by forty degrees within a few hours. It can be in the seventies today, and it can snow tomorrow.
Be sure to use a lot of sunscreen and chapstick and a water bottle if you plan on moving to Denver.
It can take some time to get used to the elevation. The air is thin, but once you've been in the city for a few days, you'll be used to the lower levels of oxygen. Some good news, you'll save money on alcohol, as it will hit you sooner. Because water has a lower boiling point at high altitudes, you should plan a few extra minutes of cooking time.
Education
Denver has excellent levels of education, and many school districts have been recognized for their educational leadership. If you have kids, it would be worth your while looking into:
Littleton Public Schools, Boulder Valley School District, and Cherry Creek School District.
Colorado School of Miles, Regis University, and University of Colorado Boulder / Denver.
Emily Griffith Technical College and Johnson and Wales University.
Recreation
As you probably know, recreational marijuana was legalized in Colorado before any other state. Therefore, most people in Denver are quite happy with this.
Beer is another big deal in Denver, which has been named the "Napa Valley of Beer", because the city has more microbreweries than any other city apart from Portland, Oregon.
The Denver Bronchos have always been Denverites' favorite sports team, but that doesn't mean they don't support the Nuggets, Avalanche and Rockies as well.
Are you an avid golfer? You'd be happy to know that in Denver, golf balls travel ten percent farther.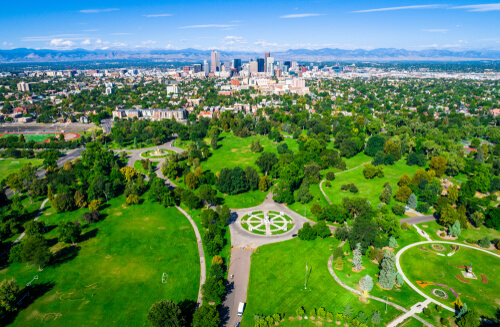 Moving to Denver Checklist
A checklist always makes the relocation process a little easier. That's why we have created a downloadable relocation checklist for you here. You might also be interested in the following:
As in all cities, especially those who are growing rapidly, Denver has rush-hour traffic in the morning and afternoon. Plan your move for a weekday, if possible, after 10 am and before 4 pm if you wish to avoid gridlock traffic.
Also read: