Reading Time: 6 minutes
Shipping your RV seems like an odd concept. After all, it has wheels and can transport itself. So why should you ship your RV?
But it might be the case that you bought your RV from a few states over, or perhaps you want to maximize your downtime at your far-off destination by making use of recreational vehicle transport and fly down there to meet your RV and then continuing your travels. Alternatively, you could hire someone to drive your RV to your destination.
A recreational vehicle is truly convenient in that you don't have to stay in expensive hotels; all your home comforts are with you at all times. That's why snowbirds from up north ship their RVs from their respective states down to the southern states and then fly down. They would then stay in RV parks and other venues in their RVs for the weeks or months in their destination. This is a truly affordable and rewarding option for people on a budget, especially if you combine it with deals from your discount RV camping savings club.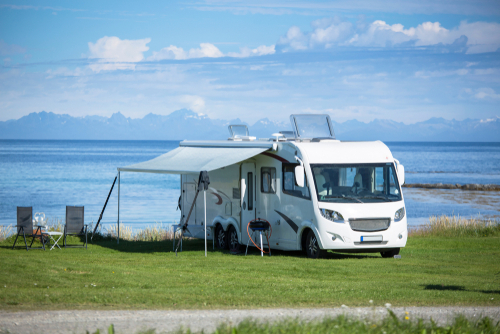 ---
Planning an International RV Adventure? 🌍🚐
Before you hit those global roads, it's crucial to know the ins and outs of international RV shipping. From regulations to best practices, our latest guide covers it all. Read more to make your overseas journey seamless: International RV Shipping Guidelines.
---
Recreational Vehicle Transport Companies: Where to find them
When you need recreational vehicle transport, you can look up companies using the following methods:
Use local search in your search engine to find RV shippers near you.
Post your request for RV shipping on a transporters bidding site and let companies bid on the project.
Get hold of an RV shipping broker that works with professionally vetted carriers that employ licensed and bonded drivers and are registered by the Department of Transport and have FMCSA authorization, as well as:

A DOT Number
$750,000+ in liability insurance against bodily injury and property damage
Authorization from FMCSA to transport RVs, which means the following items must be checked:

Operation Classification: Auth. For Hire
Cargo Carried: Motor Vehicle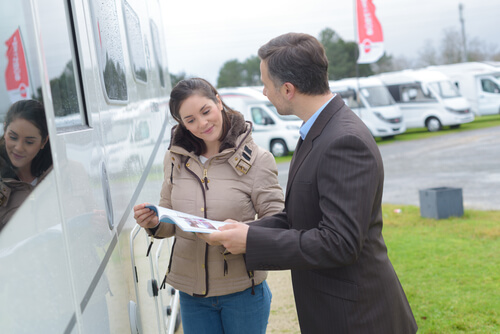 Related Information:
When vetting RV shipping companies, ask them to send you a sample of their shipping contract and Bill of Lading, which should contain all the exclusions and limitations as well as insurance terms.
Looking to ship your RV across the country? Check out our comprehensive guide on Cross-Country RV Shipping to find out everything you need to know.
Recreational vehicle transport companies ship all types of mobile homes, including: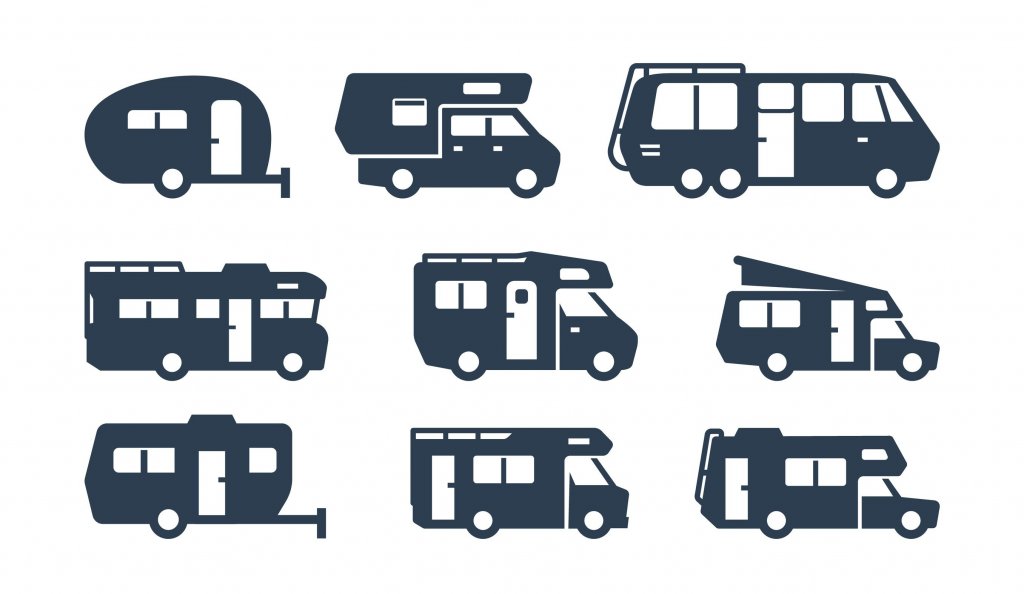 Van
Bus
Coach
Caravan
Winnebago
Mobile home
Campervan
Camper
RV
Fifth wheel
Need to move your RV in a hurry? Don't compromise on time or safety. Check out our comprehensive guide on Expedited RV Transport Services to find out how you can have both!
RV Shipping Quote: How much does it cost to ship a recreational vehicle?
As with any other type of auto transportation, there's no set figure for RV shipping. Instead, your estimate is based on a variety of factors that are relevant, namely: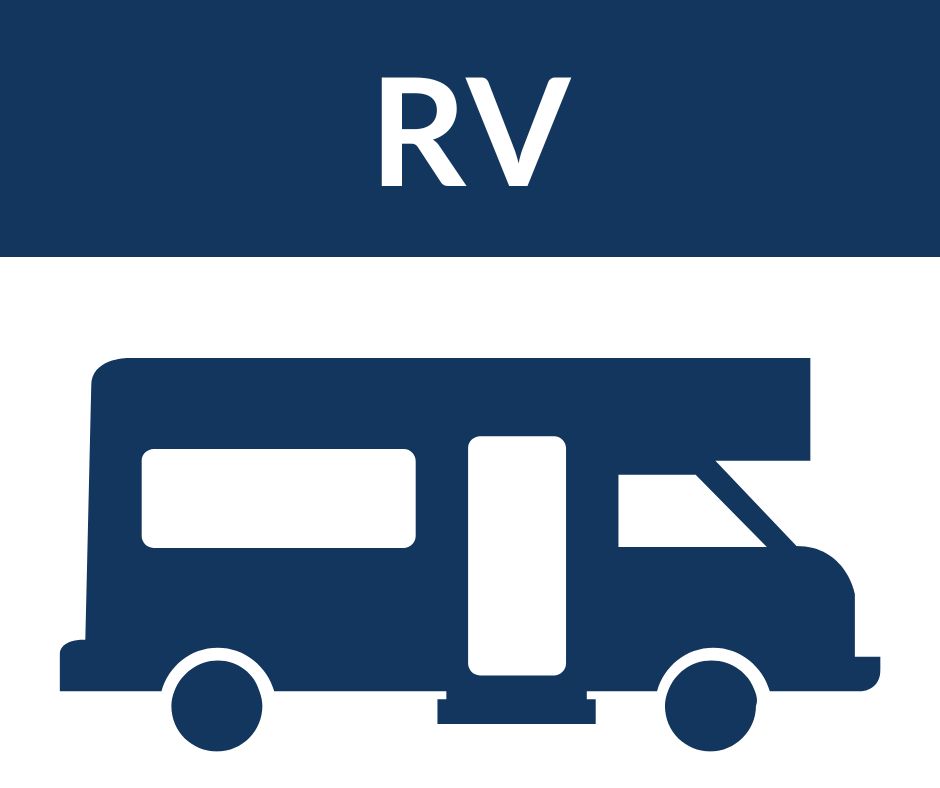 Vehicle Specs
This will help shippers determine the amount of space required on the carrier as well as the work and equipment needed to upload and unload it.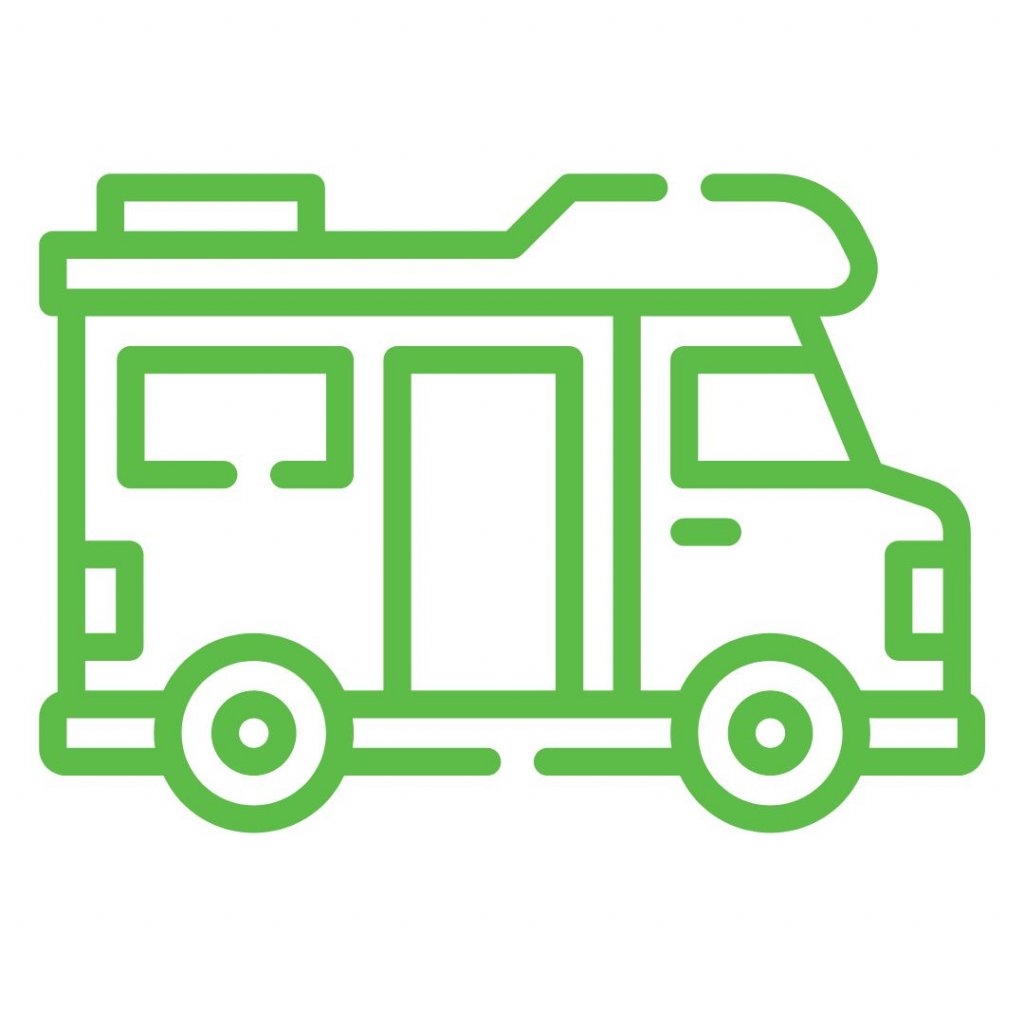 Total shipping weight
Your recreational vehicle's net weight plus its load (appliances, luggage, etc.) equals its total shipping weight or GVWR. The shipping company will provide you with the maximum they are able to ship. This will also affect the rv transport cost per mile.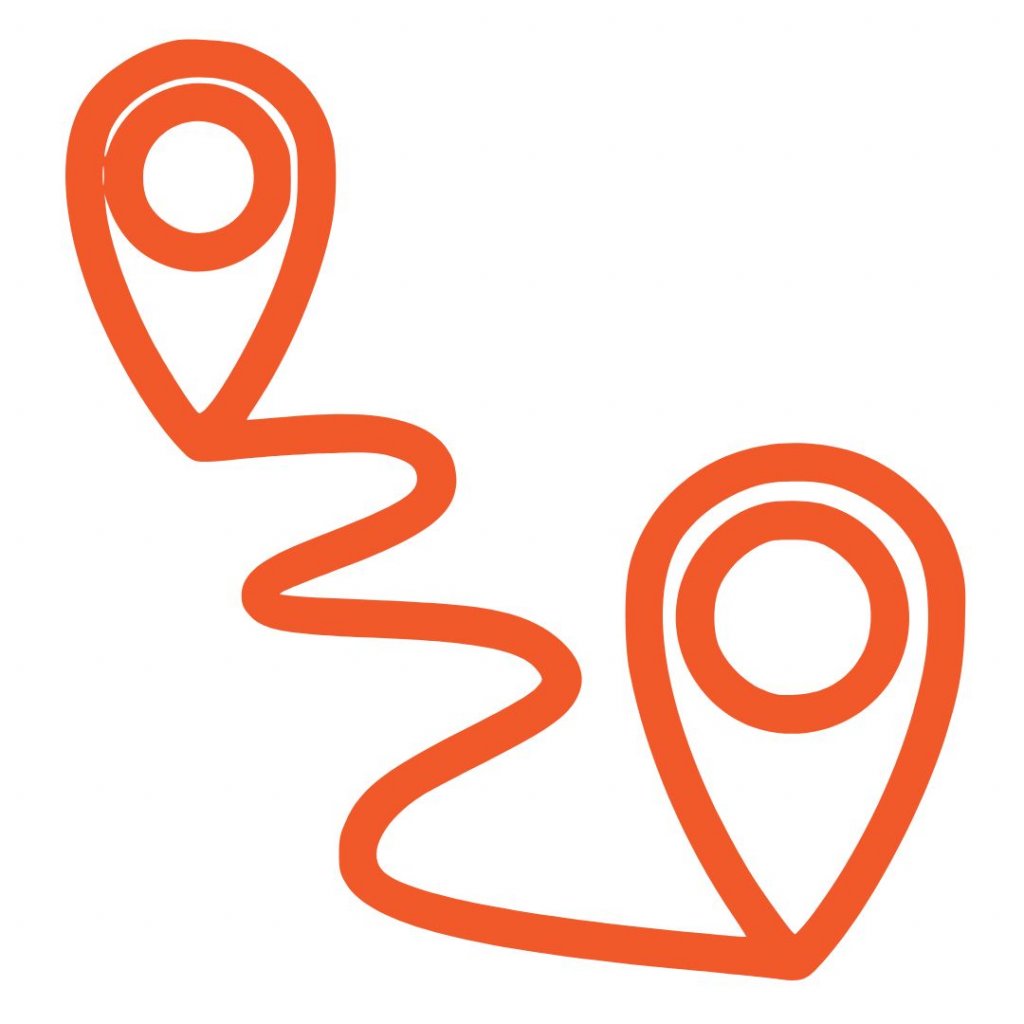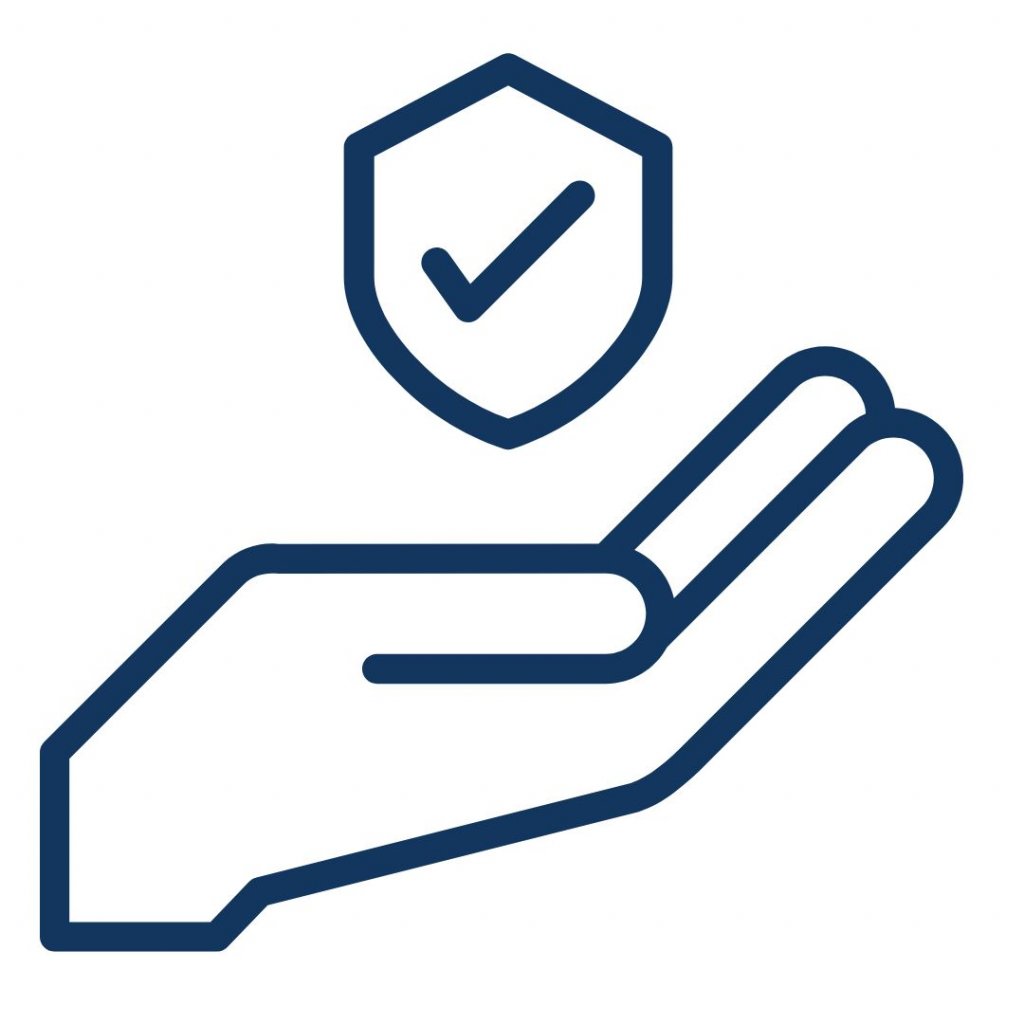 Insurance
Shipping insurance is crucial when you book recreational vehicle transport. Discuss your options with the company.
The shipping distance, time of year, and fuel price are some of the other factors that will play a role in your total price. On average, RV shipping rates come to around $3-$3 per mile across short distances, and it goes down on a sliding scale to around $0.95 for cross country RV shipping.
Need a free RV shipping quote? Contact Nationwide Auto Transportation.
How do I prepare my RV for shipping?
While the RV shipping company is responsible for safe shipment of your recreational vehicle, you are responsible for ensuring that the vehicle is properly prepared, as that will help avoid costly damages and unnecessary hassles. Preparing your RV for shipment is similar to recreational vehicle winterization. Follow this RV shipping preparation checklist to prepare your RV.
Recreational Vehicle Transport Preparation Checklist
Clean the RV inside and outside
Turn off all appliances and electronics
Secure, remove or store any loose items
Shut all windows and close window coverings
Lock any slide-outs
Disconnect power and gas supply lines
Empty holding tanks.
Latch or lock cargo doors, chains, and pop-ups
Check for any leaks
Inspect batteries and spare batteries
Check all indicator lights to ensure they are working
Check all tires as well as spares for inflation and wear
Secure the hitch and tow bar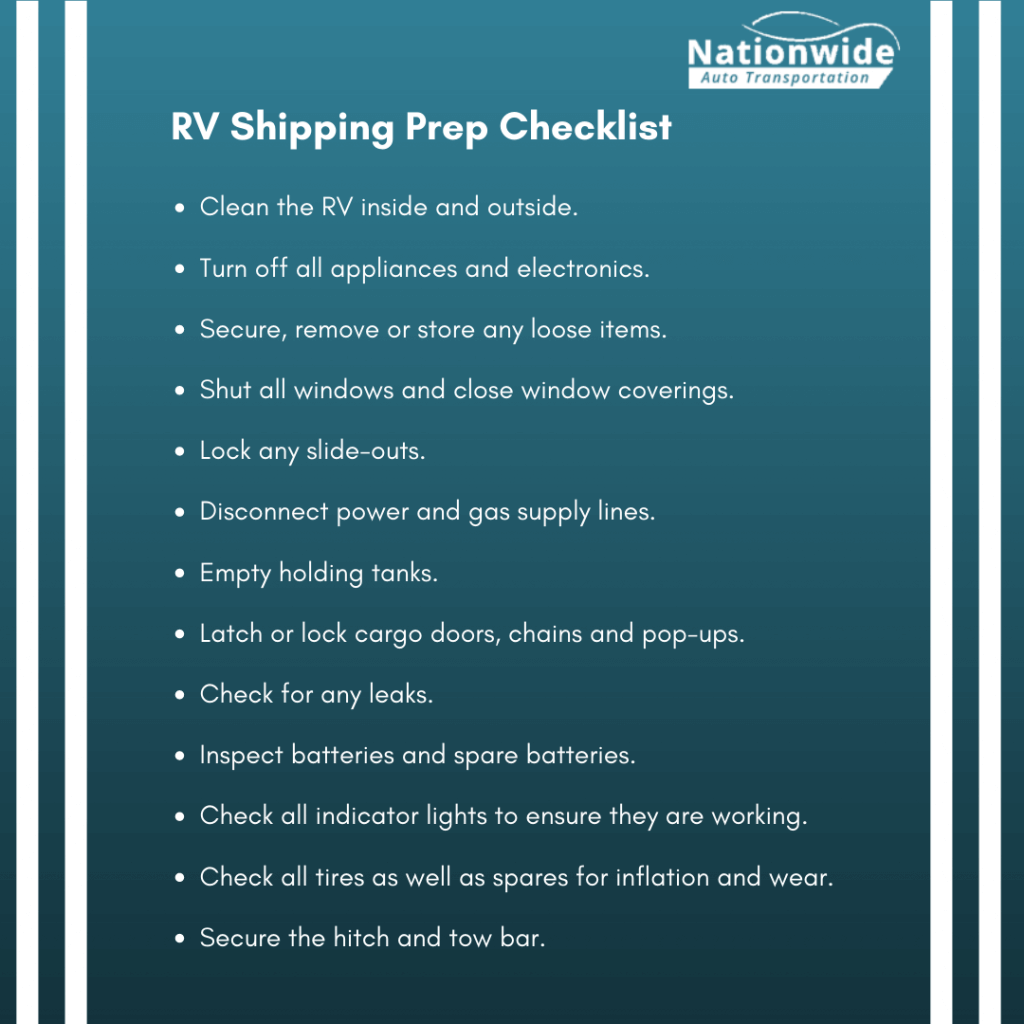 How to Find RV Movers Near Me?
Help! I'm looking for trailer movers near me… How do I choose the right one?
You do not have to find RV movers located near you, they can be located elsewhere. You can choose to work with a mover that is located in another state or even another country. Many long-distance moving companies offer RV transportation services and have the equipment and expertise to safely transport your RV to your new location.
However, it is important to note that working with a mover that is located in a different state or region can come with additional costs, such as travel and fuel expenses, which will be reflected in the final cost of the move. It's also important to make sure that the company you choose is licensed and insured to transport RVs across state lines. Also, check their reviews and ask for quotes from multiple companies to get the best deal.
When the carrier collects your recreational vehicle:
Hand over a full set of spare keys
Provide a list of special instructions
Perform a final inspection
Sign the Bill of Lading and keep a copy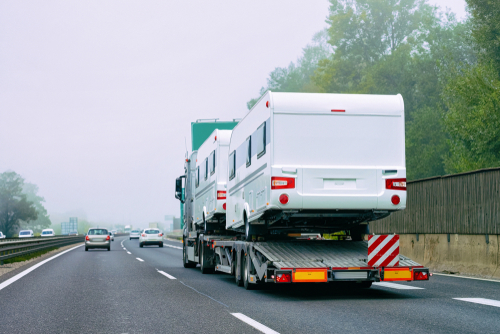 Get a FREE Quote from Recreational Vehicle Transport Companies (RV Movers)
Some recreational vehicle transport companies will provide a free quote when you call them or request a quote online. Others will send a sales consultant to you to assess the RV and to get you to accept the quote on the spot. The price of this consultation is usually built into the shipping fee. Choose an option with which you're comfortable.
Nationwide Auto Transportation will give you a free, no-obligation RV shipping quote based on your RV type, make and model and the shipping distance. Additionally, we offer discounts throughout the year to coincide with special types of shipping, such as snowbird recreational vehicle transport on popular routes.
Our impeccable safety record on RV transport services ensures that the only task remaining after delivery is to clean your RV.