Reading Time: 8 minutes
State law, among other criteria, defines antique car classification… in other words, what makes a classic or a vintage model. It's obvious that age is the starting point, but is it also the end when it comes to classic car or antique age classification?
What are those 'other' influences? Knowledge is power. This is why we look at classic car or antique age classification and antique car classification requirements in this post.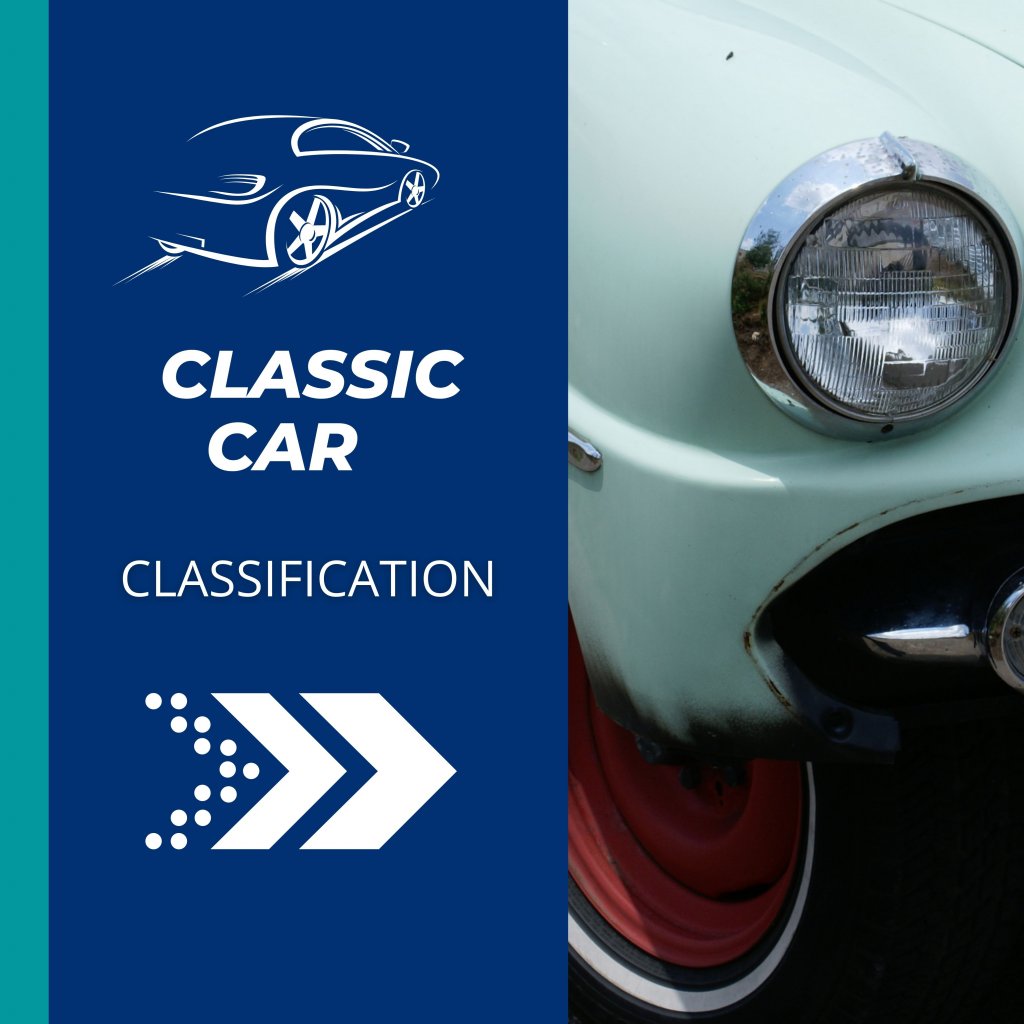 Let's Discuss How Antique Car Classification Works
Before we get into the vernacular—and often misunderstood—language about the major differences between antique, classic, or vintage cars, it's good to know that Nationwide Auto Transportation has your back. When it comes to auto shipping, we have more than a decade's worth of experience shipping valuable vehicles. Our enclosed shipping services are perfect for any high value transport. And the move can be adapted to best accommodate the vehicle type that is being transported.
Because we are experts when it comes to moving high value vehicles like antique, vintage or even supercars, Nationwide would like to share this knowledge with our current, and prospective clients. The more you know about the differences in antique car classification, the better you can assess different aspects of the car that you own, or would like to buy. This allows you to better negotiate an appropriate insurance rate, or to book appropriate car shipping when that is needed. Car Show & Classic Auto Shipping Guide has nearly everything you need to know as a classic car owner when it comes to getting your vehicle from A to B.
Antique Car Classification: What Are the Basic Differences Between Vintage, Classic and Antique Cars
When you speak about antique car classification, not too many people know the difference between a vintage, a classic or an antique vehicle. When you see an old car that looks kind of cool, do you know which of these it really is? Car enthusiasts as well as our ordinary non-petrolheads, will find the information in this post equally fascinating as well as informative. Let's start by looking at the three salient differences between antique, vintage and classic:
Age
Historic Status
Price
Knowing your vehicle's classification status can assist you with finding comprehensive vehicle insurance. It also allows you to get a more in depth understanding of the real value of your investment.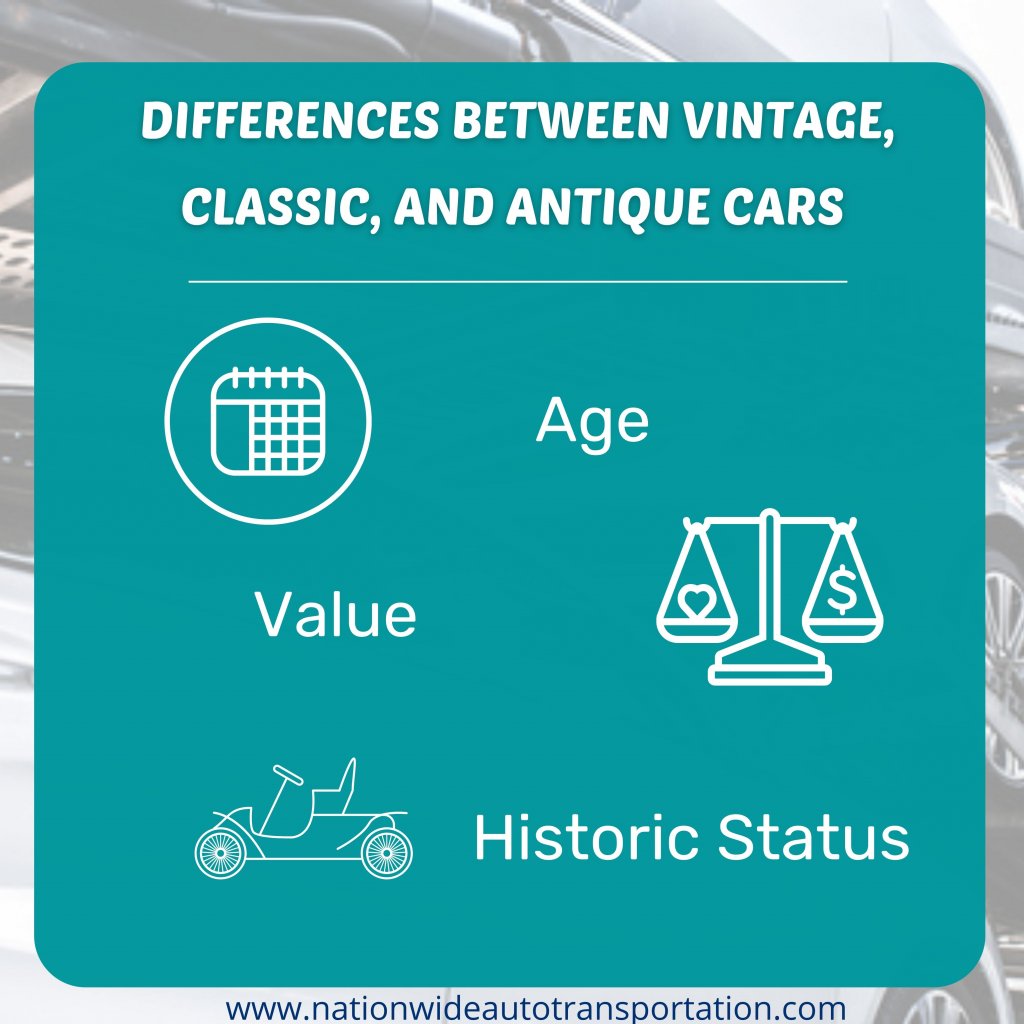 When you need to ship your classic, it needs to stay pristine of course. Our post, Keep your baby spic-and-span is another great post to read when it is time for the big move or car show.
Here is a wheelspinningly interesting fact. Baton Rouge is one of the most popular destinations for car shows. You may even consider moving there full time…
When you do, read Moving to Baton Rouge: What You Need to Know Before You Move.
The Age of Your Car
Age is the most obvious link when you mention vintage, classic or antique in any sentence. This is particularly true with cars. It stands to reason that age can determine condition as well as the level of care you will need to put into caring for an older vehicle. In the section below we look at the year of manufacture to determine in what class your vehicle will fall:
A Vintage Car is a vehicle that was produced from the year 1919 until 1930. It should be left as original or restored to its initial specifications.
An Antique Car was made in 1975 or earlier and therefore has to be older than 45-years-old. To qualify it should remain as close to its original manufactured condition as possible.
Classic Cars were manufactured in the year 2000 or earlier and are older than 20-years-old.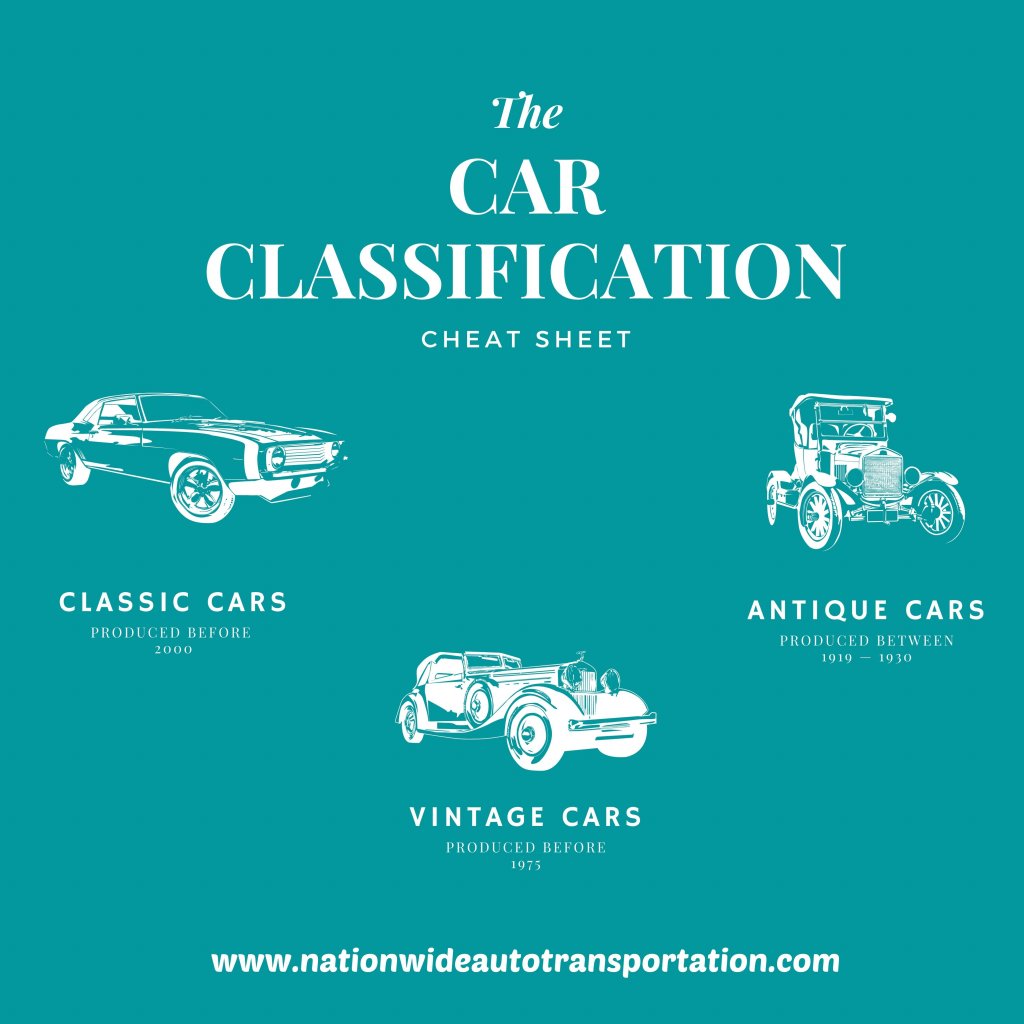 Depending on which state you stay in or where your vehicle is registered, there are different guidelines as to what is needed for your vehicle to qualify for historic state license plates. In the next section we look at this, but first, let's explore a few of the popular places for car shows in the U.S, and how to easily move there?
You may have other reasons besides a car show to ship your car across the United States. Whatever your motivation, it helps to know How to Ship Car Across our Country, doesn't it? So, what do you do with your classic car when you are not taking it to a show, or showing off around the neighborhood? Don't worry about that either. Just read our blog post about how to store your classic car and you will be ready for the rain.
Antique Car Classification: The Historic Status of Your Car
Your car's historic status may vary from state to state, but if you have a super rare vintage, you should have it registered. Although qualification varies by state, there are set guidelines for your car to be approved for this type of license plate. An interesting site to visit is the Library of Congress blog about vintage cars. It features some amazing historical photos and information.
What are the different types of car classifications?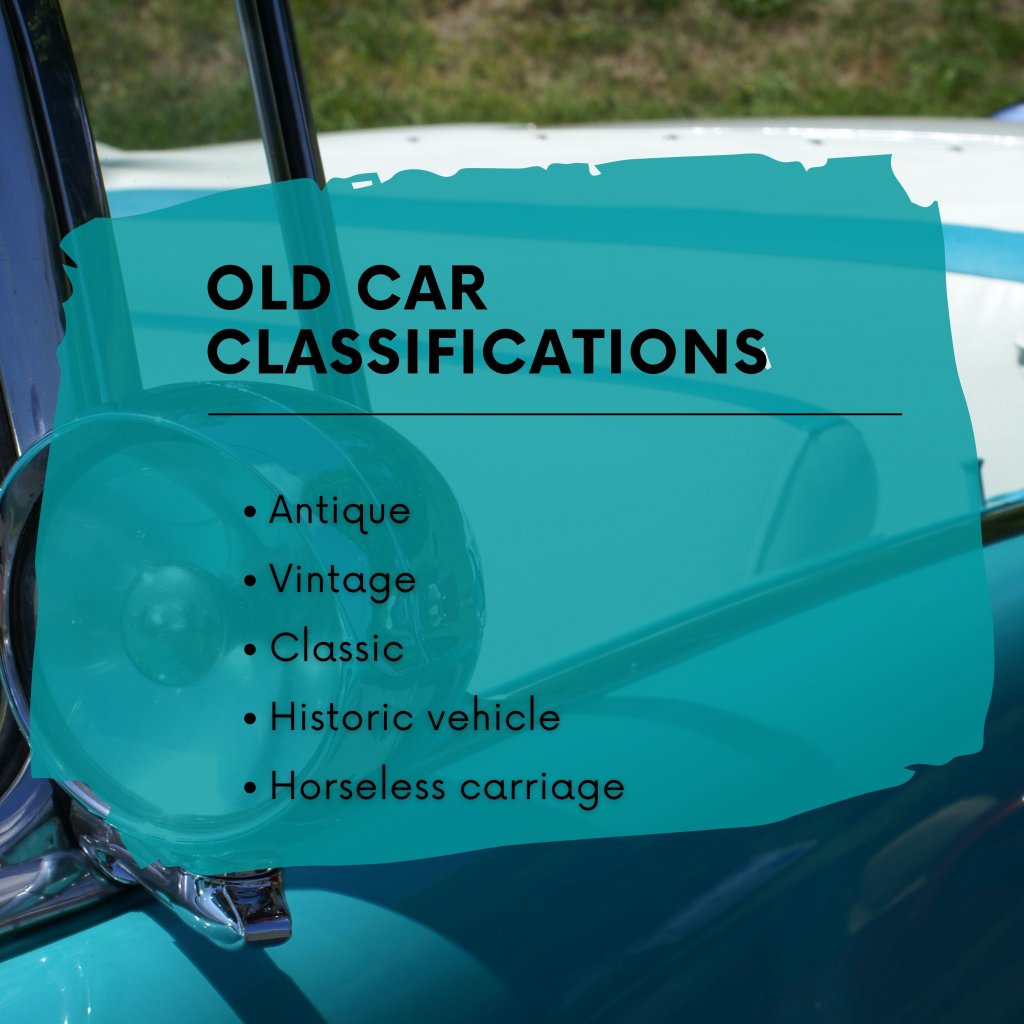 Antique
Vintage
Classic
Historic vehicle
Horseless carriage
Once approved you can have a special plate printed. Alternatively, the classification can be printed next to, or under the registration number. Certain classifications may also qualify for reduced license fees because they do not make full use of the roads like an ordinary, everyday car.
As stated earlier, the law, or the qualifications for certain plates, differ from state to state. However, these are the most common historic status plates that your car can qualify for:
Vintage Vehicle Plate
Historic Vehicle Plate
Custom Collector Vehicle Plate
Classic Car Plate
Street Rod Plate
Antique Plate
Whether you have a classic, vintage or just an ordinary, everyday runabout the chances are that at some point you may need to move it to the other side of the country. How to Ship Car Across our Country is a post that will give you valuable hints and tips.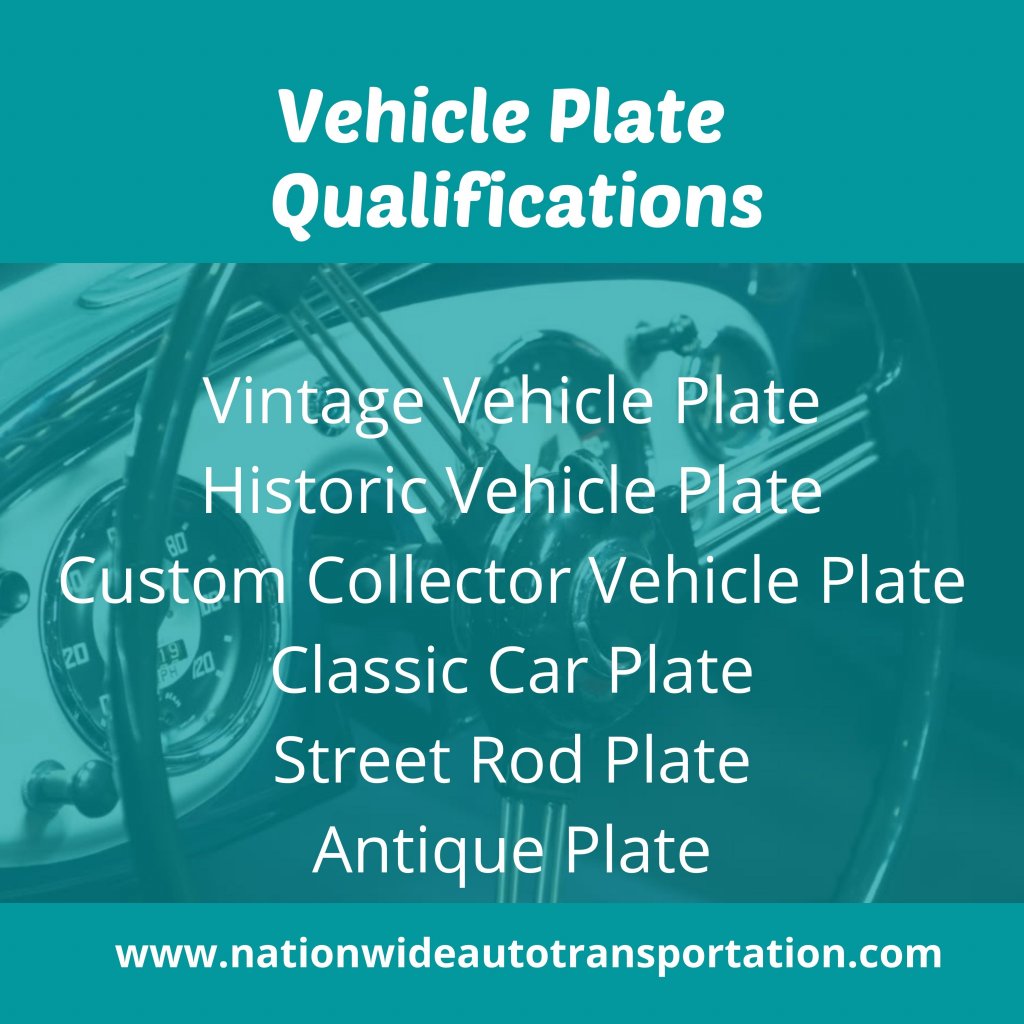 The Price of Your Car
How does price influence whether your car is vintage or antique? By itself the price of a vehicle does not determine its status as a classic but it does determine how desirable your vehicle might be to a collector. What does a collector look at when they examine a car?
The make
The model
How rare is your car?
Is there a current demand in the market
The condition that the car is in
Restoration work and the quality of it
The mileage
There are many examples of cars from the 1920s selling at much higher prices than later model cars and popular foreign cars that are still found on the road. When it comes to establishing the value of a classic, vintage or antique vehicle there are so many variables… If you are not an expert, it is highly advised to talk to someone in the know.
Here are three highly informative websites:
Did you spot that special find, that long lost car that you've been looking to rebuild? Even if it does not run at the moment, Nationwide Auto Transportation can ship it to you so that you can breathe life back into it. Read our article on how to ship a car that does not run. It explores the exciting options that it opens up to classic car collectors. Now, let's look at what you can do to pimp up that Daddy Caddy.
Let's Pimp Your Classic
For the motoring purist or the collector who believes that only the original is good enough, the normal categories will suffice—Vintage, Antique or Classic. But when it comes to cars, there are always a few oddball-owners who tend to like their cars a little different than the norm, and faster… this opens a new category called Modified Classic and Antique cars. Under this umbrella you will find the following subcategories:
The Street Rod or Hot Rod includes cars that were built before 1949 and although modified, they are street legal.
A Resto-Mod is a classic that has been changed, upgraded or modified to combine ultra modern safety features in a vehicle, without changing the original outer appearance significantly.
Is there a state that is cheaper when it comes to making car modifications? Nationwide looked into this and you can read what we discovered here: Cheapest State for Vehicle Modifications: It is the One Where you Find the Best Deal. In the next section we explore a few types of collector's cars.
Types of Vintage, Classic and Antique Cars
When it comes to antique car classification it becomes very important to be able to get the truest value of your vehicle. This gets highlighted when you want to sell, insure or ship your car. With this in mind we take a peek at what cars fall under each classification.
Vintage Cars
These special automobiles, assembled between 1918 and 1930, are at the peak of the antique car classification table. They are not your average daily drive and you don't just walk into your local dealer to buy one. They can however be wise investments and fun projects for the restoration enthusiast, and great tax deductions.
​1919 Ford Model T Sedan
1921 Hudson Super Six Phaeton
1925 Flint Model E-55
1924 Aston Martin Grand Prix
1930 Cadillac V-16
1968 Dodge Charger RT
1968 Dodge Charger RT
When it comes time to get these vehicles from one place to another, there is only one kind of transportation to use and Nationwide Auto Transportation advises the use of our enclosed transport services. Read our post, Popular Cars for Men and Why We Like Them to see if your favorite antique car classification features anywhere.
Antique Cars
What do you need to qualify as an antique car? First, you need to be older than 45-years-old and have an engine. You may be roadworthy, although at your age it could be suspect. People also like to fix you, modify or restore you… and you are also probably one of the first American muscle cars.
Some of the more voguish antique vehicles include:
1956 Porsche Speedster
1957 Chevrolet Corvette
1957 Chevrolet Bel Air Cabriolet
1932 Ford Roadster
1968-1968 Dodge Charger
1954 Rolls Royce Phantom
1938 Volkswagen Beetle
1951 Oldsmobile Super 88
1964 Chevy El Camino Coupe
Classic 1987 Buick National
1987 Buick Grand National
While we are going back in time, Explore the History of the Car Rental Industry – and Take a Glance Into the Future.
Classic Cars
A car is considered a classic when it is more than two decades old. These special cars are seen on our roads rather commonly and enthusiasts flock to them like mosquitos to a freshly shaved Moose. You see them at car shows, being restored in driveways, at auto clubs and at drag races all across the U.S.A every week. Here are some of our favorites:
1974 Lamborghini Countach
1970 Ford Mustang
1963 Mercedes-Benz 300SL Gullwing
1987 Buick Grand National
1979 Ford Bronco
1974 Chevy Impala
How to Move Your Antique Car
It doesn't really matter what you call your car and if it falls under vintage, classic or is an antique, Nationwide Auto Transportation will look after it better than we do our own cars. Your life's passion is our day-to-day routine and we use the world's latest classic auto transport equipment and techniques to transport your valuable investment safely to your door.
Call us today for a free personalized, no obligation quotation: Call Now!