Reading Time: 11 minutes
America is the birthplace of the automobile and home to more than 270 million vehicles. But did you know there are now more popular foreign cars here than ever before?
This post looks at the most popular foreign cars in America, as well as when did foreign cars become popular in the U.S… Keep in mind that no matter where your car comes from, Nationwide Auto Transportation can ship it to you, safely and affordably.
Foreign-Made Cars Are Becoming Increasingly Popular
Americans bought more than 15 million vehicles in 2021, and although a large percentage of new car sales was captured by popular foreign cars in America, the number one seller for almost half a century now is still Ford with their F150. This brings up two important questions: When did foreign cars become popular, and why did foreign made cars become more popular?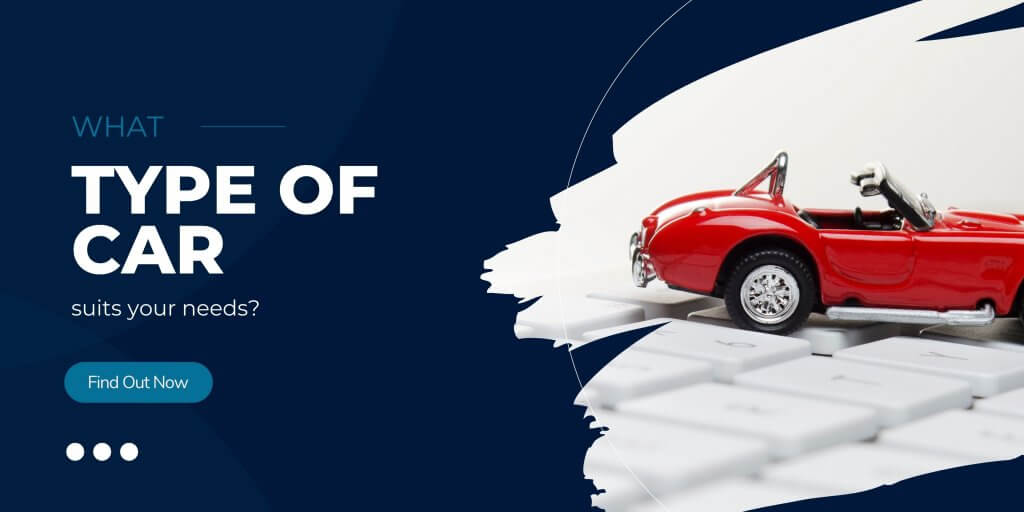 Before we start going through the most popular foreign cars in the U.S., here are a couple of really interesting facts about American car buying patterns:
Top Selling Popular Foreign Cars
The top five sellers in Alaska are all trucks.
In California, the District of Columbia and Hawaii, Tesla's Model Y was the leading seller in the Electric Vehicle category. To learn more about the value of EVs, read Used Electric Cars: A Buyer's Guide (2022) on our BLOG.
Although many people from Maine and Vermont purchased the Subaru Forester, it did not make the list of top five sellers here, nor in New Hampshire.
SUVs and trucks were by far the market leaders when it came to 2021 national car sales nationally. The only exceptions came from the Honda and Toyota stable.
Toyota has the most front runners when it comes to American car sales with these four work horses:

RAV4
Camry
Highlander
Tacoma

The Hyundai Tucson is the #1 seller of Korean made popular foreign cars.
If you are in the market for a new car, here is a helpful tip. Have you ever heard of Ceramic Coating? It can add years to your car's paint life, and dollars to the resale value. Now let's move along and see which are the most popular foreign car countries, and what models they produce for the American auto market.
Top Popular Foreign Cars and Their Countries
The car sales market is making a rebound as Americans embrace freedom following the pandemic-enforced house-arrest that we all suffered, but it is not all about being Made in the U.S.A. Car buyers are being made aware of the value that popular foreign cars are offering, and sales are proving this. But what are we buying?
Below is a breakdown of the most popular makes and models, and what their country of origin is. Although some models originated in other countries, many of the most popular foreign cars get built and assembled on U.S. soil.
Models made in Japan:
Toyota
Nissan
Honda
Lexus
Infiniti
Mazda
German made models:
Volkswagen
Porsche
Mercedes Benz
BMW
Audi
Made in Italy:
Lamborghini
Alfa Romeo
Ferrari
Made in Great Britain:
Made in South Korea:
What do you do when you see that dream classic car for sale, the one that you've been looking for your whole life? But it is listed on a popular foreign sports cars website? Well, the first thing you do is contact the site and make an offer, then you read our post on how to import Classic Cars to understand your role in the shipping process. The last thing you do is to call one of the highly knowledgeable consultants at Nationwide Auto Transportation to start making arrangements to get your new investment home.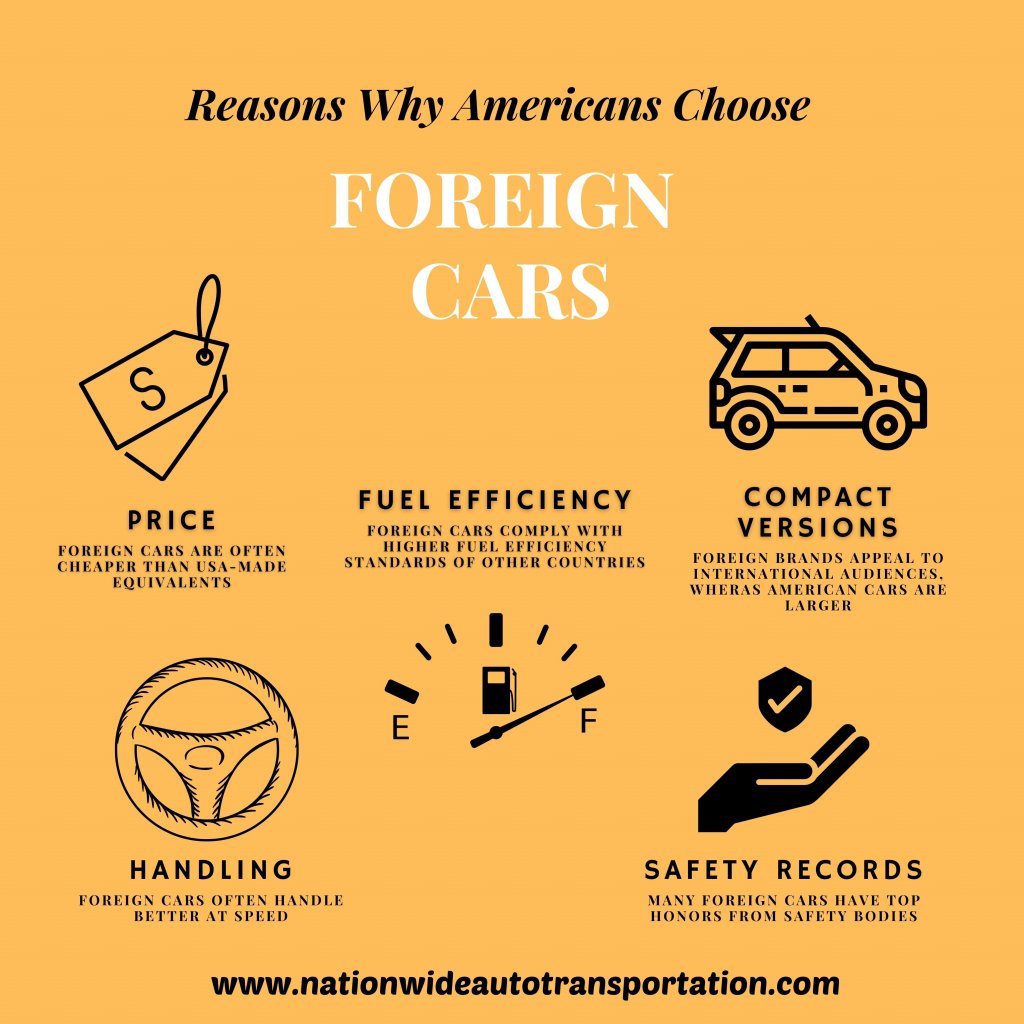 Our List of The Top Selling Popular Foreign Cars in the U.S.
Have you stopped to think when did foreign cars become popular in the US, and why are foreign cars more popular than their American counterparts? Their are a number of valid reasons for the shift, but these below are the ones that make us choose popular foreign cars over American pride:
Cheaper
Better fuel efficiency
More compact
Better speed in some cases
Safety record of popular foreign cars is good
Are you enjoying this article so far? Do you like cars and stories about America? We update our BLOG regularly with fun auto related articles so don't forget to pop in every so often. Are you looking to rent a car for a road trip? Why not Explore the History of the Car Rental Industry – and Take a Glance Into the Future?
A foreign car is by definition an automobile that had its roots in a country outside of the United States of America. Many of these cars are designed, constructed and assembled in their original country and if you wanted one here in America, you would have to more than likely import it yourself, or via a qualified dealer. This extra cost means that these imports are usually more expensive than their American cousins.
You will hear the term Roll-on, Roll-off when you start considering international shipping. Read the post, RO/RO Shipping for International Auto Transportation, to learn how it works.
The American Popular Foreign Car Market
The American car owner, and market, has evolved much since the days where you could choose any Ford you wanted, as long as it was a black Model T. Many countries are now able to manufacture cars at a fraction of the cost that US based companies are able to, and their safety standards and controls have equalled and exceeded some American automobile manufacturers. Britain, Japan, Italy and Germany are now synonymous with safety, class, style and affordability, while offering the kind of exclusivity that American made cars simply don't.
In fact, many of these cars have become so popular in the United States, that these popular foreign cars are now even being assembled or built from scratch on American soil and by American workers. Honda, Nissan and Volkswagen are only three of approximately 30 models of popular foreign cars that are made in the U.S.A.
There are a few popular foreign cars that are imported in disassembled units that need to be assembled at an assembly plant when it reaches its destination. The most expensive imports come as complete vehicles, and you may have to budget a large amount of dollars for import taxes.
Car Shipping Cost Explained: Fast Facts for 2022 will enlighten you more on what to expect from international shipping costs in today's fast paced world, then we look at what the Land of the Rising Sun has to offer on four wheels.
Japanese Popular Foreign Cars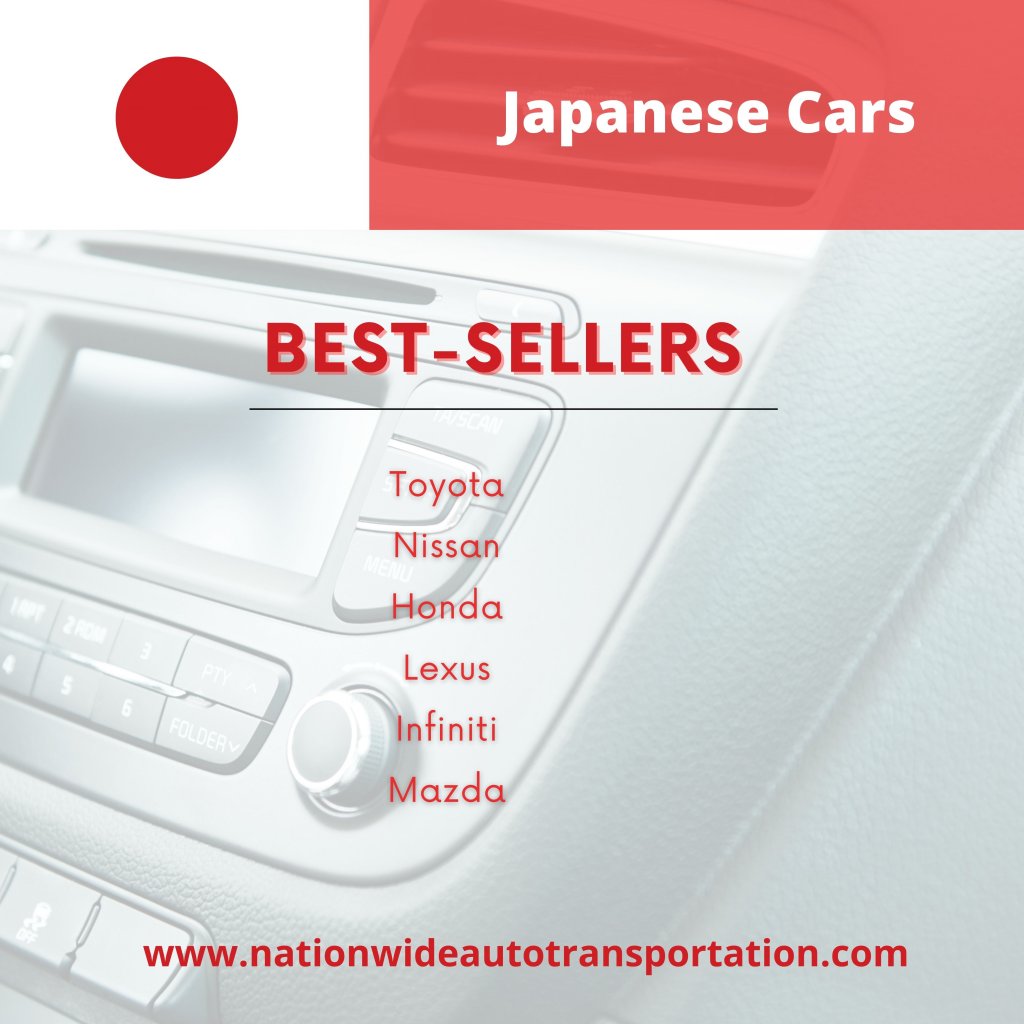 What has made Japanese cars so popular to American vehicle buyers? Many years ago there were plenty jokes regarding Japanese cars and their unreliability, but the really funny part is that Japanese cars are now the most popular foreign cars in the country, and they are also some of the best designed and safest cars on our roads.
Toyota
The workhorses of the Japanese automobile industry are one of the largest auto manufacturers in America today. The company that started in 1926 to produce automatic looms, is now one of the largest vehicle producers in the world and it constructs a wide range of vehicles that encompass a broad spectrum of automobiles including busses and EVs.
Toyota has two other brands, Daihatsu and the luxury class, Lexus, but keeps its focus on high-quality and affordability.
Nissan
Who does not like a Nissan? The Kaishinasha Motor Car Works produced its first product in 1914 and was the first car maker in Japan. Today it has hundreds of different types of vehicles that it produces in auto plants all over the world. Nissan is known for their superb value and quality and Americans have made a place for these Japanese auto in their hearts, as well as their garages:
Pathfinder
Xterra
Maxima
Patrol
Altima
Frontier
Armada
If you are a serious popular foreign car fan and you are contemplating importing a vehicle at some point, this short post might save you some time and money—Import Car Service: How to bring your new car home.
Honda
Honda is one of the most recognizable automobile brands in the U.S.A. and the world. Japanese reliability is paired with innovative technology and affordability throughout the range that includes motorboat engines and motorcycles. What are their top sellers in the states?
Lexus
Lexus and luxury have been synonymous to Americans for the last 15 years. The brand caters to the slightly more upmarket client that loves a little vehicular spoil. Lexus has recently entered the hybrid market and also gives SUV and sedan options that outshine many competitors.
Infiniti
The luxury Nissan offspring includes SUVs and crossover vehicles and it is one of the most liked upmarket Japanese brands. The flagship models that we are buying are the QX80 and Q60.
Mazda
What makes Mazda so appealing to the American masses is not just low prices and fuel-efficiency, its is their eye-catching and sleek, ergonomic designs. Look at:
the Miata that is fast overtaking the competition in the roadster market
the evergreen MX5
and the sleek RX.
Before we take a flight to inspect the autos from the land of frauleins and frankfurters, have you given thought to what you will do if your company decides that it is time for you to head up a new division, in a new state? Or maybe you are in the military and your PCS papers have come through?
Your company may offer relocation assistance, and here is a handy travel packing list for that long distance trip to you new home, but no matter where you are going, or why you are going there, Nationwide Auto Transportation will make sure that your vehicle gets to the same place, safely and affordably. Now, let's check out the nation who gave the world millions of Beetles.
German Popular Foreign Cars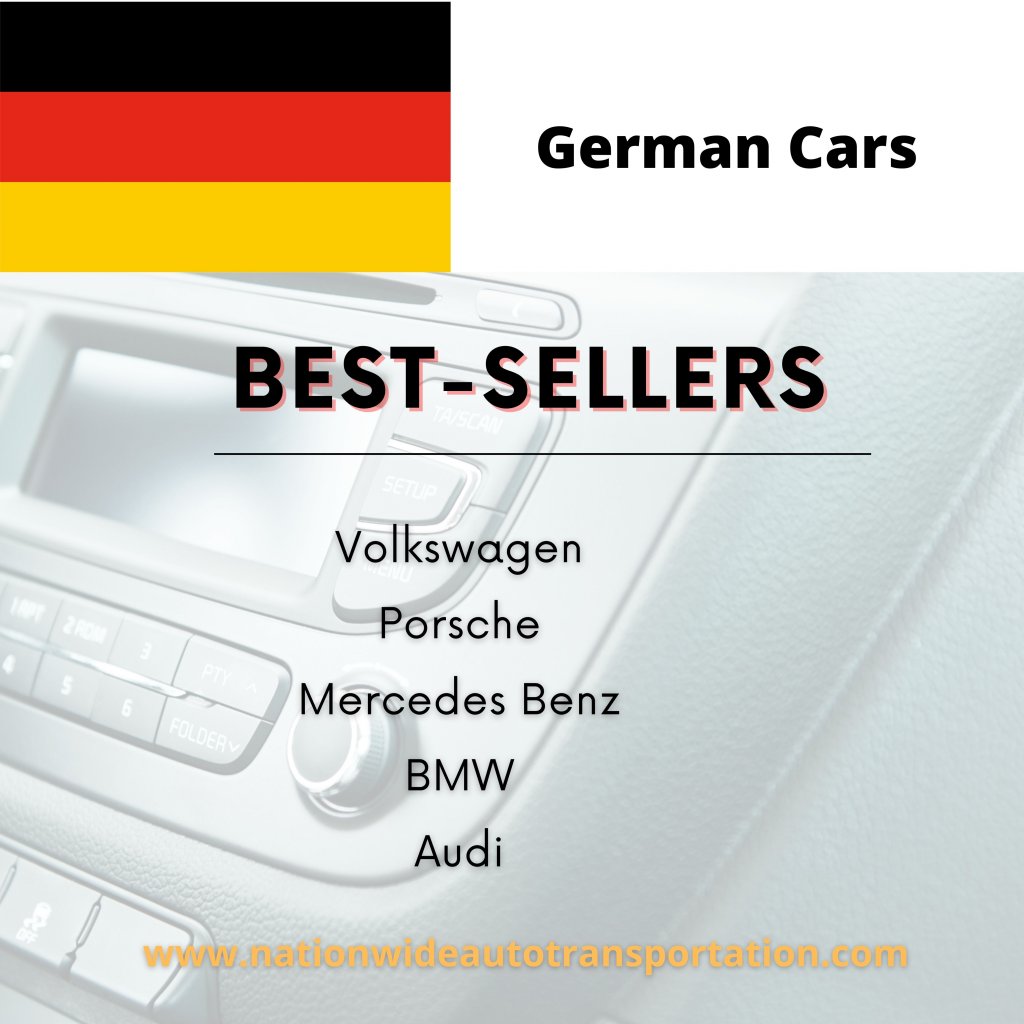 Precision is precisely pedantic and perfectly popular—German cars are characteristically some of the most trusted brands in the U.S. and our car buyers have been fans of Bavarian engineering skills for decades.
Volkswagen
The car for the people, from the people, well from Herr Hitler actually, but who's counting? Buggy or Beetle, no matter what you want to call this VW, it is so interwoven in our history that you may even think that it's an American machine. In 1937, this diminutive little bug crawled out of the ashes of a world war and straight into American garages and hearts.
Porsche
What does a VW Beetle and a Porsche have in common? Quite a lot actually: They were both designed by Ferdinand Porsche, they both have their engines in the wrong place and are rear-wheel driven. The Porsche of today has undergone a butterfly-like transformation and you can find them on the top selling list of not just sports cars, but also luxury SUVs.
Carrera GT,
the Cayenne,
the Cayman, and
the Boxster.
Mercedes Benz
Whether you live in Minneapolis or Monaco you will know the Mercedes logo and what the brand stands for. Class, elegance and reliability is fused with precision craftsmanship and superior performance in a Mercedes Benz, and driving one presents you with a feeling of privilege and pride.
The brand caters for car buyers across a wide range of needs and you can invest in anything from a sedan or coupe, to compacts, EVs, trucks and hatchbacks… not to forget their supercars! Just ask Supercar Blondie.
BMW
You cannot mention German popular foreign cars without mentioning BMW as it tops nearly every list of top selling popular foreign cars, and has done so for many years. Partly Rolls-Royce owned, German engineering and British class gives these cars an edge over most of their class opponents. Favorites with Americans are the M3 Coupe and Z4 Roadster.
Audi
German design has grown immensely since the 1970s and the Beetle, and Audi stands as a testament to this. Combining comfort, power, class, sportiness and elegance there are not many other manufacturers that stand in the same line as Audi.
Q3 35 TDI Quattro
the A6
A3 Convertible
and the Q5.
Now that you see that there are more to German cars than Bugs and Hippie vans, we can cross the ocean to the land of love and Lambos.
When you want to visit a foreign country, you book a plane ticket and fly right? But how do you get a car from one continent to another? USA Seaport for Cars: Guide to International Auto Shipping gives you some insight on this topic. Ciao Italy!
Italian Popular Foreign Cars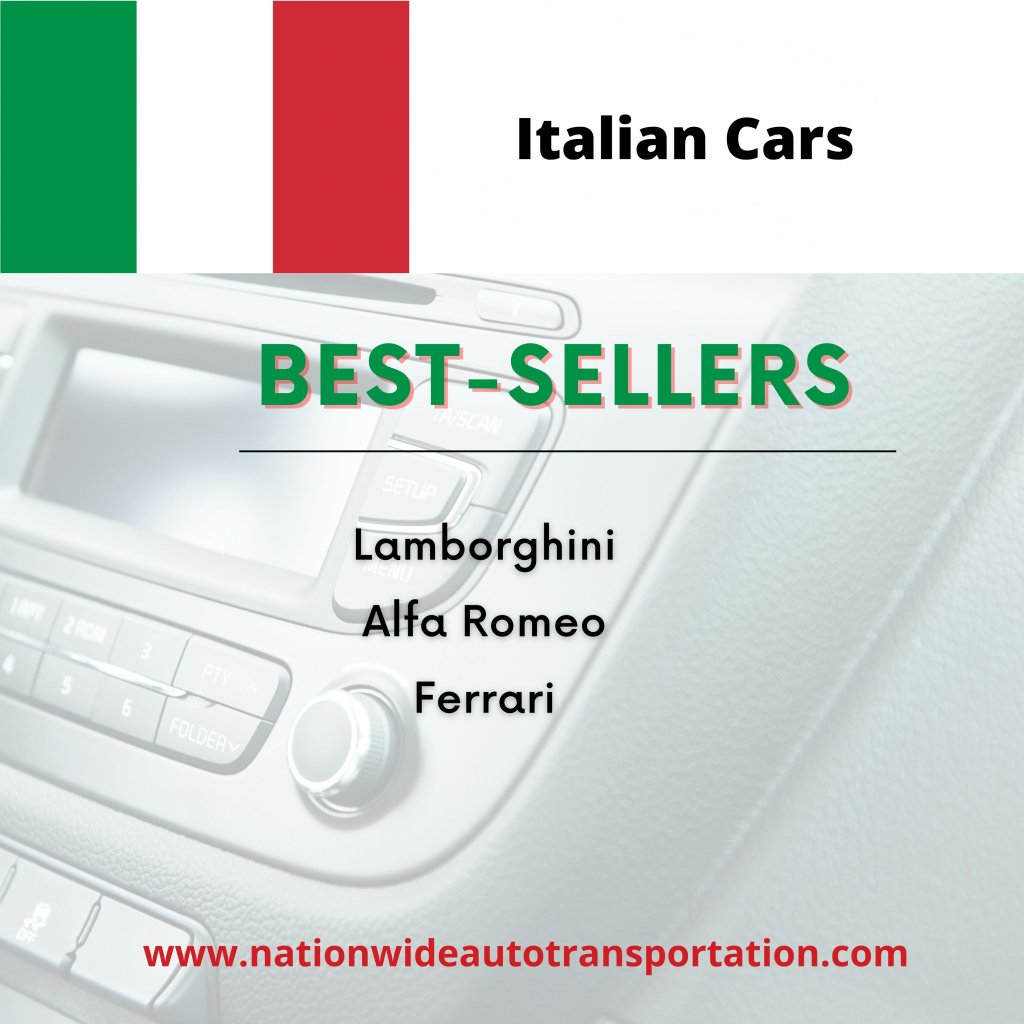 When it comes to sportscars and ultimate luxury, this boot-shaped country kicks automobile butt. If you can smell the leather and burning rubber while staring at jealous faces, you are more than likely sitting in an Italian made car.
Lamborghini
This super luxury brand is partly owned by Audi and Volkswagen, and every now and then you will see one on our American roads, especially in California where the most Lambo owners live. Interesting fact: Americans own more of these Italian gold-digger magnets than any other country.
Alfa Romeo
Although Alfa Romeo is not as widely recognized as in Europe, it does command respect in the popular foreign cars market, and it is a head-turner. The brand's sleek looks are combined with raw power and fitted into an elegant and shapely body like you find on the C4 Spider and the Alfa Giulia.
Ferrari
The epitome of success and luxurious beauty is owning a Ferrari, and Americans that can afford these speed demons are not afraid of buying them. There are around 40 000 Ferrari's in the U.S.A. and it is still one of the number one choices of cars for the mega wealthy.
Talk is cheap but a Ferrari is certainly not. How do you make sure that your supercar stays sweet and shining? Luxury car shipping with Nationwide Auto Transportation is the safest, most affordable option and our blog article on exotic car transport comes with a free infographic.
Now it is time to go see the time on Big Ben at Queen Elizabeth's home.
British Popular Foreign Cars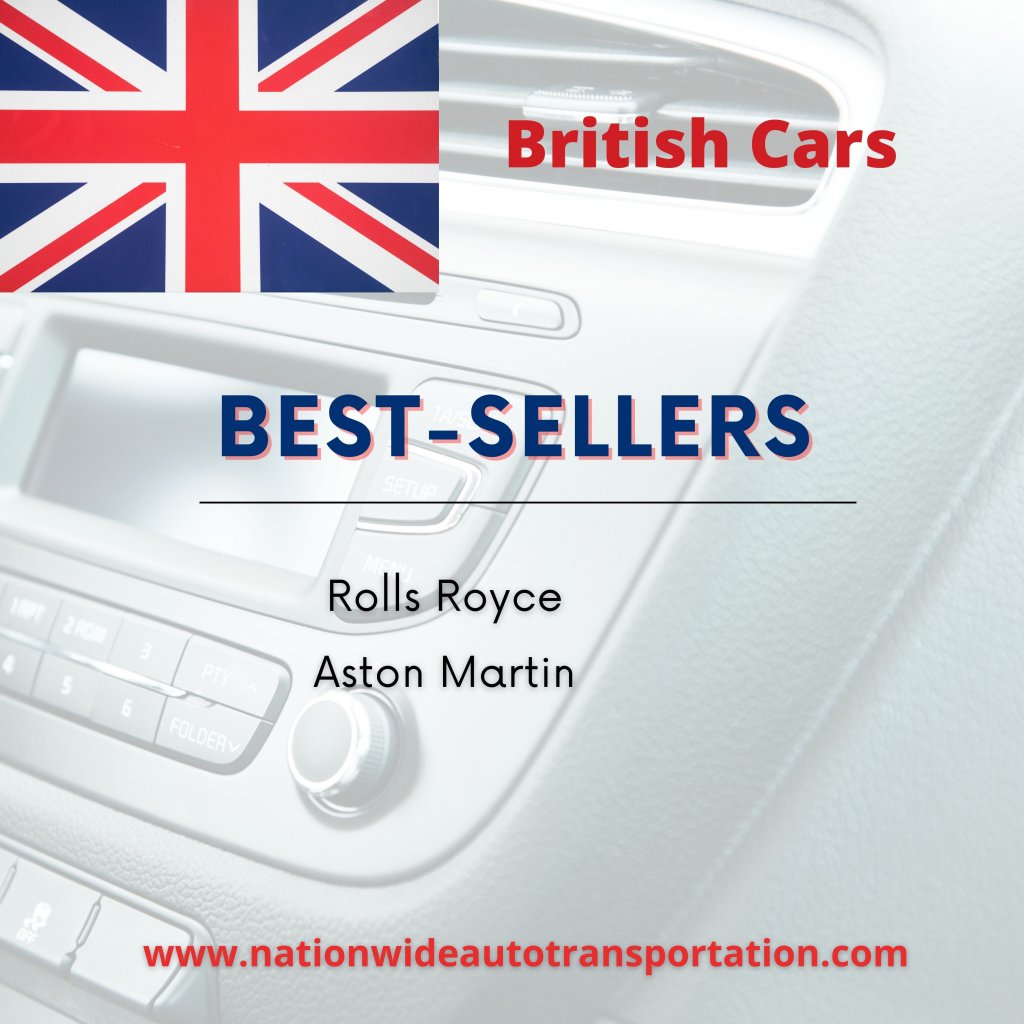 Americans really like British people, their accents, and their cars. Brits like James Bond and Austin Powers have not only driven their traditionally classy English sportsters on our big screens, they have taken long term parking in our souls, and a few lucky American garages.
Rolls Royce
Rolls Royce helped the Allies win World War 2, and now they are turning heads on American highways. Known for building the best aircraft engines in the world, the company channeled this precision into arguably the most classic luxury car of all time. Royalty and the ultimate of everything auto, this is Rolls Royce.
Aston Martin
Here is an interesting automobile fact—until not too long ago Ford owned the controlling stake in this bravely British icon and the world swooned when James Bond and the DB5 first graced the big screen in 1964. Aston Martin has had its ups and downs, but there is nothing that screams avant-garde luxury and horsepower louder than this brand. Besides the perennial head-turner, the DB5 in the stable, you can also import:
The Vulcan
The Rapide
One-77
V8 Vantage
Is all this torque making you think that a classic car or a super car could be in your future? You can probably get a good investment for less than $100K, just ask Supercar Blondie. South Korea has grown their share of the American automobile market to unprecedented levels in the last 10 years, let's check out why.
Popular South Korean Cars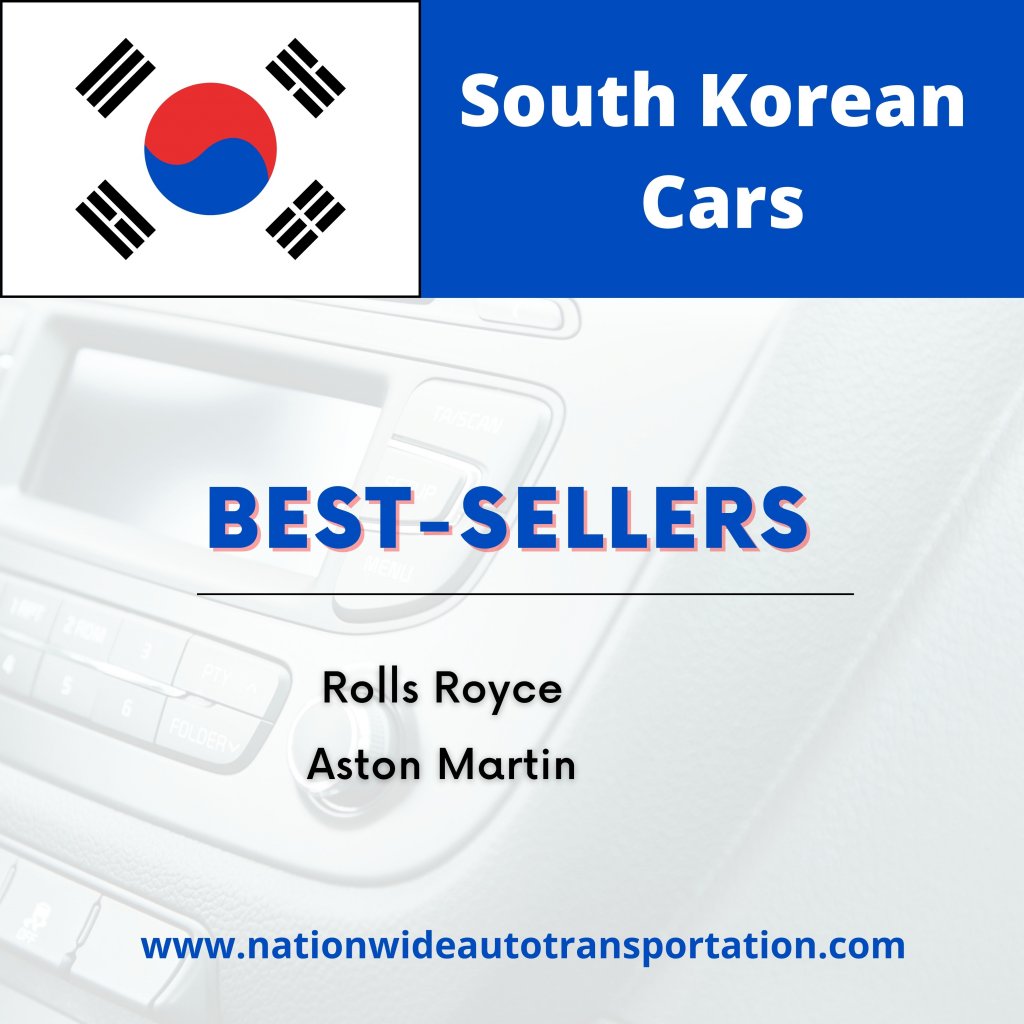 In 1986 Americans rushed to buy the Hyundai Excel for under $5000, and there are still a few around today. This bears witness to the durability and quality of the cars that South Korea produces for the U.S. market—and it also shows that we love buying these little performers.
Hyundai
The largest automobile company in South Korea, also owns shares in the other manufacturing giant from the same country, Kia. Driving in suburbia you are bound to spot these:
Tucson
Elantra
Santa Fe
Kona
Accent
Kia
The new kid on the block has released some super successful models to the American popular foreign cars market. With youthful lines and modern features, these low maintenance, low carbon footprint cars are scooped up by conscientious buyers:
The Sorento
The Sportage
The Carnival
How to Ship Your Imported Vehicle
It is quite clear that patriotism is not the convincing factor to the United States car buyer, and that we rather prefer to look at what serves our needs, and budget, regardless of country of origin. As a result, popular foreign cars are seen everywhere, and there is a large chance that you drive one yourself.
Nationwide Auto Transportation does not discriminate on service, no matter what you drive, where you from, or where you are going. Call us today for a free no obligation quotation.