Reading Time: 8 minutes
We hear this question most often at Nationwide Auto Transportation: "How long does it take to ship a car?" Now, let's put the rubber to the road and find out what goes into a car shipping time estimate.
When the pick-up and drive time are included, shipping a car can take from six to twelve days. Keep in mind, that time range is an average and not the rule. Shipping a small car along a popular route over a few hundred miles could take just a couple of days!
Car Shipping: Everything You Need to Know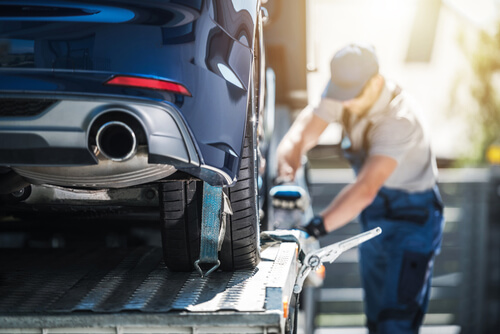 Car Shipping Time Estimate | How Long Will Shipping Time be?
In contrast, shipping an SUV or boat across the country could take up to 12 days. The timeframe also does not apply for shipping to Alaska and Hawaii. For the purposes of this article, we will focus on car shipping companies that operate within the continental United States.
Also note that in most cases, a car shipping time estimate doesn't account for unusual shipping routes (such as ro/ro auto transportation) and the time it takes to pick up a vehicle. All of these factors will add to the time it takes to ship a car. Our goal here is to break everything down so you know how long it is to get your car from point A to point B.
Our door-to-door service means we pick up the vehicles at your home or place of business. In many cases, auto transport companies will make use of a local tow truck to haul vehicles before loading them onto large transport carriers. In the event that the truck cannot reach the pick-up location, it may be necessary to meet at a nearby commercial building.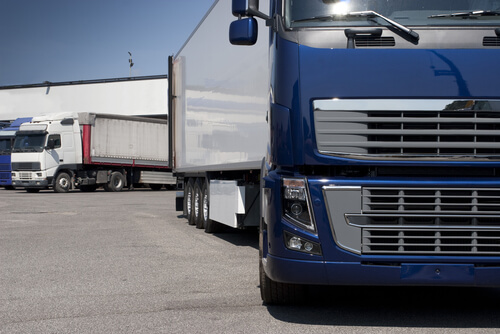 The lead time for assigning a driver to your order will also depend greatly on the resources of the transportation company that you are working with. Here are some of the other things that apply when you estimate car shipping time.
Car Shipping Time Estimate Influences
Location – The most frequently traveled routes are those between major cities and hubs. Small towns and remote areas will take longer.
Auto transportation seasons — In the spring, prices adjust upward to meet the increased demand brought about by snowbirds and vacationers. Moving companies and car haulers experience peak moving seasons during the summer months. As spring ends and early fall approaches, transport companies are busy all over the country. You may be able to have your car picked up sooner during these times due to the large number of trucks traveling back and forth across the country. If you are transporting your car in the winter, it may take longer to arrange for the pick up and delivery of your vehicle.
Your car's size — A car hauler's ability to factor in the size of a car can influence shipping times.
Vehicle type — Shipping methods can differ according to the type of vehicle. We will request our dispatch team to find the appropriate type of truck to transport them. It might take quite a while to locate a truck with a trailer (along your route, with enough room available) that can accommodate your extra-large vehicle, such as a commercial cargo van or a dually truck.
Open vs Enclosed Car Shipping Time Estimate
Open or enclosed transport – If you own a classic car or Lamborghini, you will likely be looking for an enclosed trailer, as well as a driver that specializes in hauling these kinds of vehicles. It can take a bit longer to locate an enclosed truck with space along your route.
Traffic and weather – We can't escape the weather and traffic, especially when drivers are forced to drive more carefully to avoid accidents. You can expect additional delays if your vehicle has to be shipped down a road that is under construction. A company may transport more than one vehicle to more than one delivery address and this sometimes involve multiple stops along the way.
Mechanical Issues — Nobody likes them, but they happen. Carriers usually fix the issue quickly, resulting in only a slight delay when it occurs.
There are some things you can do to help the auto shipping process go more smoothly.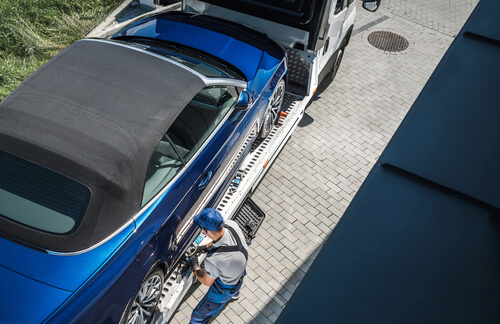 Car Shipping Cost: Never base shipping a car on price alone(Opens in a new browser tab)
Arranging the pick up
Our dispatch team will schedule your pick-up of the order as soon as you place the order with us. A vehicle's type and shipping route will play a part6 in the car shipping time estimate.
Occasionally, shipping a classic car or an exotic or custom vehicle requires an enclosed trailer, which takes a little longer than shipping a "regular" car that can be shipped on an open trailer. It will take less time to transport a vehicle on an interstate or a major highway than to transport it by an off-the-beaten-track route.
Generally, we can arrange a driver to pick up an automobile in a range of 2-8 days (and most of the time in the lower range). Sometimes we arrange pick ups in a day or two, but it can take up to eight days. Shipping a vehicle depends greatly on its type and route.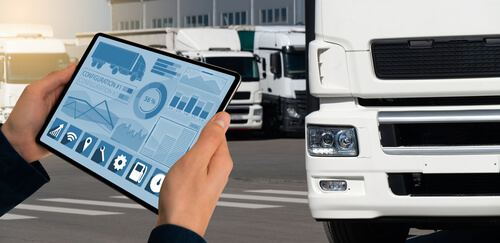 Car Shipping Tips: How soon should I book a car transport service?
We recommend booking your order with car shipping companies 3-10 days in advance, but no more than 2 weeks. Our transportation drivers are assigned within 2-8 days, so we don't need a lot of advance notice.
Depending on how far in advance you book your order, you may not be able to schedule it until a week before the pick up date. The reason for that is that drivers do not schedule their loads too far in advance. If you order, we will contact you as soon as possible with all the details and to answer any questions you might have. Our planning will begin about 10 days before your pick up date.
Wondering what to do before shipping a car? Read this post to learn how you can prepare your car…
The time it takes to ship a car varies depending on its route.
How to estimate car shipping time Gaithersburg MD to Los Angeles
Your car's transport time from state to state will vary based on which states you require service in. For example, if you need to ship your car across the country, you might want to estimate car shipping time Gaithersburg MD to Los Angeles.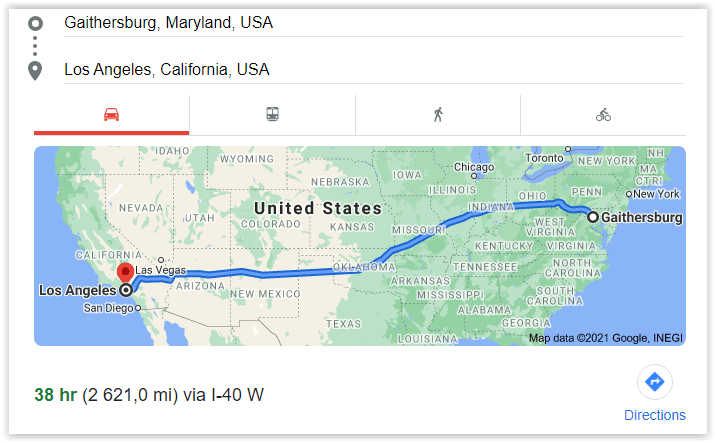 A truck driven by a single driver would follow standard delivery times. The route would be completed much faster for trucks driven by two or more drivers, since they would trade shifts.
Generally, drivers are allowed to drive for up to 11 hours after being off duty for at least 10 consecutive hours. During each shift a driver is limited to the amount of time they can operate. This regulation is enforced by the FMCSA.
If you want to figure out how long it takes to ship a car (car shipping time estimate), you need to add in the drive time, loading and unloading, and customer service for each designated pick-up and delivery, adding up to the total time it takes to ship the car.
Alternatively, if you don't enjoy math, you can simply use our auto shipping calculator to get a time and cost estimate as well as a free quote and 20% OFF your booking.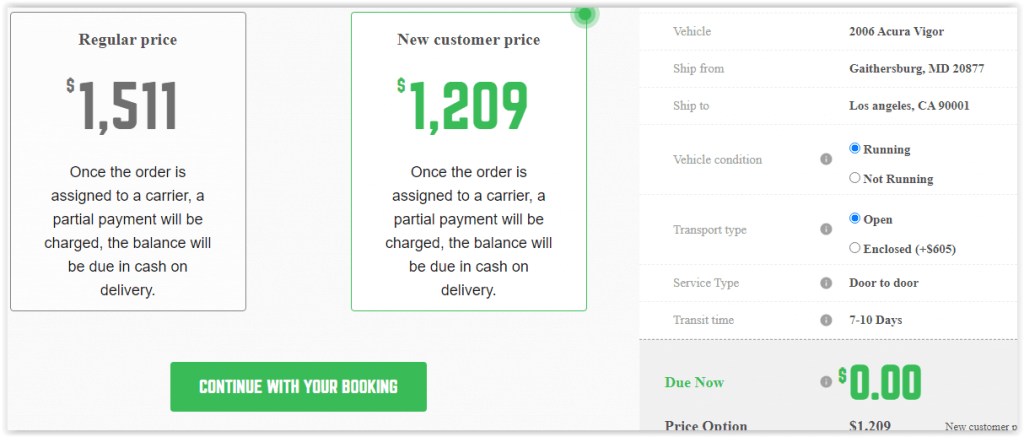 How travel time influences your car shipping time estimate
Generally, smaller car haulers can cover shorter distances, which means cars are picked up and delivered faster. However, shipping over long distances can be tricky. Car haulers can spend as long as 3 days picking up vehicles in a single city.
Car shipping companies can never guarantee transit times due to their unpredictable nature. It is not uncommon for delays to occur due to weather conditions, mechanical breakdowns, health emergencies of drivers, and scheduling conflicts, among many other reasons. The key to ensuring a smooth transaction is effective communication, so ask your auto transport company questions and mention any special circumstances that may apply.
Reliable Vehicle Shipping: How to Choose a Safe & Trusted Auto Shipping Company?(Opens in a new browser tab)
Tips for Shipping Your Car Across Country: Delivery Scheduling
Auto transport companies always strive to deliver their vehicles as soon as possible. To make the delivery as smooth as possible make proper arrangements at the receiving end. This might well be one of the best car shipping tips you'll ever receive.
This may mean taking time off work to meet the driver and asking a friend to receive your. For deliveries to business addresses, please notify the shipping company of the delivery hours. Typically, a driver will provide a four-hour delivery window. If there are delays unloading other vehicles, a driver may schedule a delivery for the following business day.
A vehicle can be temporarily stored if you are unable to accept it at the time of delivery.
Storing a Classic Car: What You Should Know(Opens in a new browser tab)
As you can see from the above details, shipping your car from one state to another may take some time. If your vehicle has been added to the schedule, the auto transport company you reserved with will be able to provide more direct and accurate pickup and delivery times.
Whenever you deal with roads, keep in mind that delays are always possible. You should be kept updated every step of the way by your auto transporter.
Can I Specify Dates for Auto Transport?
In most cases, specifying a pick up date or delivery date isn't possible. There are several things to consider at the beginning of a transport order, as we discussed above. Each of these things will affect the pick up or delivery date.
As a general rule, we can only guarantee that we will pick up your vehicle within 2-8 days following the date you place your order. Therefore, it is advisable to plan ahead accordingly. Our dispatchers will know the pickup and delivery dates as soon as the transport order has been assigned to a driver.
As a result of our regular communication with our clients throughout the shipping process, Nationwide Auto Transportation holds an edge over other auto transport companies. As part of our prompt notification of pick-up and delivery dates, we provide a 24-hour notice of pick-up and delivery and 1-2 hour notice of delivery from our driver. In addition, we notify you immediately if anything changes in the schedule. We will never leave you in the dark, or take you by surprise—unless it's a good surprise!
When shipping your vehicle, it is crucial that you work with an auto transport company that has experience. Our company is a licensed auto broker. Our company has more than 16 years of experience in the auto shipping industry and has shipped more than half a million vehicles.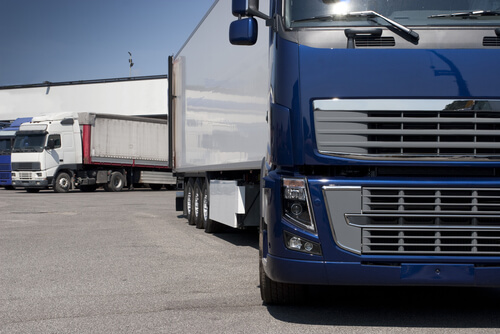 Nationwide Gives Accurate Car Shipping Time Estimates
Using both our experience as both a carrier and broker, as well as the relationships we've built with trusted carriers across the country, we can transport vehicles as quickly as possible. Providing exceptional customer service and prompt (and safe) delivery are the cornerstones of Nationwide Auto Transportation's operation.
Don't just take our word for it, either. Read our online reviews at sites like Move.org and BBB. This will also enable you to see which auto transport companies to avoid. Visit our website to learn more about why you should work with us, and be sure to read our customer testimonials.
Still not sure if we're a suitable fit? Shop around. See what other companies offer and check out their online reviews. When you do, we're confident you'll be back to get an instant quote from us!
Like the sunny weather but want to live on the east cost? Check out our Orlando Florida relocation guide. And learn more about large auto parts transportation.