Reading Time: 8 minutes
Is Virginia a good state to live in? That's a question you might be asking if you're considering moving to Virginia. Whether you're after metropolitan living or small-town vibes, you're bound to find it all in this southeastern state which stretches all the way from the Appalachian Mountains to Chesapeake Bay. Truly a state of natural splendor, you will fall in love with the autumn colors that bedazzle the state in fall. But if you're not quite settled on a location yet, check out these guides: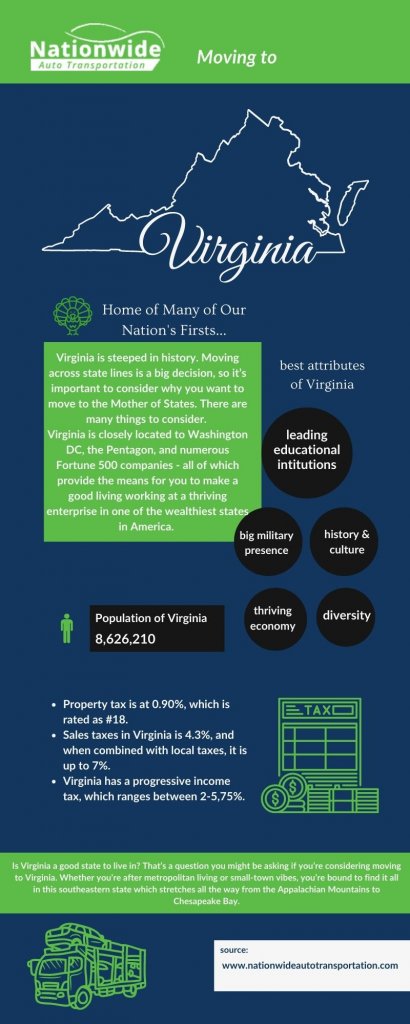 Historical Virginia
Virginia is steeped in history, as it was one of the thirteen original colonies. Probably one of the most iconic landmarks would be Monticello, which was the Charlottesville-based plantation belonging to prolific founding father, Thomas Jefferson. Colonial Williamsburg and the Jamestown Settlement are living-history museums that reenact Colonial and Revolutionary-era life and provide a rich education. Other fascinating attractions in Virginia include:
Shenandoah National Park protects some portions of the Blue Ridge Mountains. Skyline Drive continues north from the Blue Ridge Parkway and offers incredible views. There are attractions like President Hoover's summer residence.
Virginia Beach with its wide expanse of golden beaches, The Virginia Aquarium and Marine Science Museum, Ocean Breeze Water Park, and the Back Bay National Wildlife Refuge which protects 9,000 acres of coastline and offers incredible hiking trails, and picnic facilities.
Mount Vernon was George Washington's home for the 45 years leading up to his death in 1754.
Arlington National Cemetery, the final resting place of some of America's most famous people, including JF Kennedy and many war heroes, including the Unknown Soldier.
Many of the nation's firsts happened right here in Virginia, including the first Thanksgiving, which was celebrated in 1619. In the 1818s, Chapstick was invented in Virginia. Eight past US presidents were born in this state. If you are looking to raise a future world leader, Virginia is the place to be.
And you will love the people. They are charming and friendly.
What to Know Before Moving to Virginia?
Moving across state lines is a big decision. It's important to consider why you want to move to the Mother of States. There are many things to consider (which we'll discuss in depth in this guide!). With this in mind, we recommend that you try before you buy. What does that mean? Well, being a tourist in a city or state means that you're exposed to the best it has to offer. You have all the free time in the world to explore and enjoy tourist attractions.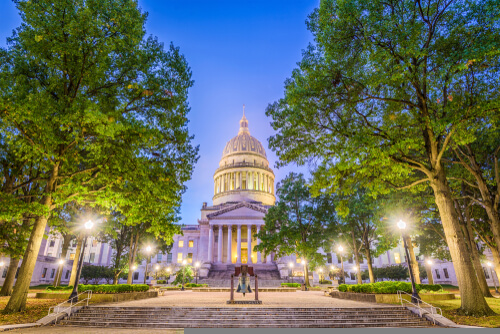 Living somewhere is often different to what you're used to. We recommend that you try out the city first before committing long term, all things considered, if you have time and the means to do so. Why not rent a short term rental rather than a hotel? Try an AirBnB or similar for a few weeks and live in the city. Feel what it's like to be a resident. Travel to your future workplace at rush hour, get the kids to their school and check out what the stores and recreational facilities are like. 
Pros and Cons
Thriving Economy –
Virginia is closely located to Washington DC, the Pentagon, and numerous Fortune 500 companies – all of which provide the means for you to make a good living working at a thriving enterprise in one of the wealthiest states in America. The US Army, FCI Federal, Northrop Grumman, Hilton Hotels & Resorts, Dollar Tree, American Diabetes Association, Advance Auto Parts, and Universal are just a few of the state's leading employers.
Top employment providers in Virginia include:
Transportation
Administrative
Insurance and finance
Construction
Hospitality
Education
Professional
Retail
Healthcare
Are you looking for a job before moving to Virginia? Search Virginia.gov, social media, and career builder sites.
The proximity of these institutions can lead to many hours spent in heavy traffic. The jet noise that stems from the vast number of military bases and training operations in the area should be considered. Virginia Beach experiences quite a bit of noise pollution. 
Exceptional Education –
Virginia is home to some of the best schools in the country, namely Virginia Tech and University of Virginia. Other top colleges include:
College of William and Mary Williamsburg
Mary Baldwin University in Staunton
George Mason University in Fairfax
Virginia Commonwealth University in Richmond
Regent University in Virginia Beach
Hampton University in Hampton
Old Dominion University in Norfolk
Shenandoah University in Winchester
There is a relatively complex process to qualifying for in-state tuition privileges, which is overseen by the Office of Virginia Status.
Virginia School System
Virginia has the second-best school system in the South and it ranks #14 in the country. The leading public school districts in Virginia include:
Arlington
Falls Church City
West Point
Loudoun County (Ashburn)
Albemarle County (Charlottesville)
Fairfax County (Falls Church)
York County (Yorktown)
Charlottesville City
Virginia Beach City
Chesapeake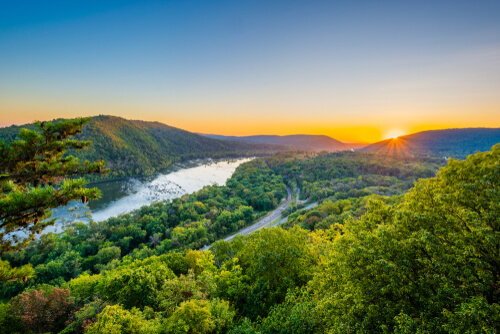 Diversity –
Many minority groups have been relocating to Virginia, creating a diverse culture and contributing to the diversity of the swing state.
Since Virginia is a swing state your vote really counts, and during the election cycle you will see many political canvassers and visits by politicians. 
Unfortunately, the diverse political views that differ from conservative country towns to liberal cities have caused a chasm between some rural and urban areas.
Weather –
Virginia is a Mid-Atlantic state. There are four distinct seasons and generally mild weather is experienced. However the climate can be unpredictable. There are five distinct climate regions that offer a mix of humid, subtropical zone and humid continental zone weather. The state is also at risk of various natural disasters. These include extreme heat, drought, flash floods, hurricanes and tropical storms, severe thunderstorms, tornadoes, winter storms, earthquakes, landslides and tsunamis.
What salary do you need to live in Virginia?
You must be sure that you will be able to live in one of the wealthiest states in America if you are thinking about moving to Virginia. At 113.8, the cost of living index for Virginia is quite a few points above the national average (100). 
There are many opportunities offered in Washington DC, the Pentagon and the many Fortune 500 companies. Virginia is also home to twenty-seven military bases in the state. These include:
Langley Air Force Base in Hampton
US Fort Belvoir Army Bases in Fairfax
Fort Eustis Army Base in Newport News
US Fort Lee Army Base in Prince George
Fort Monroe Army Base in Hampton
US Fort Myer Army Base in Arlington
Fort AP Hill Army Base in Bowling Green
Fort Pickett Army Base in Blackstone
Thank you for your service
Radford Army Ammunition Plant Army Base in Radford
Warrenton Training Center Army Base in Alexandria
Finance Center Coast Guard Base in Chesapeake
National Maritime Center Coast Guard in Arlington
National Pollution Center Coast Guard in Arlington
Navigation Center Coast Guard Base in Alexandria
Sector Hampton Roads Coast Guard Base Portsmouth
Telecomo Systems Command Coast Guard in Alexandria
Training Center Yorktown Coast Guard Base Yorktown
Henderson Hall Marine Corps Base in Arlington
Quantico Military Reservation Marine Corps in Triangle
Marine Corps Air Facility Quantico
NAB Little Creek Navy Base in Norfolk
NSWC Dahlgren Naval Base in Dahlgren
NS Norfolk Naval Base in Norfolk
Norfolk Naval Shipyard NAvy Base in Portsmouth
NAS Oceana Naval Base in Virginia Beach
NWS Yorktown Navy Base in Yorktown
Joint Expeditionary Fort Story Naval Base in Little Creek
Medical Center Portsmouth Navy Base in Portsmouth
NSA Norfolk Navy Base in Norfolk
NSA Northwest Annex Navy Base in Chesapeake
SCSC Wallops Island Navy Base in Wallops Island
Naval Support Activity Hampton Roads
Nationwide Auto Transportation is proud to be one of the leading car shipping companies that serves Military Personnel and their families. When it comes to shipping their personal vehicles during relocations or transfers, we are the best.
Learn more about how to ship your private vehicle when you are transferred to a Military base in Virginia.
Self-Transport Your Vehicle? Beware the Pitfalls and Potholes(Opens in a new browser tab)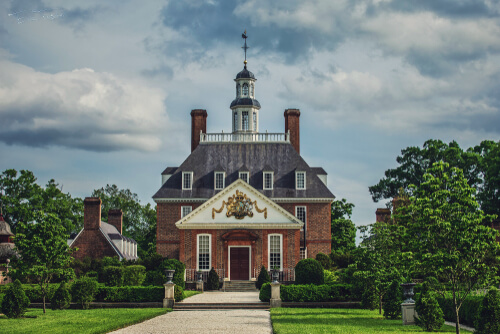 How Expensive is Virginia?
Housing is quite pricey in the northern parts of the state, where the average home value is $547,000.
Property tax is at 0.90%, which is rated as #18. 
Sales taxes in Virginia is 4.3%. When combined with local taxes, it is up to 7%.
Virginia has a progressive income tax, which ranges between 2-5,75%.
Should you rent or buy when you move to Virginia? The answer would depend on where you want to live, and what you can afford. Median home values in Salem and Richmond range from $175,000 to $218,000, however the same homes in Arlington County (Northern Virginia – NOVA) can cost $692,000.
Best Places to Live
Here are some of the best places to live in Virginia:
Virginia Beach in the Eastern Virginia coastal plain is a resort city, and the state's most populous independent city. Every year thousands of tourists are attracted to the many miles of sandy beaches, ocean view hotels, and restaurants. The city has a relaxed atmosphere and friendly people.
Chesapeake has exceptional schools and a strong sense of community. It has a good blend of city and country living and is a clean and safe place to raise a family.
Arlington (a county, not an official city) in Northern Virginia (NOVA) is located directly opposite DC on the southwestern bank of the Potomac River. The home of the Pentagon, Marine Corps and Arlington National Cemetery. It has a high cost of living, but it also features family-friendly amenities and fantastic public schools.
What Suits Your Family?
Alexandria, along the western bank of the Potomac, is considered one of America's Top 25 Cities.Close to Washington DC, Arlington has fantastic schools and is home to many professionals and federal civil servants. It offers a good suburban life.
Richmond, the capital of Virginia, is known as a place with rich American history which is known for its creative entrepreneurial residents. Only two hours from the mountains, you can enjoy plenty of craft beer and award-winning cuisine around the city.
Charlottesville in The Piedmont (central Virginia) is known as the happiest city in America. A diverse city, it features good schools and reflects the quintessential university town, which is influenced by the University's cultural and economic lifestyle.
Salem in Western Virginia is an independent city located in a valley surrounded by the Blue Ridge Mountains. A high percentage of residents are homeowners and the city has good public schools.
Harrisonburg in Western Virginia is an award-winning city located in the Shenandoah Valley which combines vibrancy and modernity. Harrisburg is a developing town that exudes ethnic diversity, especially in the Downtown Renaissance. This offers a wide selection of shopping opportunities, live music, job opportunities, restaurants, breweries and much more.
Moving to Virginia: Helpful Links and Information on How to Become a Resident
When you decide to move to Virginia there are a number of things to consider. Here are some helpful links to provide you with all the guidance you need:
If you want to become an official Virginia resident for tax purposes, you must:
Live in Virginia for a minimum of 183 days a year
Maintain a home in Virginia for more than 183 days a year
Be a legal resident of the Commonwealth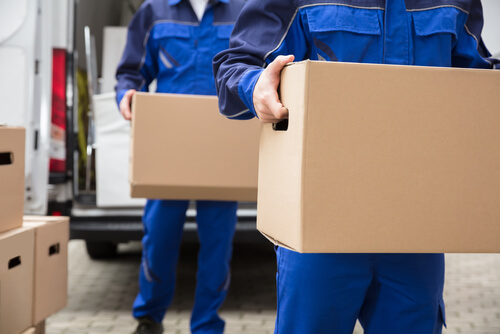 What do I need to transfer my license to Virginia?
If you are bringing your car along when you move to Virginia, you have sixty days to apply for a Virginia driver's license and thirty days to register your out-of-state vehicle. If you carry a commercial driver's license, you only have 30 days to get your Virginia CDL. Here's how:
Visit the Virginia DMV offices.
Present your valid driver's license as well as your proof of ID and legal US presence, Virginia residency, and social security number.
Submit your application for a Virginia Driver's License and Identification Card.
Take and pass the vision screening test.
Write your theoretical exam or road skills test.
Surrender your current driver's license and pay any applicable fees.
Wait for the documents to arrive by mail.
Also check out these guides:
Car Shipping Cost Explained: Fast Facts for 2022(Opens in a new browser tab)